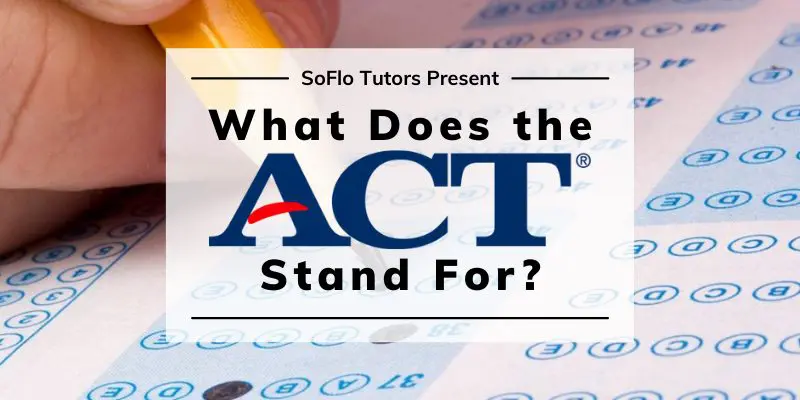 Activated Clotting Time? Maybe in a medical setting but…
ACT Test Meaning Explained
The ACT, which stands for American College Test, was created as an alternative to the SAT. Though the SAT currently surpasses the ACT in terms of test-takers, the ACT did reign supreme for a couple of years in the 2010s; even now, over a million students take this test each year!
Quick History of the Exam
The ACT was created by Everett Franklin Lindquist in 1959 as a response to the SAT. It originally contained four sections: English, Social Studies, Math, and Natural Science. Thirty years later, the Social Studies section changed to Reading and the Natural Science section became the Science Reasoning section, which is how the sections continue to be today!
When it was first administered, there were 75,460 test-takers; the ACT hit a million students in 1972. Today, as noted, there are over a million students that take the ACT each year, and the test scores are accepted by every single college in the United States for admission purposes.
So What Does "ACT" Stand For: Abbreviation Explained
Simple: American College Test. Straight forward, sort of how the exam itself was made to be. The test is meant to measure your readiness for college based on what you have actually learned in school. It was created as an alternative to the SAT, which at the time measured intelligence and learning abilities rather than concrete knowledge.
It should be noted that this exam is rarely referred to as the "American College Test" – as you've probably noticed, it is only ever mentioned as A-C-T, which is the official name of the test (fun fact: this pronunciation makes ACT an initialism, not an acronym!). This is the case with the SAT as well – it originally stood for the Scholastic Aptitude Test, but the official name of the test is also just the letters S-A-T. Because of this, neither test is referred to by the original full name anymore.
ACT Sections
English
Math
Reading
Science
Essay (optional)

Total time: 2 hours 55 minutes (add 40 minutes for essay section)
Maximum score
36
Average score
21
Cost
$60 without essay section
$85 with the essay section
ACT Quick Overview
What does the ACT Test Stand For: Sections Breakdown
The ACT is composed of four multiple-choice sections, along with an optional essay section. Each section is given a score between 1 and 36; the final score is calculated by the average of these four different section scores.
The English Section
The test starts with the English section, which asks questions about revising and editing texts. It will test you on different sentence structures, punctuation, grammar, and more through 75 multiple-choice questions that must be answered in 45 minutes.
The Mathematics Section
60 questions in 60 minutes give you about a minute per question on this section of the test. Most of the topics covered are within the subjects of Geometry, Trigonometry, and Algebra I and II. The good news? You can use a calculator for this entire section!
The Reading Section
On the ACT, the Reading section will give you 35 minutes for 40 questions, which are divided among four passages. The four passage types are always in the same order! You will always start with prose fiction, then move to social studies, humanities, and natural sciences. The questions asked will be about a variety of topics, such as understanding of explicitly stated material, implied topics, overall purpose, central ideas and themes, word choice, text structure, and more.
The Science Section
Many students balk at this; you need to know science for the ACT? The short answer? No, you do not! In fact, other than some well-known givens in science, you should not be using any outside knowledge for this section. As noted on the official ACT website, this section is meant to measure how well you can interpret and analyze the information provided; there is little to no recall involved! It is almost like having another reading section but just with natural science passages (a lot of them incorporating tables and graphs!).
The Essay Section
This section of the ACT is optional; you will decide whether or not to take it based on the requirements of the colleges or programs you choose to apply to. The essay section consists of one prompt that you have 40 minutes to write an essay about. Each prompt is structured the same; you will be given a text about an issue and three shorter texts describing three different perspectives on that issue. Your essay will discuss your personal perspective on the topic and has to examine the relationship between your thoughts and at least one of the three provided perspectives. The issues presented will vary; however, the prompt stays the same!
ACT Timing: Breakdown By Section
English section
75 questions, 45 minutes
Math Section
60 questions, 60 minutes
Reading Section
40 questions, 35 minutes
Science Section
40 questions, 35 minutes
Essay Section (optional)
1 essay, 40 minutes
TOTAL:
2 hours and 55 minutes (add 40 minutes with essay)
With breaks, the test is about 3 hours and 30 minutes (without the essay)
The Main Purposes of the ACT Test
Why even take the ACT? Many colleges use standardized tests, such as the ACT and SAT, to measure all students against the same "standard." The ACT helps college admission officers gauge the general intellect of students applying. It is also a good indicator of how students will perform while in college and how capable they are of finishing college work.
As a student, you can also use the ACT to your advantage. A high score on the ACT can be used to supplement high school grades. If the SAT does not feel like the right fit for you, the ACT can be used just as widely for college applications; colleges do not have a preference for ACT versus SAT scores.
Other ACT Terms To Know About
Quick caveat: this information is not important for most high school test-takers! However, if you do ever hear these terms being tossed around, the definitions are as follows:
ACT Plan Test
Discontinued in 2014, the ACT Plan Test was to the ACT what the PSAT is to the SAT; it was a test given to sophomores to provide feedback on how they would do on the actual ACT and give advice on what classes to continue taking in high school. However, this was not used as widely or as efficiently as the PSAT, and thus was dropped. ACT then went forward to create ACT Aspire, discussed below, and the PreACT. The PreACT is offered to 8th, 9th, and 10th graders, and sets out with the same goals as the ACT Plan test: to predict future ACT scores and provide information to assist with becoming prepared for college.
ACT Aspire
ACT Aspire is actually also scheduled to be discontinued, effective August 2022. However, this program currently strives to assist college and career readiness by starting with Grade 3 and continuing through early high school. ACT Aspire includes "Summative Assessments" that are administered throughout these times and measure progress towards future goals.
ACT WorkKeys
There is another type of ACT test! ACT WorkKeys is geared towards those that want to further their career. This test is associated with the National Career Readiness Certificate (NCRC), which is widely used by employers to see how qualified applicants are. ACT WorkKeys uses real-world work scenarios to evaluate skill levels in different categories. The scores can also be used by the test-taker to a) compare to a job they have in mind or b) see what their talents are and what careers might fit!
Start Preparing for the ACT Today With SoFlo Tutors!
Have you decided to take the ACT (or SAT) and are unsure where to go from here? Consider trying SoFlo Tutoring! Here, you'll find a group of high-scoring college students and graduates providing personalized, one-on-one tutoring. You will have the flexibility of making your own schedule with your tutor, who has gone through the same test-taking process that you are considering. Try it out with a free consultation!
Want More Information?
About the Author Section
Aishwarya Jayabharathi is a graduate student at Johns Hopkins University pursuing a Masters's in School Counseling. She scored a 35 on her ACT and has a degree in Neuroscience (with a minor in Creative Writing). If in Maryland, you can find her complaining about the cold, being fascinated by the changing seasons, and/or wishing to be back in her home state of California with her dog.