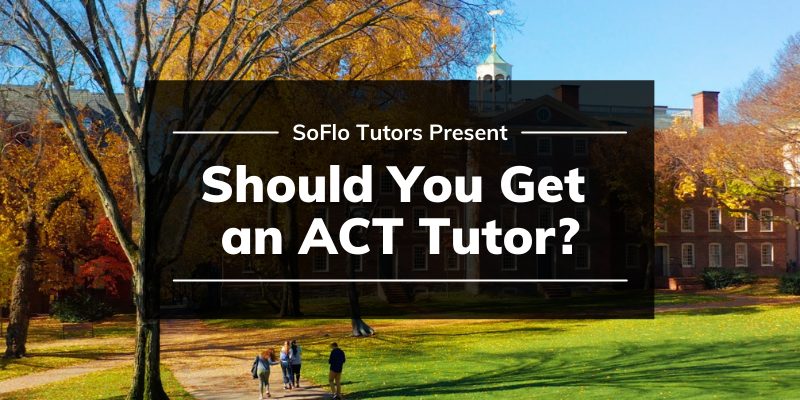 So you've signed up to take the ACT. Naturally, the next step is to ask, "How should I prepare?" There is no single answer to this question. Some students charge straight ahead and take matters into their own hands, designing their own study programs and learning from internet resources or older siblings and friends. Some students just wing it, leaving their score up to fate.
Many students, though, want to be well-prepared to take this important exam, but they are not exactly sure how to go about it. Commonly, these students look for an ACT tutor to help increase their ACT score.
Clearly, the ACT is extremely important standardized test in the college admissions process. If you want insight into your test scores and could benefit from some outside perspective on test-taking, enrolling in some tutoring sessions might be the right move for you.
Is Tutoring Right for You?
Getting an ACT tutor is very common, and students start tutoring for a variety of reasons. If you agree with most or all of these points, then you should consider getting a tutor to help out with ACT prep.
You need help with core concepts. The ACT has 4 sections: English, Mathematics, Reading, and Science. It covers knowledge that you should have learned throughout high school, but maybe the subject doesn't come as easily to you and you're still shaky on the basics, or maybe it's been a while since you've studied the subject and you need a refresher. Either way, it is crucial to get the fundamentals down before taking the test. An experienced tutor knows all this essential information and can teach or review these core concepts with you. They can cover all the bases.
You don't know strategy. Although, at its core, the ACT is just a test, there are strategies that can give you an edge since the basic format stays the same. A student having time-management problems on the Reading section won't solve their issue by taking a bunch of practice tests. They need to practice deliberately—applying strategies that save them time and maintain their accuracy. Tutors will have a strategy for this and any situation. The best part is that the strategies they teach you have been proven to work in past students' success.
You need structure. Studying is hard—and taking that first step to sit down and start studying is even harder. We all suffer from procrastination, but if your test date is coming up soon, waiting until the last minute won't cut it. A tutor will not only give you a structured, personalized plan of what to study each week leading up to your test, but they will also hold you accountable.
You don't have time to look for and gather the best resources. There are a huge number of free internet resources that help you study for the SAT and provide tips, tricks, and strategies to do your best. It takes a lot of time, however, to sift through all these resources and decide which ones are worthwhile and which ones are junk. A tutor will provide quality materials and real practice tests so you know each exercise is relevant and helpful.
You want someone on your side. Taking the ACT can be extremely stressful, and many students suffer from anxiety on test day. Your tutor isn't only a teacher, but also a friend who can hopefully provide support and encouragement during this nerve-wracking process. They are your personal cheerleader and want to see you succeed! Most tutors have first-hand experience with test anxiety, so they'll be able to help guide you through it, especially if it's your first time taking the ACT.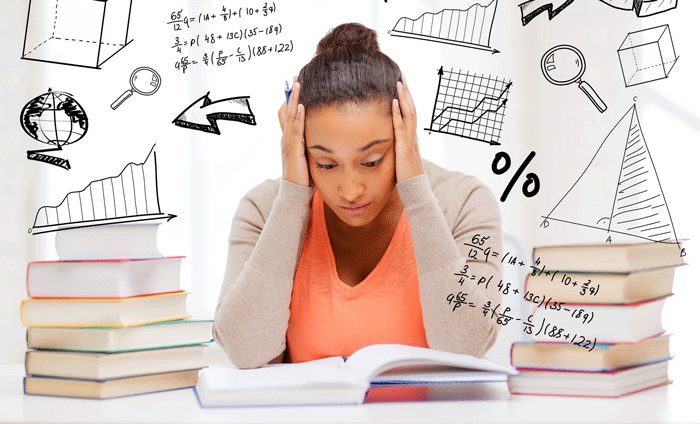 Where Can I Find a Tutor?
The next step is to find one! The good news is that standardized testing tutoring can be found everywhere. Here are a few places to look:
Online. Just search "ACT tutoring" or "tutoring near me" and there are bound to be multiple test prep services you can check out.
Ask friends or family. Chances are, you know an older student or have an older cousin that's taken the ACT before during their college application process. If they received a good score, they likely had successful study habits that they could pass on to you. Having a friend or family member as a tutor is also convenient since you are already comfortable with them. If you don't know anyone who is offering ACT tutoring, asking friends and family if they can recommend tutoring places is also helpful.
Your school guidance counselor or office. Since most high school students applying to college take the ACT or SAT, your school guidance counselor or office can most likely recommend tutoring services that past students have used.
There are so many prep options when it comes to ACT tutoring: you might choose group ACT test prep tutoring or private tutoring, and even have the option between online or in-person sessions. Depending on your specific learning style, different tutors might be better for you. For instance, online tutoring might be the best fit if your schedule is too hectic for regularly scheduled, in-person prep courses. Luckily, if you know what you're looking for, finding a tutor to fit those needs shouldn't be too difficult.
What Should I Look for in a Tutor?
It can be difficult to sift through the plethora of tutoring services, and it can be especially challenging to decide if a place is reputable and not just a scam for money.
Reviews. This is the most important factor in choosing a tutor. You want a tutor who has a stellar track record in getting results and working well with students. The tutor should have past experience teaching the ACT, or teaching in general if they're just starting out. Word-of-mouth interviews are generally more reliable than those found on the internet, but if the online testimonies seem legitimate, its worth giving the tutor a shot.
Punctuality and Availability. A tutor will only be valuable if you can meet with them on a regular basis. A tutor who cancels at the last minute or constantly reschedules will be wasting precious days to study before your test. Additionally, a tutor who is never available is simply unhelpful. Make sure that the tutor's schedule matches up with your own and that they can make the commitment to helping you prepare for the test.
Reasonable Pricing. Tutoring services can get pricey, with some services charging upwards of $100/hour. It might not be financially feasible for your family to pay these extravagant prices—and more often than not, it's totally unnecessary. There are excellent tutoring services charging reasonable rates, and it's questionable how much better a tutor can be when they charge that much money. You shouldn't have to break the bank to get help on the ACT.
Once you find a high-rated tutor who works with your schedule, schedule your first session and begin your ACT preparation journey! Your tutor will teach you strategy, review practice tests, and, hopefully, ultimately improve your score.
Private tutoring also offers you the flexibility to find someone who is a good fit and can help you reach high scores on the official ACT exam, so taking the time to find a reliable tutor who fits your needs is important too.
What Should I Do Before Meeting With an ACT Tutor?
First, make sure you know if they want you to complete any "homework" before meeting — being unprepared will just waste your time.
If you don't have any work to complete for your tutor beforehand, try taking a full length practice test to gauge where you are and find your practice test score. This will give you an idea of where you're starting and what score you want to reach. Practice questions will also give you a good idea of if you're struggling in a specific section, like the ACT Math or ACT Reading portion.
ACT practice tests are super long and can be a big time commitment, but for the ACT and SAT, practice makes perfect. To see score improvements, you will need to set aside some study time and just practice — it's the most effective form of test preparation for the ACT.
Try SoFlo ACT Tutoring
If you need a reputable, flexible, cost-effective tutor, try SoFlo tutoring. Our tutors scored in the 99th percentile on the ACT and attend top colleges around the nation. We're a test prep company specializing in online ACT and SAT tutoring.
Our tutors schedule sessions based on your availability, and our costs start at $60/hour. Check out our tutoring services to book a session!
About the Author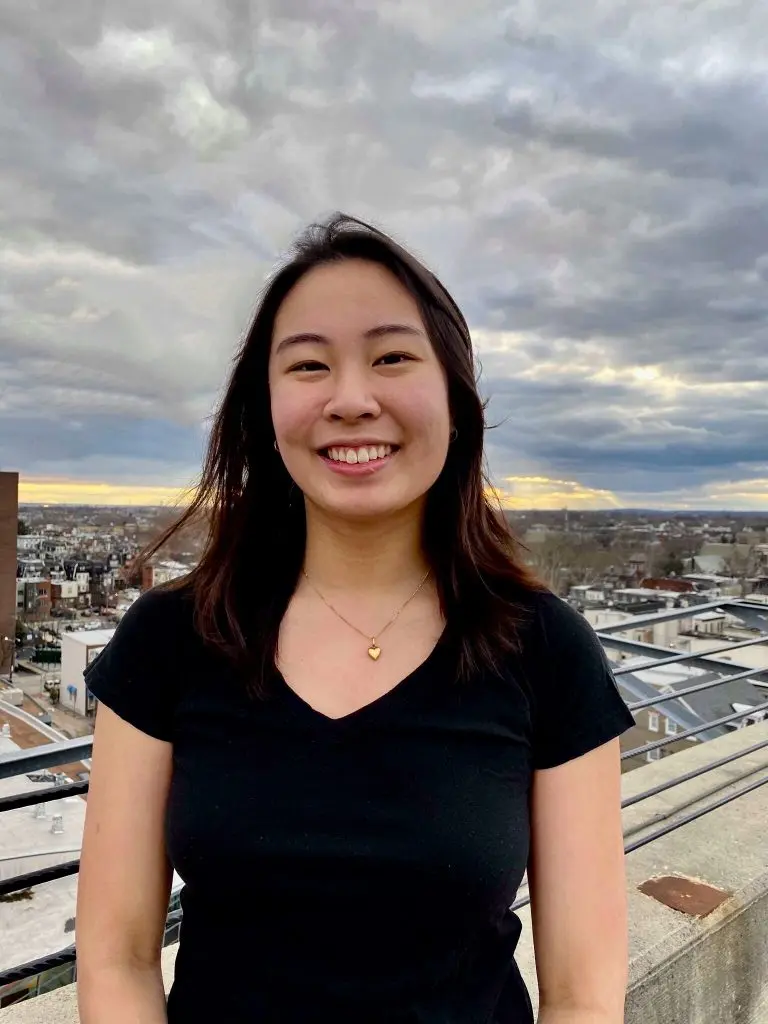 Andie Pinga is an expert SoFlo tutor and a junior at the University of Pennsylvania double-majoring in Economics and Anthropology. She scored a 35 on her ACT, and when she's not studying on campus or meeting with friends, Andie enjoys playing the acoustic and electric guitar.