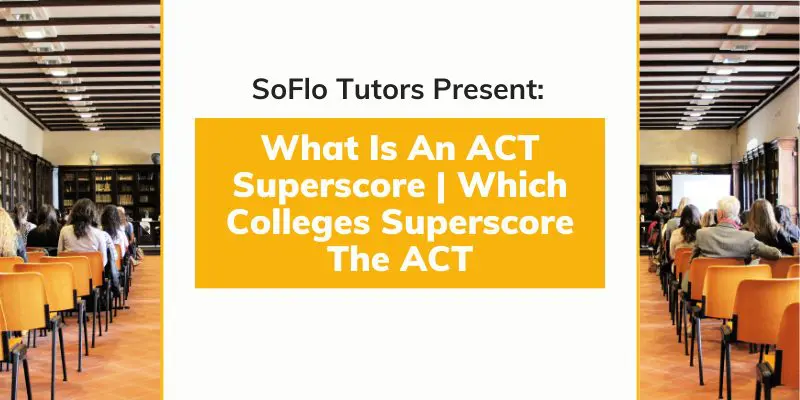 What Is An ACT Superscore
A Superscore is a sort of cherry-picking option. If a student has taken more than one ACT test, they can pick their best scores from each of the four subjects and combine them all into a composite Superscore. This way, only their best results can be considered together. Here is an example of how a Superscore gets made.
Say on TEST 1, I scored a 26 on Math, 24 on Science, 27 on English, and a 30 on Reading. Then on TEST 2, I scored a 28 on Math, 27 on Science, 31 on English, and a 26 on Reading. The Superscore would draw from both of these tests, building a new score of the best scoring for each subject. It would look like the following: Math 28, Science 27, English 31, Reading 30.
Thus, the Superscore option displays one's best work. In this blog, I will go over the incentive that colleges have to Superscore and whether all colleges accept ACT Superscores. I will then go over some basic preparation advice for the ACT and applying to colleges.
Do All Colleges Allow For The Submission Of Superscores?
This simple answer is no. Superscoring is not universally accepted across all colleges and universities. Some colleges only accept the score of one ACT test the student took. But why do some colleges offer Superscoring, then, and not all?
Why Do Some Colleges Allow For Superscoring?
Superscoring can reflect positively on the institution's overall student-body statistics. If it is the case that those students you are admitting are able to Superscore, then you are likely to have a higher average ACT score across the entirety of that admitted student body. This is good for university rankings as they reflect better on potential student outcomes.
What Institutions Allow For The Submission Of An ACT Superscore as of 2023?
The following list includes most colleges which allow for students who are applying to use a Superscore for the ACT. However, you should always check the admissions requirements prior to applying (even if the university is on the list):
Albion College
Amherst College
Auburn University at Montgomery
Austin College
Babson College
Baylor University
Bates
Beloit College
Bowdoin
Brandeis
Bryn Mawr College
Butler
Claremont McKenna College
Colby
College of the Holy Cross
Colorado College
Columbia University
Connecticut College
Cornell
Davidson College
Denison
DePaul University
Dickinson College
Drexel
Duke
Duquesne University
Eckerd College
Elon University
Georgia Tech
Grinnell College
Hamilton COllege
Harvey Mudd
Haverford College
Hawai'i Pacific University
Hendrix College
Hollins University
Indiana University Bloomington
Ithaca College
Johns Hopkins
Kalamazoo College
Kenyon College
Kettering University
Lafayette College
Lawrence University
Lehigh University
Loyola University Maryland
Miami University
Middlebury College
MIT
Millsaps College
NYU
Northeastern
North Carolina State University
Olin College
Pitzer
Pomona College
Purdue
Regis
Rhode Island School of Design
Rochester Institute of Technology
Saint Mary's College
Seattle University
Seton Hall University
Spring Hill College
Stanford
Syracuse
Texas Christian University
Towson University
Trinity College
Trinity University
Troy University
Tufts University
University of Alabama
University of Arkansas
University of Chicago
University of Colorado, Boulder
University of Connecticut
University of Dayton
University of Delaware
University of Denver
University of Georgia
University of Maryland
University of Mary Washington
UMass Amherst
University of Miami
University of North Alabama
University of North Carolina, Chapel Hill
University of North Texas
University of Pennsylvania
University of Pittsburgh
University of puget Sound
University of Rhode Island
University of Rochester
University of South Florida
University of Tampa
University of Tennessee
University of Vermont
University of Virginia
University of Washington
Vanderbilt University
Valparaiso University
Vassar College
Villanova University
Virginia Commonwealth University
Virginia Tech
Wake Forest University
Washington and Lee University
Wesleyan University
Western Michigan University
West Point US Military Academy
West Virginia University
Wheaton College
Williams College
Xavier University
Tips For Applying To Colleges that Superscore The ACT
If you are applying to an academic institution, whether it be a college or university, and you wish to apply somewhere that takes a Superscore, then there are several steps that you can take to ensure that you have the best chances of admission. Here are some tips:
Research: Now, if you are set on using an ACT superscore in order to apply for admission into some particular educational institution, then it is important that you pick institutions that will accept a Superscore. The list I have provided in this blog serves as a rough guide to those institutions, but, just as all other things in life, the list is subject to change. When you pick a prospective university, one should examine their admissions requirements page to see if they accept an ACT Superscore.
Practicing For The ACT: If you are depending on a Superscore for meeting that requirement of admissions, then it is best that you get the highest score possible. What are the best ways to ensure you are putting in the necessary time and effort into getting the best possible score? Practicing the relevant material. It would be wise to take practice ACT exams frequently so that you familiarize yourself with both the mechanics and the content of the text. It would be even better to organize a meeting with a tutor, such as those we offer at SoFlo, so you can pinpoint weak areas and bring them to light through guided practice.
Make Yourself A Well-Rounded Candidate For Admissions: If you are going to submit a Superscore to the college admissions team, that is all good and merry. If it gives you the best chance at getting in, then I encourage you to do so. However, you should not rely solely on a good Superscore (or any Superscore) as the only thing that will guarantee you admission. It is unlikely that you will be admitted based on a good Superscore alone. It is important to make yourself well-rounded, to have a good college essay (which our tutors can help you with as well), good grades on your transcript, and to develop all other items that are necessary for satisfying admission requirements.
SoFlo Tutors: Your Assistants In Obtaining The Highest ACT Scores
Are you ready to begin your preparations for the ACT and get the highest score you dream of? Then, check out our team of talented tutors here at SoFlo for expert help in getting the practice, and preparations, you need. All of our tutors attend high-ranking universities within the United States, and have familiarized themselves with the content of the SAT.
Our tutors will work with you to identify and improve your weaknesses on particular sections of the ACT to help improve your understanding and comfort with the material to get you a higher score than ever before! We know your time is valuable, that's why our tutors work around your schedule whether it be after school, or before, we will find an availability that works for you! Check out our tutoring services here to book a session.
About The Author
Dahlia is a graduate of Florida State University earning a B.S. in both philosophy and psychology. In her free time she enjoys filmmaking and photography, backpacking, and cycling.