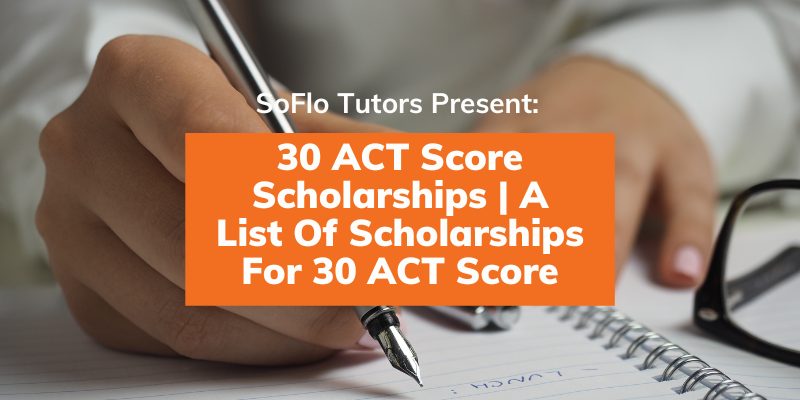 Scoring a 30 on the ACT is no easy feat. If you scored a 30 on the ACT, you are generally in the 93rd percentile of test-takers, meaning that you scored higher than 93 percent of students taking the same test! This score puts you in a great position when applying for colleges and places you in contention at some of the top universities in the nation.
A 30 ACT score can not only help you for college admissions, however, but can qualify you for numerous merit scholarships. This is an amazing opportunity to help cut down on your costs for college, which can reach upwards of $80,000 a year at top schools. Scholarships can also help expand your network and boost your resume when you eventually apply for jobs.
Read on to learn about the best scholarships you can apply to with a 30 ACT score.
Is A 30 ACT Score Enough For A Scholarship
If you have achieved a score of 30 on the ACT, first of all, congratulations! Getting a 30 is an impressive score, and the achievement should not be taken lightly. The score is way above the average ACT score of 19 to 20 (the 50th percentile score), and still greater than the score at the 75th percentile (where the top 25% of test-takers score), which is a score of around 24.
What is a "good" ACT score is somewhat subjective and highly depends on your college goals, but a score of 30 will put you in contention at several top schools. Just for context, in terms of schools, an ACT score of 30 will put you in the middle 50% of admitted applicants at the following universities:
Indiana University Bloomington
Miami University
Pennsylvania State University
University of Connecticut
University of Minnesota Twin Cities
University of Pittsburgh
Beyond looking good on your college application, this high score will also qualify you for several competitive scholarships. Many scholarships have eligibility requirements before students even apply to them. This might include your GPA, intended major, area or state that you live in, and, importantly, your standardized testing score. There is often a cutoff score that you need to reach on the SAT or ACT before applying to scholarships. Thankfully, there are a plethora of scholarships that you qualify for as someone who scored a 30 on the ACT. Additionally, even if a scholarship does not require a minimum SAT or ACT score, a high standardized test score can look good on your application and boost your chances of receiving the money.
What Scholarships Can You Get?
There are countless college scholarships that students can apply to. The problem is filtering through and determining which ones you are a good fit for and which ones are worth your time applying for.
You can find these scholarships by researching online and reading through blogs like these, asking your school guidance counselor office, and inquiring with friends and family if they know of any opportunities. Some scholarships are extremely broad and have few eligibility requirements. For example, the Alfred State Excellence in Education Scholarship requires students to have an ACT of 28 or above, an aggregate 3.25 GPA each semester, to be a New York State citizen, and plans of attending an university. For this scholarship, many students in great academic standing who are citizens of New York are eligible.
Some scholarships have much narrower requirements. For example, the Actuarial Diversity Scholarship, which aims to encourage diversity within the field, requires students to be seeking an undergraduate degree (ie. mathematics, statistics) that could lead to a profession in actuarial sciences. Furthermore, at least one of their birth parents must be of Black/African American, Latinx, Native North American, or Pacific Islander descent. There are also academic requirements, like a minimum cumulative GPA of 3.0 and a minimum ACT math score of 28. Obviously, relatively very few high school graduates go on to become actuarial scientists.
Applying to an extremely broad versus a narrow scholarship has its pros and cons. Broad ones are alluring because they are easy to qualify for, but that means that there is a wider and larger pool of applicants. The competition is stiffer. On the other hand, while it is harder to find narrow scholarships that fit your exact profile, there is probably less competition because there are less eligible applicants. You must balance between the two pros and cons when choosing what scholarships to apply to.
In the following section, we have hand-picked some of the best scholarships you can apply to with an ACT score of 30. If you'd like more options, however, we will also include a chart at the very end with more opportunities that you can explore on your own time.
Best 30 ACT Score Scholarships
ACF Woodcock Family Education Scholarship Program
Founded in 1993 by Albuquerque businessman C.E. (Woody) Woodcock and his wife, Dixie, the Woodcock Family Education Scholarship supports students of "exceptional promise" in the fields of science and math. The scholarship is available to high school graduating seniors in the Albuquerque metro area (including the counties of Bernalillo, Sandoval, Valencia, and Torrance). The scholarship is merit-based, and not based on financial need.
To be eligible for the scholarship, students must have a minimum cumulative 3.8 GPA, strong math and/or science credentials, and be enrolled at a full-time college or university. Students must also included career goals in the math and science fields in their personal statement and submit a letter of reference that talks about the student's "good standing" and community service.
Provided by: Albuquerque Community Foundation
Amount: 20,000 USD
Education: High school graduating seniors
Deadline: April 6
Sunshine Opportunity Scholarships
Sunshine Opportunity Scholarships are offered by the Godbold Foundation in Tierra Verde, Florida, which was established by Francis "Bo" S. Godbold in 1997. The scholarships are intended to help high-achieving students with financial need to afford to pay for college. Ten students are awarded the scholarship each year, and the awardees are given $25,000 over the next four years. The awardees must attend and complete their undergraduate degree at public universities in Florida, South Carolina, and North Carolina. Throughout their college journey, they must be enrolled full-time and remain in good academic standing to maintain the scholarship.
Applicants to the scholarship must have a 3.0 GPA or higher, must have overcome significant obstacles in life, and must attend public or private high schools in the following geographic areas of Florida, South Carolina, and North Carolina:
Florida counties: Pinellas, Hillsborough, and Pasco
South Carolina cities: Florence and Marion
North Carolina county: Avery
Provided by: Godbold Foundation
Amount: 25,000 USD
Education: High school graduate
Deadline: March 2
Colorado Mesa University's Distinguished Scholar Award
Colorado Mesa University offers merit scholarships to qualifying incoming freshmen who will be participating in a degree-seeking program. Colorado Mesa University is a public university that has numerous campuses in the western area of Colorado. Previously known as Mesa State College, the school attained University status in August 2011 and changed its name to Colorado Mesa University. The university offers "Distinguished Scholar" awards that are automatically awarded to incoming students based on their high school transcripts. This means that students do not need to fill out a separate application for this scholarship.
New freshmen are eligible for the merit scholarship if they meet 2 of the 3 following criteria: at least a 3.75 GPA, top 5% of their class, an ACT composite score of 29 or a SAT combined score of 1340. If the new freshman is a Colorado resident, the merit scholarship covers full tuition (not including fees), and if they are an out-of-state resident, the merit scholarship's value is 6,000 USD.
To renew the scholarship throughout their college career, students must meet several minimum requirements. This means successfully completing a minimum of 12 credit hours each fall and spring semester and maintain a specific minimum cumulative Colorado Mesa University GPA. The scholarship is available to students until they earn their bachelor's degree or reach a maximum of 120 attempted credit hours.
Provided by: Colorado Mesa University
Amount: 24,000 USD
Education: High school graduate
Deadline: N/A
The Kim And Harold Louie Family Foundation Scholarship Program
The Kim and Harold Louie Family Foundation was founded by Betty B. Louie in December 2005 to honor the memory of her parents. The Foundation provides a scholarship program for incoming college students, but also funds organizations engaged in healthcare and organized religion. The scholarship program awards approximately $100,000 in scholarships annually, though the number of scholarships awarded each year varies. The individual value of each scholarship also differs between applicants and depends on factors like their financial resources and qualifications.
High school seniors and incoming freshmen are eligible to apply to the scholarship and are expected to have demonstrated outstanding personal achievements, academic merit, leadership qualities, and/or community service. To be considered for the scholarship, students are required to have a cumulative, un-weighted grade point average between a 3.7 and 4.0, a minimum ACT score of 27 or SAT score of 1300, and have at least two reference letters, one of which has to be from a current or former teacher in an academic subject. The application also consists of a personal statement and interview. The student must also have applied to and plan to enroll to the U.S. college or university for a minimum of two terms for the school year.
The foundation gives special consideration to applicants whose parents are U.S. veterans or currently in the U.S. military, applicants with demonstrated financial need, or applicants who are first-generation college students – meaning that their parents did not attend college.
Provided by: Kim and Harold Louie Family Foundation
Amount: 10,000 USD
Education: High school graduates
Deadline: March
Alfred State Scholars
Alfred State College of Technology is a public college in Alfred, New York that is part of the State University of New York (SUNY) system. It offers bachelor's and associate degree programs. The college offers multiple merit scholarships opportunities for its incoming students, such as the Alfred State Scholars program. The program offers up to 5,000 USD or 12,000 USD per year (depending if they are in-state or out-of-state, respectively) to academically talented new freshmen entering their bachelor's degree program. Students are automatically considered by the college when they apply, so no separate scholarship application is necessary.
The college evaluates its incoming students for the scholarship based on the strength of their academic background. Other factors are also considered, such as funding availability. The student is required to study on-campus on the Alfred or Wellsville campus, and the scholarship can be applied to non-tuition expenses like books and supplies, fees, and transportation. Students are considered in-state if they are a New York resident, and they are considered out-of-state if they resident and attend high school outside of New York State.
Provided by: Alfred State College of Technology
Amount: 5,000 USD or 12,000 USD
Education: High school graduate
Chicago Roofing Contractors Association Scholarship
The Chicago Roofing Contractors Association (CRCA) is the first Roofing Contractor Association in the United States, dating its origins back to the 1870s and the Great Chicago Fire. The CRCA aims to unite those engaging in the roofing and waterproofing industry in Illinois and beyond, and also provides educational programs, informational resources, and networking opportunities. Scholarships for college are provided through the CRCA Foundation.
Each year, the CRCA awards at least one $5,000 renewable scholarship to a high school senior who plans to pursue the following programs in college: liberal arts and sciences, engineering, architecture, or business. Recipients are selected based on their academic performance, faculty recommendation, extracurricular activities, employment experience, and demonstrated interest in a productive career.
Provided by: Chicago Roofing Contractors Association
Amount: 4,000 USD
Education: High school senior
Mount Mercy University Honors Scholarships
Mount Mercy University is a private Catholic liberal arts university in Cedar Rapids, Iowa. It was founded by the Sisters of Mercy in 1928 and its students take a core of liberal arts courses. The University offers several generous scholarships to incoming students, including its Honors Scholarship. The Honors Scholarship gives 1,000 USD annually to students who successfully participate in the university's Honors program.
Students must apply separately to the scholarship. Eligible applicants are in the top 25% of their class, have at least a 3.6 GPA, and have a minimum ACT score of 26 or SAT score of 1230. In order to maintain the scholarship over 4 years, students must complete a minimum of 12 semester hours in classes classified as Honors. At least six semester hours (two courses) must be designated as Honors seminars, and the other semester hours can be either Honors general education courses or Honors seminars. Applicants must maintain at least a 3.0 GPA in Honors courses and a 3.4 GPA in other classes.
Provided by: Mount Mercy University
Amount: 1,000 USD over 4 years
Education: High school graduate
Application Deadline: March 1
Tips For Applying To Scholarships
Now that you know what scholarships are out there for you, here are some tips to best prepare you in applying for them!
Reflect on your college and career goals.
Before you even start your research on scholarships and select ones to apply to, you should spend some time reflecting on your college and career goals. Think about what you want to achieve out of college. What are your priorities? Is it to maintain a high GPA? To join certain clubs and organizations? While you do not have to have a definite or detailed plan, what sort of trajectory do you want to have over four years of school? What kind of classes do you want to take, and what majors and careers do you want to pursue?
Likewise with reflecting on career goals. You definitely do not have to be 100% set on a career path this early in your life, but having an idea of what you value and what kind of work you like to do (are you stronger in Math? Or do the humanities come more easily to you?) can inform what careers you are potentially interested in exploring.
Once you have reflected on your college and career goals, you will have a better sense of who you are and what you want out of college and your life. This will reflect well in your scholarship personal statements, as well as the scholarships you end up targeting. As you saw in the list of scholarships above, some are specifically targeted towards students considering a career path in a specific field. Having an idea of your future path can qualify you for these specialized scholarships.
Have a plan.
There is nothing worse than finding a scholarship that seems to tick all of your boxes, then realizing that you missed the application deadline! This happens more than you think, when students fail to plan ahead and start the scholarship search well before deadlines start kicking in. It is recommended to start your scholarship search at least one year before you are set to enroll in your first semester of college. This means that most students should start their scholarship search in the Fall semester of their high school senior year. This time is also hectic with college applications and standardized testing, so it is important to manage your time well. For scholarships, many of them are due in the following Spring, so you may not have to do much until after college applications are due in the Winter. However, it is important to plan ahead just so you can keep these deadlines in mind and make sure you are not missing anything.
When you start researching scholarships, it may be helpful to create a calendar or a timeline to help you organize your application to scholarships. The timeline will be based on the scholarship deadlines and your own schedule. Make sure to start preparing for each scholarship application at least one month in advance. This not only gives you adequate time to write your personal essay, but also to gather all the other required materials, like your official transcript and letters of recommendation. It is good practice to ask for a letter of recommendation at least one month before it is due, so plan ahead and give your recommenders a big window to complete their favor to you.
Draw on unique experiences in your personal statement.
My last tip is to make your application stand out. One way you can easily do this is by drawing on unique experiences in your personal statement. Personal statements carry a lot of weight – this is the area of the application where you can differentiate yourself from other applicants, tell your story, and why you deserve to receive this scholarship. Be sure to pay special attention to any extra instructions the scholarship application gives, and if you want to go above and beyond, do some additional research on the scholarship foundation and past recipients to see what made their stories stand out and what the foundation is specifically looking for.
Tailor your application to the foundation. If the application says that they give special consideration to those that have faced significant hardships or challenges in their life, be sure to talk about these in your personal statement. This is the only way the scholarship panel will know about this part of your background.
Beyond tailoring your essay to the scholarship foundation, drawing on unique experiences will simply make you stand out in the applicant pool. A lot of people can write about an experiment in science class, but a candidate who has published research will definitely stand out. Even if you haven't done anything world-changing (yet), putting a unique spin on your experiences can be just as impactful. A well-written, concise, and clear essay that has a moral or message that can resonate with a lot of people can be enough even if you haven't solved world hunger or found the cure to cancer.
More Scholarships You Can Apply To With A 30 ACT
Frequently Asked Questions
Will A 30 On The ACT Get You A Scholarship?
A score of 30 on the ACT puts you around the 93rd percentile, which means you scored higher than 93% of other test takers. This is a great score that will not only put you in a great position at numerous top universities, but it will also qualify you for a plethora of merit scholarships. Many scholarships require a minimum ACT score to prove your strong academic background.
What Scholarships Can I Get With A 30 ACT?
This blog provided some of the best possible scholarships you can apply to with an ACT score of 30. These include: Sunshine Opportunity Scholarships, the ACF Woodcock Family Education Scholarship Program, the Kim and Harold Louie Family Foundation Scholarship Program, the Chicago Roofing Contractors Association Scholarship, and Mount Mercy University Honors Scholarships. These scholarships all require a minimum ACT of 30, and often also require good academic standing (ie. GPA minimum), letters of recommendation, and personal statements. Make sure to plan ahead when applying to these scholarships! Their deadline can come up quickly, and you will need to gather your materials ahead of time.
SoFlo Tutors: Your Chance For The Highest ACT Score
Even though you got a 30 on the ACT, do you still want to aim higher? Are you hoping to improve by a couple of points so get that extra competitive edge, or even reach that elusive perfect 36 score? SoFlo Tutors can help you out. Our tutors create tailored study plans for all of their students based on their target score, strengths and weaknesses identified from a diagnostic test, and testing date. They work one-on-one with each student to provide time-tested strategies and skills that have allowed hundreds of previous students reach their target scores and get into their dream colleges. All of our tutors attend top universities around the nation and scored in the 99th percentile on their ACT. Our tutors schedule to sessions to your availability and our costs start at $60/hour. Check out our tutoring services to book a session today!
About The Author
Andie Pinga is an expert SoFlo tutor and graduated from the University of Pennsylvania with a B.A. in Economics and a minor in Anthropology. She scored a 35 on her ACT and enjoys rock climbing and playing the guitar.