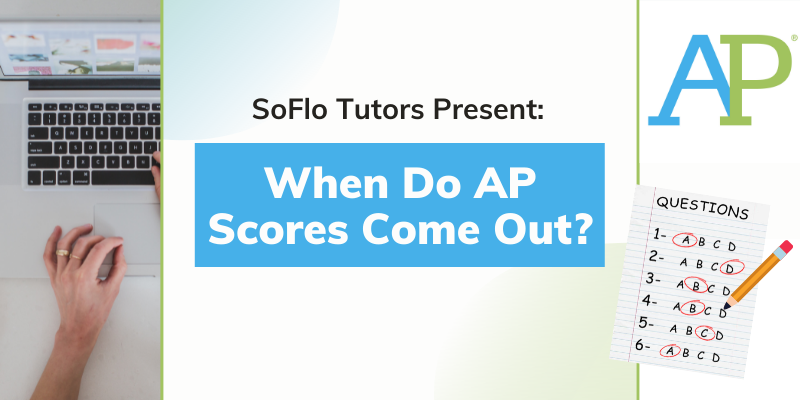 When Are AP Scores Released?
Imagine being in the middle of June — you've finished finals and it has been about a month since your AP tests. You probably have all your high school class grades at this point, so where are your AP scores? The unfortunate news is that you still have about a month to go until you receive them.
AP Score Release Dates for 2022
AP Scores will be released in July 2022. Per the College Board website, there is little else said for this year's specific release dates. However, if we base it on how scores have been released in the past, most scores should be released by mid-July; as the time approaches, College Board usually posts a more specific date or range of times that scores will be released.
In the past, there have been two main ways that College Board has released scores: based on location or based on the test date. It is most likely that one of these will be used to determine the date again this year.
Test Changes Due To COVID-19
Per College Board, the 2022 AP Exams will look much like they did prior to COVID. The website has the specific schedule for when tests will be administered and it will be given as a paper exam while at school.
You may need to wear a mask while taking the test, depending on your state and school campus requirements; however, other than this, there are currently no specific changes to taking the AP test due to COVID-19.
What Time Do AP Scores Come Out?
Scores are typically available at 8 a.m. ET, regardless of your geographic location. Since you do not need to wait for scores to be mailed to you, it is usually within a timely manner that they are uploaded online! Further below we discuss more about where to find your scores.
Why Does It Take So Long To Grade AP Tests?
It does take a while to get your scores – even if you take the very last AP test on the schedule, it is almost a full two months until you receive your scores.
The short answer is that there are real people reading your answers! This is necessary because of the free-response sections across most AP tests, which cannot be graded electronically like the multiple-choice sections can. Because of this, there are annual conferences held where "Reading Dates" are set for trained teachers to read and score the different tests. These are held after summer begins (or else these teachers would both be in school AND reading hundreds of responses…) and so this part of grading does not begin until June!
However, all your AP scores will become available at once so you don't have to wait for different test scores to come out. For instance, if you took AP World History and AP English Literature, you'll find out how you did for both on the same day.
How To Check My Results
The good news is that though you have to wait a while for the tests to be scored, you do not need to wait for results to be mailed to you! All AP score results will be uploaded straight to your account on College Board and can be accessed when scores are released.
Sign In With Your College Board Account
College Board is the only website where you can access your scores; be wary of any other website that is claiming to do so as well! Once on the website, you will need your username and password – after logging in, you'll be able to see all your AP scores (including past scores).
Can You Get Your AP Scores Early?
This answer depends on how College Board decides to release test scores; for simplicity, we will assume that it will be done based on geographic location. If you find yourself really REALLY wanting to have your AP scores early, you would need to log into College Board using a different location (either physically being in a different state, using a VPN to change location, or having someone else log in from elsewhere). Regardless of the method, you will only be seeing your scores a couple of days early at most, since all AP scores are released within at most a week's time. As noted before, be wary of accessing scores through sites outside of College Board, especially since they will try to advertise that you can get your scores earlier.
What To Do After Your AP Scores Are Released
Breathe! Congratulate yourself again for getting through the school year and through your college-level tests! Then you will need to look to what comes next (which was most likely one of your main reasons for taking the AP test in the first place): college.
Your AP scores are not automatically seen by the colleges that you want to apply to or are attending, and so you will have to send them yourself. Luckily, this can be done from your College Board account as well! Here is a handy FAQ from the College Board website with details about how to send scores. As a note, you do get one free "score send" each year! This means that you can send a full score report to one place of your choosing; however, this must be done before the given deadline each year (this year being June 20). For any further score reports at any time of the year, you will need to pay a fee.
To get college credit for an AP test, most colleges require at least a passing score of 3. If you didn't pass an AP test, it is important to figure out whether you want the credit for that test when in college; if so, you will need to retake the test the following year. It is best to seek guidance from your counselor or teachers at school to see what the best option for you is in this case!
Earning AP credit that counts at your college can help you explore more classes, skip introductory courses, or even potentially graduate early. Your AP exam scores translating to college credit can give you a leg up in school, so always try your best when taking the exams for your AP courses.
Do Colleges Care About Your AP Exam Scores?
During the college admissions process, seeing that you scored well on the actual AP exams and also performed well in the actual class in school can be a major sign that you are a high-achieving student. When filling out your college application, there can sometimes be spaces to self-report your AP scores, which could again show how well you were able to balance your workload and extracurriculars as an AP student.
However, if you already have admission into your top-choice college, they are not likely to care about your AP exam scores — they will most likely not rescind you if you performed well in the class and kept your GPA up, even if you don't score well on the AP exam at the end of the year. Still, going into your first year of college already having credits can be a major advantage, so that doesn't mean that you should completely give up on your AP exams!
Ace Your AP Exams With SoFlo Tutors
What should you do BEFORE your AP tests? Ensure that you are as prepared as possible!
SoFlo Tutoring doesn't only offer SAT/ACT test prep but also has one-on-one specialized tutoring for AP tests (and your AP classes). You will have the flexibility of making your own schedule with your tutor, many of whom have taken the same classes that you are in. If you feel unsure about how your AP classes are going currently, even if you are months away from the test, consider trying us out with a free consultation!
Additional AP Resources
About The Author
Aishwarya Jayabharathi is a graduate student at Johns Hopkins University pursuing a Masters in School Counseling. She scored a 35 on her ACT and has a degree in Neuroscience (with a minor in Creative Writing). If in Maryland, you can find her complaining about the cold, being fascinated by the changing seasons, and/or wishing to be back in her home state of California with her dog.