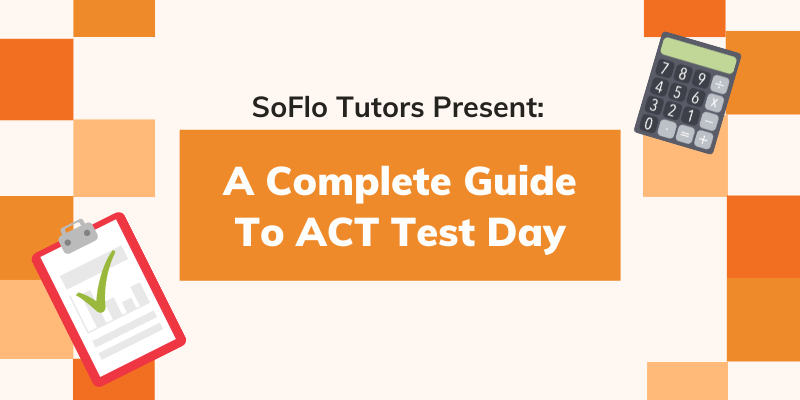 A Complete ACT Test Day Guide
The ACT, a standardized test meant to assess high school students on college readiness, has many moving pieces to it. Students must take care not only in preparing for the exam, but also for the logistics of test day. This article delves into everything you need to know about registering for the ACT, prepping for the exam, and your test day checklist.
ACT Registration
The first step in preparing for the ACT is registering for the test. In order to do so, you will need to utilize the ACT website, act.org, to look at test dates, locations, registration deadlines, costs, and ultimately registering for the test.
Registration takes around 30 minutes to complete and requires a computer with internet, payment, high school course details, and a headshot photo. Be sure to have all of these prepared ahead of time in order to make the registration process as easy as possible!
ACT Test Dates and Deadlines
Below is a table that lists upcoming ACT tests and their associated registration deadlines. Be sure to refer to these dates when planning out your test schedule- you don't want to have to pay the late registration fee or wait until the next exam!
| | | |
| --- | --- | --- |
| ACT Test Date | Registration Deadline | Late Registration Deadline |
| April 2, 2022 | February 25 | March 11 |
| June 11, 2022 | May 6th | May 20 |
| July 16, 2022 | June 17th | June 24 |
ACT Cost
There are certain fees that are associated with taking the ACT exam. In order to register for the exam, students must choose their test option and pay the corresponding amount. Below are the test options and prices:
ACT (no writing) – $63
ACT with writing – $88
Test option change – $25
These are not the only fees that go along with the ACT; there are a few additional fees that are optional for students:
Late registration – $36
Standby testing – $63
Change fee – $40
Send score reports to 5th and 6th college choices – $16
Additional score reports – $16
Test information release – $30 (during registration) or $40 (after the test)
Fee Waivers
For students who are unable to handle the costs of the ACT exam, there exists the ACT Fee Waiver Program. This program covers the registration fee for up to four ACT tests, with or without writing! This fee waiver does not act as a loan, so nothing needs to be paid back in the future.
Not only does this fee waiver allow students to take the exam, but it also grants free access to learning resources to help students prepare for the ACT, it allows students to send unlimited ACT score reports to colleges and/or scholarships for free, and lastly, students who qualify for an ACT waiver may also qualify for a waiver for college application fees. This gives students from low income backgrounds a great opportunity- to pursue the college of their dreams!
Fee Waiver Eligibility
There are certain requirements that a student must meet in order to qualify for an ACT fee waiver. It is also important to note that students must apply through their school counselors. TO be eligible students must:
Be an enrolled high school junior or senior.
Be testing in the United States, US territories, or Puerto Rico.
Meet an indicator of economic need as defined by act.org.
How To Start Preparing For The ACT
Alright, so now you know what the ACT is and you've registered for the exam. This means that you must begin preparing to take the exam. This preparation can take many forms: utilizing ACT study books, watching ACT content videos, and doing practice exams. The latter is the most effective, in my opinion, as practice truly does make perfect.
Practice Tests
For all of the different sections of the ACT- english, math, reading, and science- students must prepare differently. English prep requires brushing up on grammar rules, math prep deals with lots of practice problems and equations, reading prep requires learning to read for comprehension, and science prep means lots of graphs and data analysis. While it's a good idea to tackle each of these sections individually to find your strengths and weaknesses, what will ultimately help you is simulating test day throughout your studying.
This looks like taking practice tests and timing yourself through all of the sections. You can then score yourself and get a good idea of where you stand on the exam and where you may need some improvement. Practice questions put together into a practice test provide a great outlet to test all of the equations and vocabulary you have been acquiring throughout your high school career so far.
Tutoring
You may be wondering how you can get access to so many practice tests and how you can target the weak spots that these practice questions expose. The best way to accomplish both of these is by working with an experienced ACT tutor.
A tutor will be able to walk you through the exam and pinpoint where you need to shift your focus in order to bump up your score. ACT tutoring can be extremely beneficial, not only in receiving practice tests but also in building confidence as you go through your preparation for the exam!
ACT Day Checklist
Just as studying and practice tests are essential in preparing for a successful ACT exam, knowing how test day will run and what to bring are crucial. Making a checklist of how to spend the night before, when to arrive, and what to bring to the testing room can be extremely helpful for any student.
The Night Before
So tomorrow is the bid day! How should you spend the night before the exam? There are a couple of tips that help students feel prepared and calm on the morning of the test.
Eat a good dinner. It is known that eating a healthy and filling dinner can have a great impact on your mental state, which could ultimately set your mood for the exam.
Get a good night's sleep. This may seem so obvious, but it needs to be said! Getting sufficient sleep is important not just so you won't fall asleep during the exam, but also so your mind can be running at optimal capacity during the exam.
Don't cram. You may be tempted to try to shove in some last minute studying in the hopes of increasing your score. This will not help; it can actually do the opposite. Cramming adds plenty of stress and short-term studying is not known to be helpful in test taking. Instead, let your mind relax the night before your exam and process all of your hard work leading up to here.
Pack your bag. Having everything ready to go the night before will certainly reduce your stress in the morning as you prepare to leave for the testing center. Be sure to fill a bag with everything that we list below as test day essentials.
When to Arrive
The ACT exam begins at 8:30AM, but you must be situated in your seat at 8:00AM so the proctor can begin reading the test instructions.
When you arrive at the test-taking center, you will have to present your admission ticket and identification to secure your assigned seat. It's a good idea to get to the testing center as early as possible so as to reduce your chances of being late or getting stuck in a long line of students coming in.
The best time range to shoot for is 7:30-7:45AM, as most students will be arriving at 7:45AM.
What to Bring to the ACT Test
Preparing for the ACT is definitely a stressful process, and there are plenty of academic items to keep in mind. However, it is just as important to be prepared with the physical items you need to bring with you on test day!
ACT Test Ticket: It is best if you carry multiple copies of your testing ticket in case you lose one and need a back-up or need to hand it over. Remember, you won't be admitted into the exam room without this ticket!
Identification Proof With Photo: Make sure any photo ID you have is acceptable by the ACT standards and is not expired. An acceptable form of identification must be an original, valid ID issued by a city/state/federal government agency or your school, with the name on your ID matching the name on your admission ticket. A great example is your driver's license or school ID.
OR
ACT Student Identification Form With Photo: This form proves your identity if you do not have a photo I.D. as described above. Make sure you finalize this form one week before the ACT test day.
Mask: As of right now, the ACT is requiring all students to bring and wear masks to prevent the spread of the coronavirus. Students cannot currently enter any testing facility without a mask.
No. 2 Pencils: The best idea is to bring two pencils and two erasers, just in case one breaks! Also bringing a small sharpener would help cover all of your bases. Remember that mechanical pencils are not an option for the ACT.
Calculator: The ACT has strict rules about what calculators are allowed for the test. The best choice is to bring a basic calculator that you are familiar with. Be sure to also bring extra batteries if you feel weary about your calculator losing power during the test.
ACT-Approved Calculator
As noted above, the ACT has an extensive calculator policy in order to ensure fairness across students taking the exam. Any 4-function, scientific, or graphing calculator not on the prohibited list is allowed for the math section, but it is strongly encouraged that students use a calculator that they are comfortable with so as to make the exam process easier.
Before getting into what is not allowed, it is important to note that all problems on the exam can be solved without a calculator- the ability to use one is a luxury to help with time management!
Prohibited calculators on the ACT include the following models:
Texas Instruments

Model numbers beginning with TI-89/92
TI Nspire CAS

Hewlett-Packard

HP Prime
HP 48GII
Model numbers beginning with HP 40G/49G/50G

Casio

fx-CP400 (ClassPad 400)
ClassPad 300/330
Algebra fx 2.0
Model numbers beginning with CFX-9970G

Any electronic device such as a tablet, laptop, writing pad, smart watch, or cell phone.
Ace The ACT With SoFlo Tutors
Here at SoFlo ACT tutoring, high-scoring students from top colleges are prepared to help you understand all that you need to know about ACT preparation and test day strategies. Our tutors drill students in the best test-taking practices and can encourage you along your test-prep journey. Try out a session today!
About The Author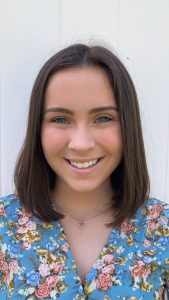 Keli Pegula is a sophomore at Dartmouth on the Pre–Med track. She's a SoFlo tutor who scored 1480 on her SATs and 34 on her ACTs. When she's not at school in Hanover, she might be in her hometown of Scranton, Pennsylvania — the town where the iconic TV show The Office is set!