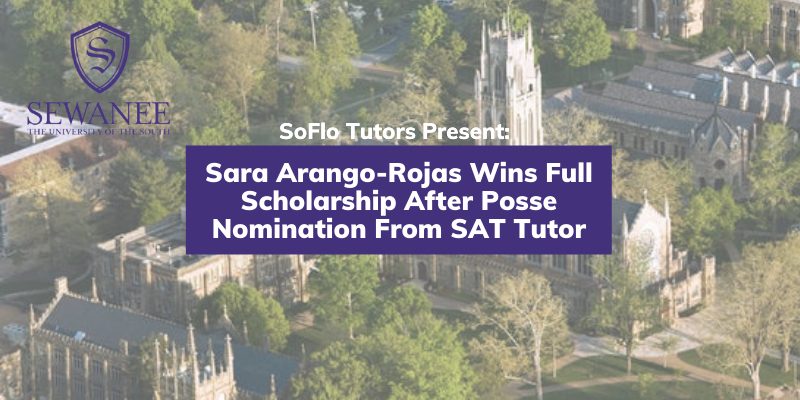 In the spring of 2021, tutor Kya Lin and student Sara Arango-Rojas began a conversation that would irrevocably change Sara's future. The subject? A scholarship from The Posse Foundation that offers deserving students a full-tuition scholarship to college, invaluable leadership resources, and a lifetime community.
Kya Lin has been a tutor with SoFlo SAT Tutoring since January of 2020, and she was initially attracted to the company for its outreach to underserved students. For Kya, one of the most important components of tutoring is having the opportunity to help students recognize their own growth and progress, instilling in them a sense of self-pride. Kya also values connecting with students on a personal level. "I try to get to know my students in the beginning, and throughout the process check in with them and decompress together before we get into tutoring," says Kya. "I like to let my students know that while I am their tutor, I'm not a professor — we can have a rapport, and the relationship can be more relaxed."
Paired with Kya for SAT tutoring, Wakefield High School student Sara Arango-Rojas can attest to this strategy. "When we had free time after sessions, we would end up talking about college and getting to know each other better, and we realized our personalities meshed really well." Having developed a strong relationship, Kya, a Vanderbilt University elementary education student and Posse Scholar herself, offered to nominate Sara for the prestigious Posse Scholarship.
The Posse Foundation is a non-profit organization that provides merit-based, full-ride scholarships to select students by partnering with universities. In addition to the scholarship, Posse Scholars receive the benefits of going to college with a community.
"Posse was founded in 1989 because of one student who said, 'I never would've dropped out of college if I'd had my posse with me,'" writes The Posse Foundation. "The idea is that students who are coming in from different backgrounds and aren't necessarily familiar with the college culture and environment could benefit from tackling the culture shock with a posse, or a group of their own who can support them," they say. "They are more likely to be successful because they have that support."
Potential Posse Scholars undergo an elaborate, three-step interview process before recipients are selected. Afterwards, students awarded the Posse Scholarship have pre-collegiate training (PCT) during the spring semester of their senior year of high school. During this time, students bond with the other scholars attending their future university, forming a network (or a 'posse') of students who can provide support for each other when the first semester of college rolls around. Often recognized for its excellence and important objective, The Posse Foundation boasts benefactors such as Barack and Michelle Obama, Lin-Manuel Miranda, and numerous Posse alumni who hold prominent leadership positions across all sectors.
The foremost requirement of the Posse Scholarship is leadership ability. According to The Posse Foundation, "From CEOs to educators, social entrepreneurs to STEM innovators, the leaders of the 21st century should reflect our population's growing diversity. The Posse Foundation supports talented students from diverse backgrounds so they can become those leaders."
Kya attended Bard High School Early College Queens, and when making the move from New York to the American South for college, the Posse Scholarship was of enormous importance. "It was really daunting to move 14 hours from home where there was no family, no support system, no community…it was the idea of Posse that sold me on taking such a risk. They understand that going so far from home is new and difficult, and that's why your posse and your support system is so essential."
By leveraging technology, Kya and Sara were able to build a relationship despite the distance. Kya is based in Nashville, Tennessee, while Sara is in Arlington, Virginia. 20 years ago, they might never have met, but as online learning accelerated during the pandemic, the two were lucky enough to be connected.
The experience of nominating Sara brought back fond memories of Kya's own acceptance several years ago. "Once I actually became a Posse Scholar, I was so shocked I started crying — I was just so grateful. I remember that moment, sitting on the couch like 'Oh my gosh.'" Given her positive experience with the organization, Kya was eager to make her annual nominations count. After tutoring, Kya and Sara would discuss the college application process. "I told her about my college application journey, and my journey heavily involved Posse. Sara knew about Posse before her guidance counselor even talked to her," Kya explains. "I let her know that I would be down to nominate her, because she's such a great student and someone who was a really great fit."
Yet for Sara, the decision to accept Kya's nomination was complex. "I had received an email from my counselor about the Posse Scholarship, and while it seemed like a great opportunity, none of the schools interested me at first," says Sara. "I really wanted to go to an arts school, or a school in a state that I wanted to live in after college. But through Kya, I found out that the University of Virginia was part of the Posse program, and that piqued my interest because I was applying to UVA either way. Kya convinced me that I might fall in love with one of these schools, and that full tuition was worth exploring."
After deliberation and some thoughtful further research, Sara had a change of heart — much to Kya's delight. "Sara reached out to me through text and said 'Hey, I've changed my mind. Do you still have a nomination spot for me?' For me it was a no-brainer, I was like 'Yes, of course! I still have that spot and I'd be happy to use it for you.'"
Kya's admiration for Sara is evident as she explains her reasoning for the nomination. "When I first started tutoring Sara, I realized that she wasn't confident about her SAT abilities. As a tutor, I never want that for my students — you need to be thinking of yourself positively to see your improvement. The process is rigorous, and self-doubt can be tough on you mentally. I remember telling Sara that the SAT is all about practice, and one thing that I noticed was that Sara started having a growth mindset about things. She was able to say 'Okay, I know I'm capable of doing this, let's go ahead and start.' She just attacked it." Kya says that this determination seemed like a non-traditional representation of leadership ability. "I could see that she was someone with a great mindset, and a person who was amicable and easy to talk to, and I knew that she would be a great fit for the program and that she could offer a lot to her posse if she won."
Kya also stresses that she knows Posse will be a great benefit to Sara in the future. "Because Sara's interested in the fine arts and I don't know much about that, I was like 'Girl, I can't help you!' With Posse there's a component of career and professional mentorship, and I thought that could be great for her as well." This component of professional support is evident in The Posse Foundation's statistics: Posse Scholars see a college graduation rate of 90%, by comparison to the national average, which is about 60%. Likewise, community support extends far beyond college admissions — in the past twenty years, Posse Scholars have earned 600+ prestigious fellowships.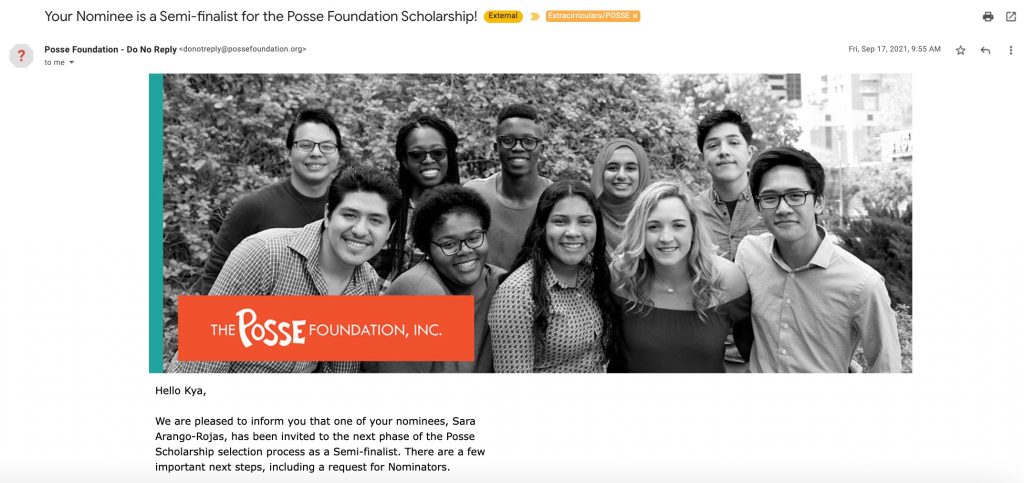 Sara is grateful for Kya's encouragement, especially with the application process complete. Sara is now admitted into Sewanee, which consistently ranks as one of the top liberal arts colleges in the nation. "I am very excited – the more I learn about Sewanee, the more I fall in love with the school. It really suits me, and I'm especially looking forward to focusing on art. I've always been a good student, but my passion is art, and to finally have that as my main priority is going to be really exciting."
Sara goes on to share about the importance of mentorship, saying, "Having somebody that's always in your corner, and especially someone who went through the same process that you did, is very encouraging. It makes you feel like you have somebody you can lean on. Kya's always been my cheerleader — she was one of the first people I told when I found out I made it through the first round of interviews. She honestly became a good friend to me, and not just a tutor."
Kya plans to pursue education, and she feels strongly about a teacher or mentor's responsibility toward their student. "When tutoring, it's your job to create structure and expectations and an environment in which students can be successful," she says. "With mentoring, I have a similar mindset, even if it is different than teaching and more of a two-way street. I think, 'It's my job to meet my students wherever they are.'"
Sara's older brother also shares his thoughts on her incredible achievement: "For me, Sara's scholarship is a testament to her character, perseverance, and hard work. It is a validation of the importance she places on caring for others and her drive to better herself and her community. More importantly, this scholarship means that she has the freedom to apply these qualities in the areas she is most passionate about and in which she will have the greatest impact on society, and a support system that will be instrumental as she develops as a young adult and professional."
Everyone at SoFlo SAT Tutoring feels a similar pride. Company founder Adam Shlomi said, "One of the core values of SoFlo is student-tutor chemistry. Day to day, this means laughing with your student and texting them casually so they pay more attention during class and are more likely to do their homework. But Sara's story goes above and beyond. Here is someone who made such a lasting impression on her tutor that Kya was able to unexpectedly change her life. Character is how you behave when no one is watching, and Sara shows real character by impressing and inspiring her tutor even when she had no reason to. By getting the Posse scholarship, Sara's whole trajectory has changed. She will have access to educational opportunities that better her life and her family's life. I am moved and grateful that SoFlo Tutors could be indirectly part of such a life-changing event. What an amazing story!"
Of course, no one is more proud than Sara's tutor. At the suggestion that she has forever changed Sara's life, Kya laughs. "It feels weird to think about it like that. Sara did this for herself! But I've reflected on it, and I realize that the small gesture of nomination means so much, just as it did when I was nominated by my guidance counselor. It's the community solidarity that makes Posse so helpful, thinking about my experience as a person of color in Nashville. Even just the benefit of having someone to talk with about small differences, to say 'Hey, have you noticed there are fewer restaurants in Nashville?' and have the person beside you say 'Yes!' can mean so much."
Sara offers some parting advice to students in similar situations who may be unsure about accepting a nomination or seeking out an unfamiliar scholarship. "For people who maybe aren't sure if a scholarship is right for them, look through the opportunities thoroughly! Make sure you understand what a scholarship is asking of you and offering to you. I was hesitant before, but now, I can't imagine a school that's a better fit for me than Sewanee. Take that leap!"