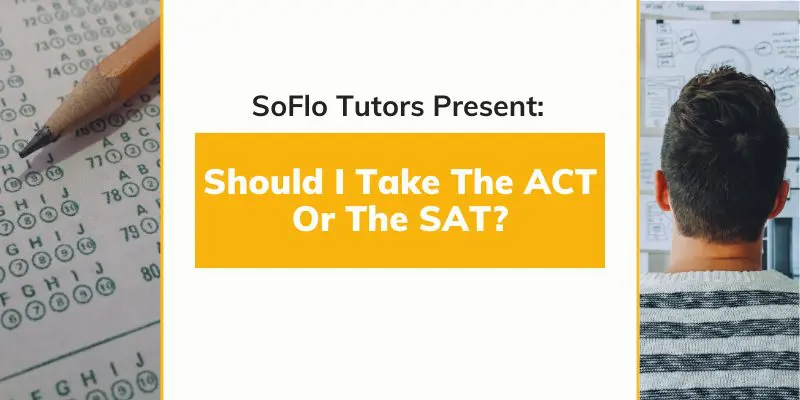 SAT Vs. ACT: An Overview
What Is The SAT?
The SAT is one of the most frequently taken standardized tests for college admissions in the United States. Many colleges evaluate prospective students' scores during the admissions process but also sometimes for merit based scholarships.
As of spring 2023 for students taking the exam in the United States, the SAT is a traditional multiple choice, paper and pencil exam that lasts around three hours. Students must register for an SAT test date at a specific testing center and complete the exam in one sitting. However, starting in the spring of 2024, students both in the U.S. and international countries will switch to the digital SAT.
Colleges and scholarship programs look at the SAT as a way to understand a student's readiness for college and the level of their academic readiness. Scored out of 1600, the SAT tests students in Math and Evidence-Based Reading And Writing.
While the SAT can be an important part of a student's college application, admissions officers will consider each application holistically. This means they will not only appraise SAT scores but will also look at GPA, extracurriculars, rigor of academic course load, recommendation letters, and community involvement.
Most students who take the SAT are juniors in high school who are preparing materials for upcoming college admissions deadlines. Students can take the SAT more than once if they would like to try and improve their scores, and can even take the ACT instead if they do not feel that the SAT is the right standardized test for them.
What Is The ACT?
Like the SAT, the ACT is also a standardized test for college admissions. The ACT is comprised of four sections: English, Reading, Math and Science. The ACT, like the SAT, is three hours and must be completed in a testing center in one sitting. Scored out of 36, the ACT can be an important component of your college applications.
Both the SAT and the ACT are accepted as standardized tests by most colleges, but have a few key differences that might influence whether you choose to take the SAT or the ACT.
Similarities Between The Tests
Both exams will take around the same amount of time to take, and they cover similar subjects like reading comprehension, grammar, problem solving, and mathematics.
Additionally, both tests have similar costs to take them: the SAT costs $60 while the ACT costs $66 without writing. Both also have different change fees for around $25 (for changing details of your test day or registration).
Colleges accept both the SAT and the ACT, so you also do not have to worry about whether or not the schools you apply to accept either exam. They are both considered to be fairly equal standardized assessments for college admissions and do not have any direct advantages over one another. However, some people perform better on the SAT than the ACT, and vice versa, so it's important to understand the differences between the two exams and choose wisely.
Key Differences Between The SAT And ACT
Test Structure and Sections
The SAT is composed of three different sections: Reading, Writing, and Math (No Calculator and Calculator).
The SAT Reading portion has 52 multiple choice questions that you will have 65 minutes to complete. Some questions that will probably appear in this section include ones asking about the main idea of a passage or comprehension questions about the content. You will not need any outside knowledge to answer any of the questions asked in the SAT Reading section.
For the SAT Writing & Language portion, you'll have 35 minutes to answer 44 multiple choice questions about grammar, vocabulary, and proofreading/editing. While you won't need outside knowledge about the actual content of what you read, you will need to have a strong understanding of basic grammar rules and be able to use context clues to understand vocabulary terms within the passages.
The last section of the SAT, Math, is actually broken up into two separate subsections to be taken back to back: math with no calculator and math with calculator. The no calculator section has 20 questions to be completed in 25 minutes, while the calculator section has 38 questions to be answered in 55 minutes.
As indicated by the names, the no calculator section will not allow the use of one of the permitted calculators but you will be able to consult your calculator for the section section. Unlike the other sections of the SAT, the two math sections will feature multiple choice questions as well as grid questions. In the no calculator section, there will be 15 multiple choice questions and 5 grid in questions; in the calculator section, there will be 30 multiple choice questions and 8 grid in questions.
The ACT is composed of four sections, not including the optional Writing (essay) section: English, Math, Reading, and Science.
The ACT's English section is made up of 75 multiple choice questions with a 45 minute time limit. Like the SAT, this section will test knowledge of things like grammar and punctuation, as well as understanding of sentence structure.
Next, the ACT's Math section has 60 multiple choice questions that students have 60 minutes to complete.
The ACT also has a Reading section that consists of 40 multiple choice questions with a 35 minute time limit. This section is similar to the Reading section of the SAT, as it will present multiple passages and ask test takers comprehension questions.
A Science section is also present in the ACT, which has 40 multiple choice questions and 35 minutes to complete it. This section will include graphs, charts, tables, and research summaries that students will need to unpack.
Finally, the ACT has an optional Writing test that will require that students write one essay in 40 minutes.
Obviously, a large difference between the two exams is the ACT's Science section. The ACT's Science section contains 40 multiple choice questions that you must complete within 35 minutes. These questions will not only test a student's knowledge of specific scientific concepts, but rather a student's ability to read a science based passage with visual representations of data (graphs, charts, tables, etc) and understand them.
The ACT Science section will include seven different science passages that could be about different topics like biology, chemistry, physics, and earth sciences. While most of the questions will be answerable just based on the information presented in the passages, some might require outside knowledge.
Reading
| | | |
| --- | --- | --- |
| | SAT | ACT |
| Number of Questions | 52 | 40 |
| Passages in Section | 5 | 4 |
| Time Limit | 65 minutes | 35 minutes |
| Time per Question | 75 seconds | 52 seconds |
The ACT and SAT Reading sections have a lot of similarities, but they also have key differences: the SAT section is significantly longer. However, both include around the same number of passages that will likely cover similar topics (for example, they might include scientific or historical excerpts as passages).
A key difference is that the ACT Reading section is obviously shorter in length and time limit than the SAT Reading section, meaning students have a little less time per question and might feel a bit more rushed finishing the section.
Writing/English
The Writing section of the SAT is similar to the English section of the ACT, as both test students on their knowledge of things like grammar and sentence structure. However, there are still a few differences between the two sections that you might want to consider.
| | | |
| --- | --- | --- |
| | SAT | ACT |
| Number of Questions | 44 | 75 |
| Time Limit | 35 minutes | 45 minutes |
Obviously, the ACT English section is a bit more fast paced than the SAT section. However, since both of the exams are intended to have around the same difficulty, you might find that the questions in the English section of the ACT are shorter or perhaps easier to answer in less time. In order to get a grasp for how these exams function, taking a practice exam or answering some questions in each section will really help you understand their structure.
Science
A common misconception is that the ACT Science section means students who aren't as strong in STEM shouldn't consider taking the exam. While you might need to have some familiarity with basic scientific concepts, the science section is a combination of reading comprehension and data interpretation. In fact, the SAT Reading section will actually also include charts/graphs that students will need to interpret, which is similar to what students would be doing in the ACT Science section.
Still, some might feel more comfortable taking the ACT or SAT depending on how many of those questions they want to answer. For students who excel in data analysis or have a strong understanding of how to understand charts and graphs, they might want to take the ACT. For those who only want to answer a few of those questions, they might want to take the SAT as it won't have an entire section dedicated to these types of questions.
Math
Length
There are some differences between ACT and SAT Math sections that you might want to consider before registering for either.
Like the Reading sections, the SAT gives you a little bit more time per question to answer. The SAT Math section consists of two parts: no calculator and calculator. The SAT no calculator section is 25 minutes with 20 questions, while the SAT calculator section is 55 minutes with 38 questions. On the other hand, the ACT Math section is 60 minutes with 60 questions.
Reference Sheets
The SAT provides students a brief reference sheet for the Math sections, while the ACT does not. This SAT reference sheet is available for test takers to look at while they take the Math sections, and includes information like area and circumference of a circle, the Pythagorean Theorem, special right triangles, and volumes of different shapes.
Calculators
In terms of calculators, the SAT has a no calculator Math section, while the ACT allows for a calculator for the duration of the math portion.
Multiple Choice
For the ACT, all Math section questions are multiple choice; for the SAT, however, there are a few grid-in questions at the end of both the no calculator and calculator sections.
Furthermore, ACT multiple choice questions have 5 answer options, while the SAT multiple choice questions have 4 answer options; this means that, if you do need to guess on a few of the questions, you have a higher statistical probability of guessing correctly on the SAT (barring the grid-in questions).
Essays
The SAT no longer offers a writing portion as of June 2021. On the other hand, the ACT still offers an essay portion.
The ACT's essay component lasts 40 minutes and is intended to measure a student's writing skills. The essay test will ask one writing prompt that describes a complex issue and asks the student to present three different perspectives on that issue.
Should You Take The ACT With The Essay?
The essay is completely optional and students can choose to take it at the end of the multiple choice section of the ACT. However, because of its optional nature, you might not know whether or not you should sign up for the writing after the required portion of the exam ends.
To determine whether or not you should take the essay section of the SAT, you should consider what the requirements and preferences of your target schools are. Not many schools require the ACT Writing portion, especially when the SAT got rid of their essay.
Some schools might recommend that you include an ACT Essay score, but most colleges do not require it. For instance, none of the Ivy League schools require the ACT Essay portion. However, having a strong ACT Writing score can boost your application; especially if you are applying as an intended humanities major (and even more so for majors that are writing focused like journalism), you might want to consider taking the Writing section to demonstrate your writing ability.
Another consideration is that opting into the Writing portion will cost an additional $25. Signing up to take this extra section will also obviously add some time to your already long test, so if none of your target schools consider ACT Essay scores, you might not want to spend your time and money taking the extra portion.
Number Of Test Questions And Test Duration
| | | |
| --- | --- | --- |
| | SAT | ACT |
| Total Number of Questions | 154 | 215 |
| Total Time | 3 hours | 2 hours and 55 minutes |
| Additional Test Questions | None (SAT Essay is no longer offered) | An optional essay portion with 1 question to be answered in 40 minutes |
The ACT contains more questions than the SAT, and is also 5 minutes shorter in length (not including the optional ACT essay portion).
Costs
Not including change fees, the SAT costs $60 and the ACT (with no essay) costs $66. If you are interested in taking the ACT essay portion, then your total ACT registration fee will come to $91.
If you are concerned about you and your family's ability to pay these registration fees, you may be eligible for a fee waiver. Both the ACT and SAT offer fee waivers for those who qualify, so make sure to speak with your school guidance counselor for next steps if needed.
Additionally, keep in mind there are other fees that may be associated with taking either the ACT or the SAT. For instance, both the ACT and SAT will charge additional fees if you need to make changes to your registration. Sending your scores to schools might also add on some additional charges, depending on how many colleges you would like to send your score to. You can find all of this specific information on the ACT or SAT's official sites.
Scores
The SAT is scored out of 1600, while the ACT is scored out of 36.

If you're curious about score conversions between the ACT and SAT, check out this article.
Which Is Easier, The SAT Or ACT?
Neither is inherently easier or harder, but different people have different strengths and preferences. To really know which of the two exams is best for you, you should take both an ACT and SAT practice test. Even though it'll take a significant amount of time, it's really the only definitive way to know which of the exams feels easier for you.
SAT Vs. ACT: How To Decide Which One To Take
As we mentioned above, taking an ACT practice test and an SAT practice test is one of the only sure ways to know which of the exams is a better fit for you.
Taking practice exams for both the ACT and SAT can be time consuming, but it will help you down the road by making sure you're taking the exam that you can do the best on. If you're pressed for time and deadlines for college applications are quickly approaching, you might want to choose your weakest subject (like reading or math) and take a section from each of the exams. For instance, if you think you're the weakest in math, you might want to take a practice math section for the ACT and a practice math section for the SAT. From there, you can compare your scores and how you felt while taking the exam.
Whether you find the ACT or SAT easier will depend on your personal preferences, test taking style, and subject strengths. Again, you will get the best idea for which one you should register for by taking practice tests for both of them.
Do Universities Or Colleges Prefer The SAT Or ACT?
Universities have no preference for the SAT or the ACT and accept both.
Additionally, many schools have now changed their policies about standardized tests like the SAT and ACT. There are now colleges that are "test optional," meaning you are not required to send a score (whether for the SAT or ACT), but can if you would like to. Others are completely "test blind," meaning they will not take your score into consideration. To find out if the colleges you apply to are test required, optional, or blind, you can find that information on their respective admissions websites.
Once you know more about the testing policies for the schools you want to apply to, you can begin thinking about which exam to take if you do choose to prepare for the SAT or ACT. Even for schools that are test optional, a strong score can really boost your application, so taking one of the standardized tests might be to your advantage.
Prepare For Either The SAT Or ACT With SoFlo Tutors
If you're looking to schedule your first SAT or ACT, SoFlo is a great resource to get you started. SoFlo offers one-on-one tutoring for both the SAT and ACT, and all tutors are highly trained and skilled college students with the expertise to help you excel.
SoFlo students make their own schedules and are offered flexible tutoring plans while also seeing noticeable improvements in their own scores. Schedule your first free consultation now!
About The Author
Emily is a recent graduate of the University of Pennsylvania and will be working in marketing in New York City. In her free time, she enjoys painting and playing the guitar.