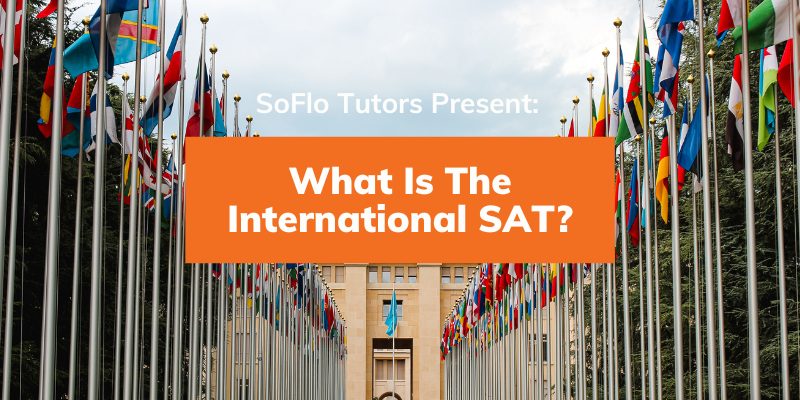 What Is SAT International?
The SAT International is a version of the SAT offered to students who do not reside in the US or any US territories. There is no difference between the US SAT and the SAT International other than the locations in which they are administered. In addition, there are more fees, less registration dates available (in the past), and important deadlines that must be met for international students.
Why Is It Important For International Students?
The SAT International is an important part of applications to US schools. If your goal is to attend a 4-year US college, odds are that the SAT will be a prerequisite for your application. Although many colleges are currently test-optional, some are choosing to not continue this policy in the upcoming years. It is important that you check with the colleges you are interested in to ensure that you meet their testing requirements. Taking the SAT International can be a good indicator of college readiness and increase your competitiveness as an applicant. Finally, scoring well on the SAT can balance out a lower GPA as the SAT is sometimes seen as a better indicator of academic capabilities.
How Is It Different From US SAT
In short, there are no differences between the US and SAT International. The SAT is meant to assess college readiness in the same way among all students seeking to attend college. To avoid cheating, tests administered on different dates vary in terms of the texts and math problems used. The College Board seeks to make each version of the SAT taken equal in difficulty, and there are no changes made for international testing.
Is It Hard?
Depending on your abilities and commitment to studying new material, many students find the SAT International challenging. One main reason for this is the need to have a command of the English language. For students who do not speak English as their first language, reading comprehension, text interpretation, and vocabulary can be difficult. All sections of the SAT require reading passages or understanding word problems which demands a thorough understanding of English syntax and structure. In addition, the SAT covers a wide range of concepts that you may not have learned in high school. Preparing for these topics can be challenging but is imperative to your success.
Things To Know About The International SAT
While the US SAT and the International SAT are practically identical in content, there are important differences that you should be aware of. Registration and various deadlines differ from the US SAT, and there have been less testing dates available before 2023.
How To Register
Registering for the SAT International can be done on the College Board website in just three steps!
First, either create a College Board account or log into your existing one
Then, fill out an application form
Finally, pay all required fees and upload your photo ID
Location policies vary depending on the country you are testing in. International students have additional requirements, and these can be found on College Board's website. If you need further assistance, there are international representatives to assist you with this process. The list of official international representatives can be found on the College Board website.
The SAT International is offered seven times per year. It is important that international students take note of registration deadlines as there is no late registration for the SAT International. In addition, if you need to borrow a device for testing day you must request it at least 30 days in advance to account for international shipping. In other words, you must register even earlier if you anticipate needing to borrow a device from the College Board. Although all of the test dates are not yet finalized, the College Board has released an anticipated schedule for the 2023-2024 school year:
Location Policies
If you are taking the SAT outside of the US, different policies regarding registration may apply. While all test takers have to follow specific policies, certain countries have additional rules that may affect registration. All policies regarding registration in different countries can be found on the College Board website and are listed below:
Test Centers
Even though there are over 1,000 test centers globally, that does not mean that there will be a test center close to you. You can search for test centers near you to find one that is convenient and learn about any additional fees. It is also possible to request a test center if there is not one within 75 miles.
Additional Fees
The registration fee for all students taking the SAT is $60. There is an additional $43 regional fee for international students although this may vary per region. Fee waivers are only available for eligible students who live and test in the US, or eligible US citizens who live outside of the US. Depending on your location, there may be an additional test center fee. The College Board has a list of test centers that are known to charge additional fees and they advise that you contact your specific test center for the latest information.
Additional test fees are applicable for the following services:
| | |
| --- | --- |
| Service | Fee |
| Test center fee (only in select locations) | $24 |
| Changing your test center | $25 |
| Canceling registration | $25 |
| Canceling registration late: for international students late cancellation is after the registration deadline but by Thursday 11:59 before test day | $35 |
There are also fees for sending score reports:
Changes In The SAT For International Students In 2023
There are a couple of changes in 2023 for international students seeking to take the SAT. The biggest change is that the SAT will be administered online instead of on paper. This new format brings some changes to the scope of the test as well as the time it takes to receive your results.
Testing Goes Online
As mentioned above, the international SAT is now only being administered in an online format. If you do not have a device to use on test day, you may request one at least 30 days in advance to allow for international shipping. The digital SAT will save your progress as you go in case your device shuts down, and each student will receive a unique test to prevent cheating.
Changes In The Scope Of The Test
The digital SAT is similar to the traditional paper SAT with a couple of changes that aim to help students. To begin, the digital SAT is shorter– it will last 2 hours and 14 minutes compared to 3 hours. While the traditional SAT only allows students to use a calculator for one math section, you are allowed to use a calculator for all math questions on the digital SAT. While the concepts tested in the digital SAT remain the same, there is a combined reading and writing section that features shorter passages.
Administrations And Time To Receive Results
Beginning in 2023 the International SAT will be administered 7 times per year instead of 6. This change will give students more flexibility when choosing test dates that are convenient for them. The digital SAT will also allow students to receive their results within days instead of weeks. This will give you more time to review your results and learn from your mistakes before you either sign up for another SAT or decide that you are satisfied with your score. In addition, it will allow you to take the SAT closer to any college or scholarship application deadlines if necessary.
Prepare For The International SAT On Time With SoFlo Tutors
Are you looking to improve your SAT score to become a competitive applicant for US colleges? SoFlo tutors are prepared to tailor lessons to your needs and help you achieve the score you desire. All of our tutors attend top universities and provide exceptional tutoring services with an average increase of 110 points after 10 sessions.
Make sure to check out SoFlo's tutoring services to find a tutor that is right for you! Contact us through our website for more information and to begin working with a tutor who is skilled and well-versed with standardized testing.
Frequently Asked Questions
What Is The International SAT?
The International SAT is the version of the SAT offered to students who take the test outside of the US or US territories. It does not differ from the US SAT in terms of content tested or level of difficulty.
How To Register For SAT For International Students?
You can register for the International SAT online through the college board website. The process requires creating a college board account, filling out the required information, and uploading your photo ID. There may be additional policies and test center fees depending on your location.
How Is The International SAT Different From The US SAT?
The International SAT and US SAT are very similar as they both test the same concepts and are the same level of difficulty. The main differences are the registration policies and additional fees that international students may be subject to.
What Changed In The SAT International In 2023?
The International SAT will now be administered online only. There will be 7 administrations per year instead of 6, and students will be able to receive their results in days instead of weeks.
About The Author
Isabella Arias is a junior from Florida majoring in Health Science at the University of Florida. She scored a 1480 on her SATs, loves weightlifting, and enjoys baking/cooking all sorts of recipes in her free time! Outside of school she volunteers with organizations aimed at providing healthcare resources to the homeless community in Gainesville as well as improving literacy skills and providing tutoring support to elementary students in Alachua County.