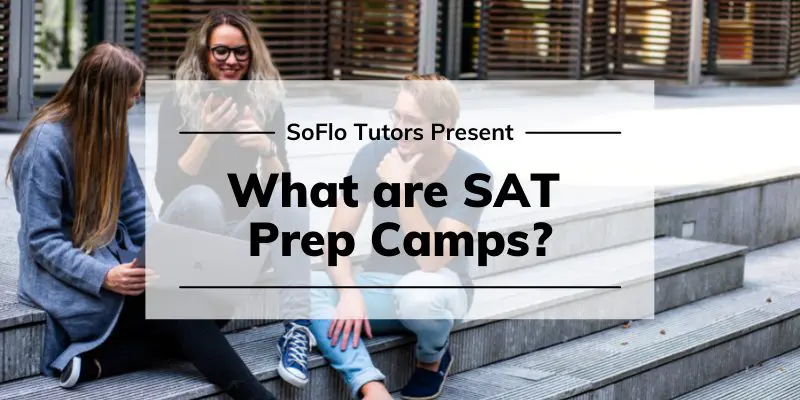 What is the best way to study for the SAT? With so many SAT test prep options available, it's hard to decide which option is right for you. One route many students going through the college admissions process take is attending an SAT prep camp—also known as an SAT boot camp or crash course.
What are SAT Prep Camps?
Prep camps are intensive, structured environments where students can prepare to take the SAT. There are a wide variety of camps all over the US, ranging in duration, price, and types of classes. They can be day camps or a month-long residential program and offer online or in-person options. At prep camps, students learn the ins and outs of the SAT. They learn test-taking strategies, become more comfortable with the format, and ultimately many see a score improvement.
Is a Prep Camp Right for You?
There are several reasons why you might consider going to a prep camp:
You want to boost your SAT score. On average, student scores improve 50 to 250 points after attending a prep camp. Going to a prep camp will often give you tools and strategies proven to succeed by past students. If you are a low-scorer on the Math section, they can focus on relevant topics to maximize your score.
You prefer structured studying over self-studying. Prep camps' long hours and intensive sessions may seem painful to some, but to others, it's the study environment they need and thrive in. While there are tons of free resources on the internet, like Khan Academy or Quizlet flashcards, it can be extremely overwhelming to filter through the good and the bad. A guiding hand and set study plan can be very beneficial if you just want to focus on studying—not deciding what to study. Prep camps not only provide study materials like official SAT practice tests and a tailored prep course, but also tried-and-true tips and tricks that have proven to work with past high school test takers.
You only have a short period time to study. Cramming is never ideal nor fun, but it happens to the best of us. Prep camps can range from summer, to a week, to even one day before your test date. They can give you all the essentials in a short period of time, just in time for your test date.
You need to do well on your first try. There are many reasons why students can only take the SAT one time: an application or scholarship deadline nearing, financial reasons, etc. Regardless, if you're only going to take it once, you should be as prepared as possible to make it count.
You need a specific score. Prep camps can target the curriculum to your weaknesses and help you reach your goal score. Prep camps are especially helpful if you are trying to achieve a perfect score.
You like making connections with teachers and other driven students. Some students learn best in group settings and teachers can become mentors even after the course ends. It's a great opportunity to meet like-minded peers and bond over the college application process.
You would like a guarantee on your money. Many prep camps guarantee your goal score or your money back. This can be a sigh of relief for parents who are unsure of the monetary investment, which can be quite high at times.
What Should You Consider When Choosing a Prep Camp?
Cost. Cost may be one of the biggest considerations when families are looking at SAT prep camps. Many prep camps can be pricey, costing thousands of dollars. Some families may be able to afford this, but it's important to keep in mind that a more expensive prep classes doesn't mean they are the best in quality. There are plenty of affordable options for families. Some camps offer scholarships for students from disadvantaged backgrounds. Additionally, as mentioned previously, some camps offer score-guarantees, where they guarantee your money back if a student doesn't reach their target score.
Duration. Test camps can last for days, weeks, or even over a few months. From one-day cram courses to summer-long camps, there will be a test prep camp that is right for your situation. Depending on your test day, you can choose the camp that will give you the right amount of time to prepare—or some last-minute tips if you are cramming the day before.
Location. Where the SAT prep camp is located is also an extremely important factor, since it should be somewhere accessible to make sure that you are getting the most benefit. If you are looking to go to an in-person camp, it's easy to narrow your search to camps close to your neighborhood where you can commute easily. In rare cases, some students fly across the country to attend a test prep camp because they heard great reviews about it or want to also experience living in a new environment. While this may be a fun option, it definitely isn't necessary for most students. Additionally, many camps offer online prep classes. You can attend live online classes from the comfort of your bedroom.
Types of Classes. It's important to look at the types of classes that the prep camp offers to make sure it is compatible with your learning style and score goals. Some students thrive in smaller SAT classes, while some prefer larger ones. Another consideration is if the classes will specifically target your weak areas. For example, say a student is very strong in the SAT math section but struggles on the Reading section. They don't want to spend their precious time going over Math topics they already know or taking entire SAT practice tests. The prep camp should tailor their curriculum to focus the student's time on studying for the SAT reading section. It's also important to make sure to sign up for the right test prep—if you are taking the SAT, don't sign up for an ACT prep camp!
Reputation. It is helpful to ask around friends and family to see if they had a good experience with a specific prep camp, as they will often tell you things that aren't advertised on their website. If you don't know anyone who went to the camp, online reviews are also a good way to gauge their reputation.
Best Prep Camps
1. Education Unlimited College Admission Prep Camp
Education Unlimited offers a college admission prep camp that prepares a student for the entire admissions process (including help on researching target schools and writing personal essays). They also specifically offer SAT-only versions of the curriculum. There are 35 hours of instruction and students take 3 full-length practice exams. Students have the opportunity to completely focus on the SAT at this camp, with no school, extra-curricular, or work distractions. Education Unlimited offers both online and in-person options.
Duration: 12 days
Price: $1,195
2. Duke University SAT Summer Boost
Take an SAT summer camp at one of the top universities in the US! In the course of one week, Duke will cover the crucial principles of math, techniques for reading comprehension, time-management skills, logical reasoning, and test-taking strategies. The camp highlights a fun, collegial environment where students can make friends while gaining a competitive edge. Duke's camp is located on their campus in Durham, North Carolina.
Duration: 5 days
Price: $900
3. Crimson Review SAT Summer Bootcamp
Crimson Review's intensive, 7-week course prepares students for the August 28th SAT. They offer 1-to-1 instruction and a serious environment to hone test-taking skills. Their course is suited for rising juniors and seniors and covers all sections of the SAT—Reading, Writing, Math, and the Essay. They incorporate the latest research from educational specialists in their teaching and methods. The Crimson Review also guarantees that students completing the program will increase their test scores by 250+ points or reach the 98th+ percentile.
Duration: Summer
Price: $3,995
4. Mastery Prep SAT Boot Camp
Mastery Prep offers a 1-day workshop, which is perfect for last-minute prep. It can also be a confidence boost right before your test if you struggle with test-taking anxiety. In one day, students learn time management skills, essential test-taking techniques, tips for the most important question times, and effective guessing strategies. Their workshops are flexible inconvenience and timing, offering both in-person and virtual options on weekdays and weekends.
Duration: 1 day
Price: Request a quote on their website
5. The End Result Boot Camp
The End Result offers small groups, capped at 8 students, and live instruction for maximum student engagement. They meet on Saturdays from 9:30 am to 12:30 pm over the course of 4 weeks. Students receive individualized feedback and coaching and also learn general and content-specific strategies. The End Result operates in Las Vegas, Chicago, Florida, and Los Angeles.
Duration: 4 weeks
Price: Call for a price quote
Prep Camps Don't Seem Like the Right Fit? Try SoFlo Tutoring.
Preparing for the SAT is a marathon, not a sprint. SoFlo Tutors is another tutoring option for students, offering the same structure and targeted approach as a prep camp. Our private tutors work one-on-one with a student in a low-pressure, friendly environment. SoFlo tutors teach from experience; they've achieved top SAT and ACT scores and attend top universities. Tutoring sessions costs start at $60/hour and each tutor tailors every session for each student. Check out our tutoring services to book a session!