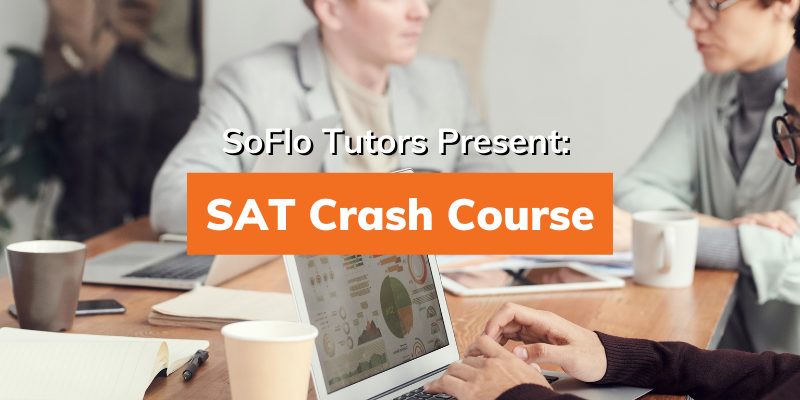 Running short on time before you have to take the SAT? Here are some things to keep in mind!
Make the best use of limited time
I know this is fairly obvious, but it's an important point to be made. Being on a time crunch for the SAT means you won't be able to dedicate the same time and energy to study and prep for the exam as you would in an ideal situation, essentially you will have to adjust your testing strategy. What exactly do I mean by that? Keep on reading to find out.
Focus on Strategy and Quick Tips
With this lack of time, there's no point in focusing on understanding all of the details of all of the content covered on the SAT, instead work on ways to approach the exam and maximize the number of questions you can get right with the knowledge you have.
The Best Way To Do This? Take Practice Tests
The best way to prep for the SAT is to practice the SAT. Taking practice tests will allow you to get familiar with the content the SAT covers while also actively trying out different testing strategies and analyzing your weaknesses.
The key here is to not take these tests haphazardly, but instead, try these different strategies:
Skim questions before reading the passages, this will help you have a better understanding of what to focus on during your reading (which will improve your reading comprehension) and save you time (which means you can go back and check your work at the end of the section).
Don't dwell on difficult questions. Every question on the SAT is worth the same amount of points, so don't waste time trying to figure out a really hard question when you can instead answer the easier ones (what's the point in answering one right if you can't get to several questions at the end of the section?).
Come up with your own answer before looking at the answer choices. Doing this means you will avoid one of the most common mistakes students make on the SAT, which is rationalizing an answer choice (If you ever think to yourself, Well I guess that could be right, then stop yourself and reconsider your options).
Work back from the answer. Stuck on a question? Start from the answer choices and work backwards to see which makes the most sense for the question (This is particularly helpful in the math section, but can also come in handy on the language sections).
Time each question (or sub-section) instead of each section. Since there are so many moving parts, breaking down the SAT into smaller bits makes it easier to manage. Here's a breakdown of what that looks like:
Section
SAT Reading
SAT Writing
SAT Math (No Calculator)
SAT MATH (Calculator)
Total Time & Questions
65 Minutes
52 Questions
5 Sub-Sections
35 Minutes
44 Questions
4 Passages
25 Minutes
20 Questions
15 Multiple Choice
5 Free Response
55 Minutes
38 Questions
30 Multiple Choice
8 Free Response
Time Breakdown
75 Seconds Per Question
13 Minutes Per Sub-Section
~48 Seconds Per Question
~9 Minutes Per Question
75 Seconds Per Question
87 Seconds Per Question
Check your work. We can't stress this point enough. Half the reason you should take practice tests is so you can analyze your mistakes. Identifying points of weakness allows you to better focus your studying, so once you're done taking a practice test be sure to review any questions you got wrong or struggled with, and make sure you understand WHY you got them wrong, and HOW you can get them right.
Schedule practice. Life gets busy, and between balancing school, extracurriculuars, college applications, and a social life, it's easy for some things to slip between the cracks. Because of this, it is important to block out a chunk of time everyday. Now that doesn't necessarily mean you should take a full test every day, but it does mean you should do some sort of practice (even a section or two) daily until you sit for the SAT. Why? Well, if you take nothing else from this whole post, then I ask only that you remember this one thing: CONSISTENCY IS KEY.

Studying for the SAT is like going to the gym — go every day, eat right, and you will see results quickly.
Don't know where to find practice tests? College Board provides 10 SAT tests from previous years for students to practice with, these can be found here. In addition, SoFlo tutors provides a free online SAT course where we share tricks for every section of the test: Reading, Writing and Math. If you want to increase your score, you NEED this free class.
Manage expectations
This might be kind of hard to hear, but it is important to be realistic given the circumstances you're in. You shouldn't expect to make a 100+ point jump after taking one practice test, so don't be too let down if you don't see a drastic improvement with the amount of prep you've done. Instead, take a small victory and plan out better for next time, which brings me to my next and final point.
Don't Cram for the SAT
This goes without saying, and again as obvious as it might sound, don't put yourself in a position in which you will have to cram for the SAT. This test, just like any other, requires adequate preparation. This means you need time to understand the material and analyze your mistakes as well as revise your testing strategy, so the best way to do well on the SAT is to give yourself this time.
SoFlo Crash Course
Now I get it, sometimes life catches up with us, and next thing you know you only have a week before you have to take the SAT. Fortunately, SoFlo SAT Tutors has your back. Check out our online SAT Cram Course. This course is only $88 and comes with a 50 point money-back guarantee. That's right, if, after having watched every video and completing the course in its entirety, you don't improve 50 points on the SAT, then SoFlo will refund you the full $88 cost of the course! Now that I've told you all there is to know about cramming for the SAT, we also encourage you to check out the rest of our blog for more useful content.