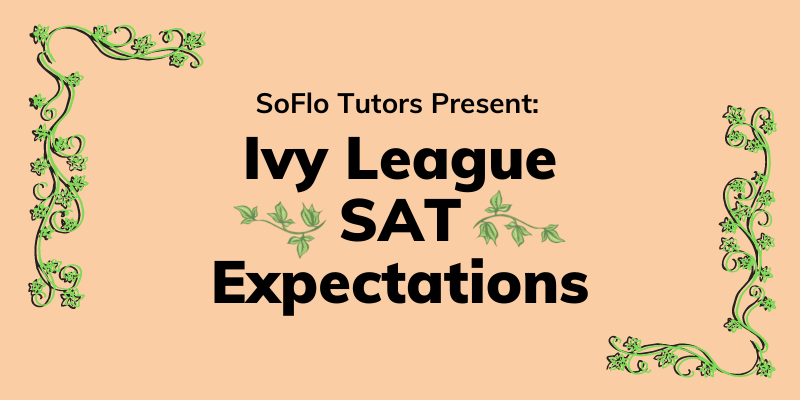 SAT and the Ivy League
If you are interested in attending a school that is a part of the Ivy League, you are likely aware of the worry that many prospective students have about their test scores. While this is not limited to the SAT, this tends to be the test that most students are nervous about.
While this last year and upcoming school year are likely exceptions as many schools, including those in the Ivy League went test-optional, it demonstrates that testing does not always dictate whether or not a student will get into a particular university. There are so many other factors that college admissions often considers in order to get a full understanding of an applicant, like GPA, extracurricular activities, athletics, and letters of recommendation. Nonetheless, these schools do tend to admit a student body with a high average of SAT scores, which is why it is important to be aware of the expectations of these universities.

How Much Weight Do the Ivy League Schools Put on SAT Scores?
There are several websites such as prepscholar.com that will offer you estimates of your percentage likelihood to get into a college based on your SAT score and GPA. These measures, however, ignore the possibility of having numerous other elements on your application that make you a strong candidate. Ivy League colleges are intent on bringing in the best and the brightest, but they also recognize that sometimes SAT scores do not capture the full potential or intelligence of a student.
Ivy League admissions committees also look for unique kids that already show potential for success. Thus, I encourage you to remind yourself that while you should study and work hard for the SAT, there are other factors as well. In the same way that a perfect SAT score (or a high GPA) does not guarantee getting in, a non-perfect SAT score does not guarantee your rejection. Remember that admissions officers are considering your entire application during this process – not just your scores and grades!
Average Scores for SATs at Ivy Leagues
SAT Scores are important when applying to colleges, especially the Ivy Leagues. While average SAT scores differ across the 8 Ivy League schools, they do have relatively similar numbers. One overall statistic to keep in mind is that an SAT score of 1580 (on a 1600 scale) places you in the top 25% of admitted applicants for most of the Ivy League schools. This score would be comparable to a 35 on the ACT.
The Ivy League includes Harvard, Yale, Princeton, Cornell, Brown, Columbia, Dartmouth, and the University of Pennsylvania. It is a good idea to look at the statistics for each specific school you're applying to. To help out, we will take a look in-depth at the average SAT scores for the first three schools mentioned above.
SAT Scores at Harvard

Harvard University, seen as one of the best Ivy League institutions, is allowing students to apply without SAT scores for the 2021-2022 admission cycle. If a student does choose to submit scores, however, they can submit either the SAT or ACT (with or without the writing component). Harvard also mentions on their admissions website that subject tests can also be submitted. While these are not required, they do address that it is better to only submit one math subject test score when applying.
Harvard also emphasizes that there is no "cutoff" score and that they will consider a composite score for the ACT. Like most universities, Harvard wants to make students aware that SAT scores are not the sole determining factor of admission and that oftentimes high school grades can play a role in determining college readiness. However, for those students that are homeschooled or do not have typical high school grades, it may be necessary to perform well on these tests to demonstrate readiness.
While there is no "cut-off" score, it is estimated that to be a competitive applicant, having higher than 1460 is essential. In 2021, the acceptance rate to Harvard was 3.43%, thus to remain competitive, it is imperative that you work to achieve scores that fall within the middle 50% of admitted students.
Average SAT Scores for Harvard
Based on the data from applications for Fall 2019, an admitted Harvard student would need to score a 710 on the SAT Reading section to be in the 25th percentile and a 770 to be in the 75th percentile. As for the SAT Math section, a 750 would be needed to fall in the 25th percentile and an 800 for the 75th percentile.
Overall, about 71% of applicants chose to submit SAT scores, as the ACT is also an option. For the ACT, Harvard's average score is 34. The 25th percentile score is 33 and the 75th percentile is 35. Same as the SAT, Harvard does not have a "cut-off" score for the ACT, but a 33 would indicate that you are a competitive applicant.
Princeton University, currently ranked as #1 in the nation by US News, is also highly competitive, but not requiring standardized testing for the 2021-2022 application cycle. Princeton places emphasis on a "holistic application review process," and thus encourages students not to worry too much about their test scores.
SAT Scores at Princeton

Average SAT Scores for Princeton
According to their website, Princeton's class of 2024 had Math SAT scores of 740-800 for the middle 50 percent of admitted students. For Reading, the middle 50 percent ranged from 710-800.
SAT Scores at Yale

Similar to both Harvard and Princeton, Yale University decided to not require standardized testing this year and assured that those who do not submit scores will not be disadvantaged.
Average SAT Scores for Yale
The middle 50% of admitted first-year students at Yale in Fall 2020 scored between 720-780 on the Reading section of the SAT. For math, the middle 50% of students scored 740-800.
SAT Scores Table
While the Ivy Leagues all have high average scores, there are some variations between the averages of different schools. For full information on each of the schools' average scores, refer to the table below. The second and third columns break down what the average math and reading SAT scores are at each university. In the final column, you will be able to see the total average SAT scores among admitted students.
| | | | |
| --- | --- | --- | --- |
| Schools | Avg Math SAT Score | Avg Reading SAT Score | Avg Total Score |
| Harvard | 760 | 750 | 1510 |
| Princeton | 765 | 740 | 1505 |
| Yale | 765 | 745 | 1510 |
| Columbia | 770 | 735 | 1505 |
| UPenn | 770 | 730 | 1500 |
| Dartmouth | 760 | 740 | 1500 |
| Brown | 755 | 730 | 1485 |
| Cornell | 760 | 720 | 1480 |
The above table demonstrates the tendency for Ivy League universities to admit students with high SAT scores, but it is still important to remember that these are the average scores. There are students that place both and above these scores and are accepted to the schools. There is more to you than your test scores!
Will Taking the SAT Increase My Chances of Getting Into An Ivy League School?
During these unprecedented times, all of the Ivy League schools have become test-optional. This means that, while you are not required to submit SAT scores with your application, it would be wise to submit them if you feel they will strengthen your application. Especially if you come from a school that may not grade classes in the same way as other high schools, this test can help show what level you are at in comparison to other Ivy League applicants. Knowing the average SAT scores in your state also helps you understand where you stand among the applicant pool.
When Should I Take the SAT?
There is no real quick and easy way to answer the "when" question. As long as you have your scores before your application deadline, then you will be prepared. However, it is best to take the SAT for the first time well before these deadlines.
Most students take it for the first time in the spring of their junior year of high school, but if you feel that you are prepared sooner than this, then there is no harm in taking the test sooner. It is also possible that you may want to take the test multiple times to improve your score. If you are willing to spend the possible money on the tests, then there is no harm to taking this approach other than possibly sacrificing a few of your Saturday mornings!
What about Subject Tests?
Since the College Board is no longer offering SAT Subject Tests in the United States, no Ivy League schools are requiring them to be submitted. If you are a current applicant who has already taken subject tests, then you can certainly still submit these if they add to or strengthen your application.
How Can I Best Prepare for the SAT to Get These Scores?
If you are worried about the SAT, sign up for tutoring with SoFlo! SoFlo will assign you with a personal tutor to help work with you individually to ensure your success. Our tutors received top SAT and ACT scores, and many of them attend Ivy League schools and other top schools like MIT and Stanford. Our tutors teach tailored test prep that can help students regardless of when the upcoming testing date is. SoFlo tutors also can help students register for the exam and provide personal insight into the college application process. Sign up today!
About the Author
Becky Rosen is a sophomore at Princeton studying architecture. She's a SoFlo tutor who scored 1540 on her SATs and 35 on her ACTs. When she's not at school in New Jersey, she might be in her hometown of Tennessee looking at cute dog pictures from her friends.