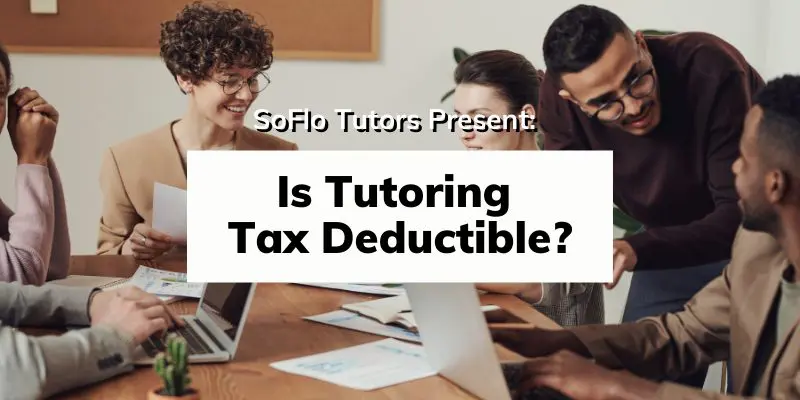 Tutoring is a helpful service that many kids will use to help them with everything from getting extra help with their least favorite subject in school to preparing them for specific tests like the ACT or SAT.
With the prevalence of tutoring on the rise, many parents and caretakers might be curious if expenses related to tutoring can be deducted from federal or state income taxes. It's also fair to wonder what other benefits might be available to help offset the cost of these vital supports for parents.
Federal Deductions
The IRS has strict limits on what types of educational expenses qualify for either income-tax deductions (which reduce your taxable income) or tax credits (which reduce your tax burden). Most of these deductions and credits relate to post-secondary education, meaning things that are related to costs incurred after a student finishes their K-12 education. As a result, most types of private tutoring for K-12 students are not tax-deductible at the federal level. However, there is one key exception:
Students with Disabilities
For students with disabilities, tutoring can be considered a qualified medical expense. It's important to remember that the term disability can cover a wide range of medical issues. Disability can refer to:
Developmental disabilities
Learning disabilities such as dyslexia
ADHD
For families looking to utilize this deduction, they will need to have the necessary paperwork. Qualified tutoring should have been undertaken on the advice of a doctor, which should be provided in writing. Tutoring should be designed to address their specific, additional needs as a result of their disability. The tutor completing the tutoring should be qualified to meet these specific and unique needs.
State Taxes
The Federal Government isn't the only place that collects taxes though! State governments also offer tax benefits to parents and families who want to do more schooling at home.
Four different states offer tax credits or deductions for families who homeschool their children.
| | | | |
| --- | --- | --- | --- |
| State | Amount | Type | Details |
| Illinois | $500 | Credit | For Educational Expenses |
| Indiana | $1,000 | Deduction | Per Homeschooled Child |
| Louisiana | $5,000 | Deduction | 50% of Educational Expenses Costs |
| Minnesota | Varies | Credit | For K-12 Education |
Education Tax Credits At the State Level
Other Government Funding For Tutoring
COVID Relief Funds
As a result of the COVID-19 Pandemic, some states have made new funding available for families to access tutoring or other academic support. California's budget for Fiscal Year 2022 includes $2.6 billion in funding for educational interventions such as tutoring. Families should inquire with their child's school or school district to see if they qualify for these funds.
The Federal Government has also approved "micro-grants" through the Department of Education, which would go towards families interested in hiring at-home tutors or teachers. Since the money is also designed to address the technology gap exacerbated by Covid, portions of the funds can even be used for technological expenses such as computers or internet access.
SoFlo Tutoring
Once you're ready to find the right source for your child's tutoring, you need to look no further than SoFlo's Online ACT and SAT tutoring. SoFlo's individualized online tutoring is delivered by college students who just aced the tests themselves! Tutors help address student weaknesses, while also encouraging and growing strengths. Getting ready for these tests can be daunting, but students don't need to face them alone with SoFlo!