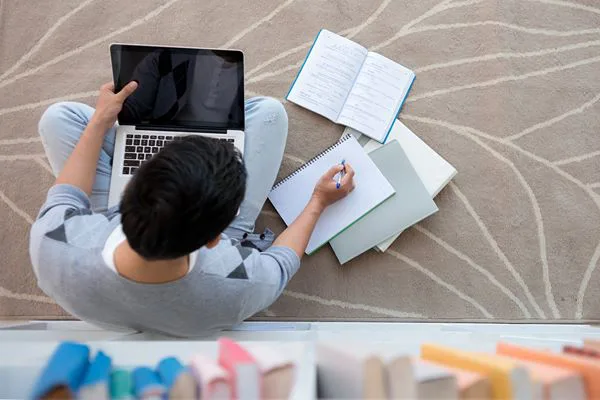 How to Study for SAT at Home
Is it Possible to Organize SAT Preparation at Home? — Your Step-by-Step Guide
Register for the SAT
The first step to getting started with the SAT exam is to register for the SAT! Students interested in taking the SAT soon should visit the College Board website and sign in with their College Board account. While registering, students must provide their full names and other identifying information.
After looking through the available SAT testing sites, students should choose a location to take their exams at. They will also be able to look through the available testing dates and make a decision as to when they would like to take the exam.
Students will then have to upload a picture of themselves according to the photo guidelines written on the website. After the photo is uploaded, students can then check out and print out their admissions tickets, which they'll need to bring to the exam. According to the College Board, SAT registration can take around 30 minutes, but students can pause registration any time and pick up where they left off if they can't complete registration in one sitting. Students can check out our blog for more info on what to bring to the SAT on test day.
Familiarize Yourself with the Exam Pattern
One of the most important aspects of preparing for the SAT exam at home is becoming familiar with the exam format. The SAT consists of 3 hours of testing, with Reading, Writing, and two Math sections.
All students must take the exam in the same, specific format. The Reading section is first, lasting 65 minutes and containing four reading passages and subsequent questions about their content. There are 52 questions in the Reading section, covering vocabulary terms and reading comprehension. After the Reading section comes the Writing section, which is 35 minutes long with 44 questions designed to test a student's knowledge of grammar and writing rules.
Finally, after the Reading and Writing sections comes the Math sections. There are two Math sections in the SAT exam, one non-calculator section and one calculator section. For the non-calculator section, which comes before the final Math section, students have 25 minutes to answer 20 questions. Then, students have 55 minutes to answer 38 questions with the help of their calculators.
In between some of the sections, students will receive short breaks in order to drink water, stretch, or just rest their minds. These breaks typically occur after the Reading section and then again after the Non-calculator Math section.
Sign up for Online SAT Tutoring
If students are preparing for the SAT at home, they should consider the help of an online SAT tutoring service like SoFlo, which works entirely over Zoom. Getting insight from tutors who have taken the exam before and have learned about the specific SAT curriculum can be a huge advantage for students, especially if they're not sure how to improve their scores on their own.
Getting input from virtual tutors can also mean the student is receiving feedback and additional materials in order to continue their score growth. We recommend that students consider signing up for online SAT tutoring at least once if they notice a plateau in their practice test scores.
Relax Before Test Day
Test day anxiety can actually result in worse performance on the day of the exam, so students should remember that their state of mind is also important when they are preparing for the SAT. Making sure to get a good night of sleep before waking up for hours of testing will ensure that students are at their very best potential when they take the exam.
Students should remember that there is no limit to how many times they are allowed to take the exam, meaning one bad test isn't going to mean the end of the world! Staying focused and calm can also help with anxiety while actually taking the exam — keeping a level head while reading through some of the more complicated questions on the exam can mean the difference between arriving at the right answer and missing the point opportunity.
Signing up for an In-Person Prep Class Versus Preparing Virtually at Home
In-person SAT prep classes can be an extremely helpful resource for students, but especially with the pandemic, it's not always a viable option. While both in-person prep classes and virtual preparation can be helpful, it's up to each individual student and their learning styles to determine which would be most effective. Since they both have pros and cons, students should consider the different aspects of both types of learning to make their decisions.
In-personal tutoring sessions offer great organizational support for the student, since they'll usually be structured on a regular weekly schedule. If the student signs up for an group tutoring program, they will likely be meeting with their peers and teacher at the same times every week, which can offer a sense of routine. The teacher will have materials prepared for the students and can watch students work in-person, step-by-step. Going to a prep program's location can also yield a study space that can be immensely valuable for students who get distracted trying to study in their own homes. In-tutoring sessions can also rely on adult supervision to schedule and commute.
On the other hand, virtual tutoring is often in part student-led, meaning it can help grow their independence and maintain a level of accountability. Students who are learning virtually will need to put their problem-solving skills to the test when they are completing the material assigned before their sessions begin. It also creates some flexibility in terms of scheduling for those who can't commute to a test preparation class or have complicated and changing schedules.
Great Strategy to Study for the SAT at Home and Making the Most of it
If students are beginning to prepare for the SAT and are tackling the exam on their own, they should begin by familiarizing themselves with the exam and its format. They should then find some resources and take a practice test in order to gauge where they are starting and get a sense for the material they will be tested on. Most students prefer to buy test preparation books, which include multiple practice tests and answer explanations, so they are able to learn more about the test curriculum and see why they made mistakes.
Consulting SAT tutors can also give a more in-depth look into the different kinds of questions the SAT asks and how to think like the test writers. Learning more about the nuances of the exam can help students avoid common SAT pitfalls and take the test with full confidence. Knowing the material and structure of the exam is extremely important for the SAT, so students should familiarize themselves with the curriculum as much as possible prior to the exam.
In preparation for the Reading and Writing sections, students should do some additional vocabulary practice outside of their practice tests. Understanding a wide array of vocabulary words is not only important for the questions that ask about specific terms, but also to just gain full comprehension of the Reading and Writing passages themselves. While context should help students understand the meanings of words they have never heard, they can lessen the chance that they encounter an unfamiliar word by expanding their vocabulary. Looking up "common SAT vocabulary words" will yield dozens of results that list some of the SAT's most frequent terms.
For the Math sections, targeted practice makes perfect. If a student notices they are consistently missing questions that involve linear equations, they should look for resources that help explain linear equations more in-depth. Watching explanatory videos diving deeper into a topic of concern can help the student learn more about the question type and how to solve it. Instead of simply taking test after test, students should focus on the problems that they have consistent issues with to maximize their test preparation time.
Again, working with a tutor one-on-one can give deeper insight into the SAT and the many tips and tricks experienced tutors can offer in regards to the exam. However, there are many online resources that can help students learn about the SAT and all of its tested topics if students are unable to sign up for individualized tutoring sessions.
Common Mistakes to Avoid When Preparing for the SAT at Home
Students should make sure they're taking each SAT practice test within the time constraints of each section. Working through each problem on their own time will probably yield higher practice test scores, but they won't be indicative of their actual scores when they are facing strict time constraints while taking the exam. The SAT is extremely strict with their time limits and will not be lenient during the exam for students who are rushing to finish bubbling in their last answers. Ideally, students would reserve 3 hours to take a full-length SAT practice test in one sitting to mimic the conditions of test days. However, since students are often juggling other responsibilities, if they are not able to dedicate a 3 hour block of time to take a test from start to finish, they should make sure they are staying within each section's time limits.
Students should get started with their SAT preparation as soon as possible. Waiting until a couple of weeks before the exam date is one of the most common mistakes students make when they are preparing for the exam. While it may seem like a far time away, preparing for the SAT takes more time than many students think because of the sheer volume of material it covers. Procrastinating can also lead to panicking, and keeping a calm mind is one of the most helpful practices students can employ while they're taking the exam! Starting as early as possible will leave time for students to really delve into the exam's components and learn what methods and strategies work best for them.
Students should also try to maintain a regular schedule with their SAT studies. It will help them stay organized and on top of their work. Deciding to study for the SAT on a whim or day to day basis will not work for most students, as it will open the door for procrastination until the day of the exam is approaching rapidly. In addition to maintaining a routine, students should also stay organized by keeping track of their past practice test scores so they can track their progress. While practice does make perfect, taking practice tests over and over is only helpful if students spend time looking over their incorrect answers and learning from their mistakes so they can fix them while taking their next practice test.
Another major mistake that many students make while studying at home for the SAT is forgetting to look over the questions they guessed on. Since the SAT only has 4 multiple choice answers, students have a 25% of guessing correctly if they don't know the answer to one of the standardized questions. However, if they don't mark those questions and see that they luckily answered it correctly, they'll miss entire questions that they need to spend time learning about and improving on. We recommend that students mark every guessed question, so next time they don't need to guess!
Get Ready for the SATs in No Time With SoFlo
Working with a one-on-one tutor is the best way to get personalized feedback and have someone on students' teams who can hold them accountable. SoFlo's tutors all have extensive experience with the SAT, both through first-hand test taking and from curriculum comprehension. SoFlo also has access to many SAT practice resources that take a closer look into some of the hardest aspects of the exam, all available for the students working with SoFlo. Since SoFlo is also entirely virtual through Zoom, students are able to schedule flexibly with students who took the SAT recently and are able to give timely insight into the exam. Learn more about SoFlo Tutors online test prep tutoring here.