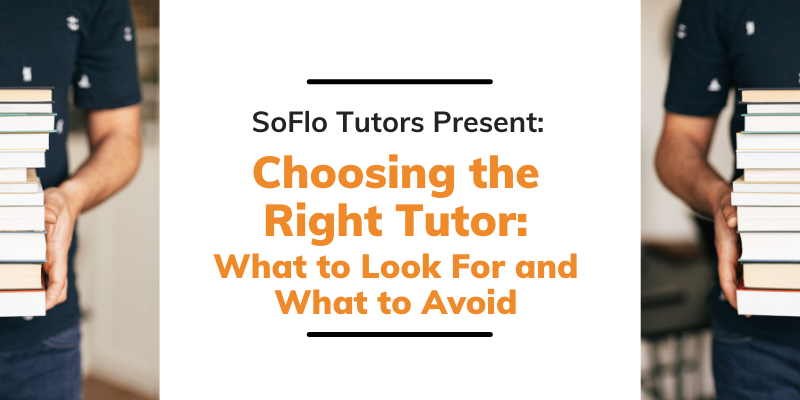 When it comes to finding a tutor, there are a few things you'll want to keep in mind. You'll want to find someone who is knowledgeable in the subject area you're struggling in, and who can communicate effectively. You'll also want to make sure that the tutor is someone you feel comfortable working with. In this blog post, we'll discuss some of the things you should look for (and avoid) when choosing a tutor.
What to look for in a tutor
Patience: A good tutor will be patient with their students. This means that they will be able to explain things in different ways if needed and will not get frustrated if the student does not understand right away.
Knowledgeable: The tutor's input should be knowledgeable about the subject they are teaching. They can answer any questions a student may have, and explain things in an easy-to-understand way so that you don't feel lost or confused when trying to learn this new knowledge area for yourself!
Resourceful: It is important to have the proper tools and resources for teaching. By having these resources, they will be able to provide your kids with the best possible learning experience. There are a lot of video editing tools they can use to create lessons that will help their understanding of important concepts like math or science in an entertaining way!
Flexible: A good tutor will be flexible with their schedule. This means that they will be able to work around the student's schedules and find a time that works for both of them.
Friendly: A good tutor will be friendly and easy to talk to. This means that the student will feel comfortable asking questions and talking to the tutor about anything they are struggling with.
Reliable: A good tutor will be reliable and show up for their lessons on time. This means that the student can count on the tutor to be there when they are supposed to be and will not have to worry about them canceling last minute.
How to find the right tutor for your child
Ask around. You might consider asking your friends and family for help with schoolwork or finding a tutor. Chances are, they know someone who can make it happen!
Do your research. There are many online resources to find a tutor. Try searching locally or by subject matter for tutors in your area, and then contact them directly through their websites!
Meet with the tutor. Before you commit to a tutor, make sure to meet with them first. This will allow you to get a feel for their teaching style and see if they're a good fit for your child.
Ask questions. Don't be afraid to ask the tutor questions about their qualifications or experience. You want to make sure your child is getting the best possible education.
What to avoid when choosing a tutor
Don't hire a tutor who is not certified or experienced.
Don't hire a tutor who is not a good match for your kid's learning style.
Don't expect miracles from a tutor – they can help, but ultimately it's up to the child to learn.
Don't be afraid to ask for references or recommendations from other parents.
Don't forget to budget for private tutoring – it can be expensive, but often worth it in the long run.
Questions to ask potential tutors
What are your qualifications
What are your teaching methods?
What is your availability?
What are your rates?
What are your cancellation and refund policies?
Do you have any testimonials or references I can contact?
What is your teaching experience?
What is your educational background?
What subjects can you tutor?
Do you have any specialties?
What are your policies on make-up classes?
Do you offer any discounts?
Are you able to provide study materials?
What is your policy on communication with students and parents?
How to prepare your child for their first session with a tutor
Open communication is key. Talk to your child about why they are getting a tutor and what specific goals you would like to see them achieve. This way, they can be on board with the whole process from the start.
Get organized. Make sure you have everything ready before the tutor comes over, such as books, materials, computers, etc. This will help the session run smoothly and avoid any unnecessary disruptions.
Establish a routine. Try to establish a regular day and time for the tutoring sessions, so that it becomes a part of your child's weekly routine. This will help them to better adapt to the changes and make sure they are getting the most out of their lessons.
Be supportive. It is important to be supportive of your child throughout the whole process. This means encouraging them when they are doing well and offering words of encouragement if they seem to be struggling.
Take breaks. Tutoring sessions can sometimes be intense, so make sure to take breaks as needed. This will help prevent your child from getting overwhelmed or burned out.
Reward progress. Be sure to celebrate your child's accomplishments. This will help them to stay motivated and feel good.
Have patience. It takes time for tutoring to show results, so it is important to have patience throughout the process. Trust that the tutor is doing their job and be supportive as your child undergoes this change. With a little bit of effort from both you and your child, the transition to tutoring can be a success!
By providing one-on-one assistance, tutors are able to help students reach their goals. Whether a child needs extra support in math or English is up for debate; what's certain though? That they'll be more than satisfied when reaching that goal as long as you're by their side all along! By following the tips in this post, you can find the right tutor for your needs and create a successful educational partnership. Remember to ask lots of questions, do your research, and trust your gut when it comes to making this important decision. Best of luck in finding the perfect tutor for you!
FAQ
Let's talk money. How much do you charge?
SoFlo has two pricing options.1) Our core tutors charge $60/hour with 0 fees. Plus there are no contracts so if we aren't the right fit there are no long term obligations. Core tutors offer the best value with the least risk. Core tutors scored in the 99th percentile, aced SoFlo's 30-hr intensive training requirements, and are involved in ongoing professional development.2) Our premium tutors charge $90/hour with long term contracts. Our most experienced, in-demand tutors book up fast and are recommended for very high or low scoring students, students with learning differences, or those who want our most experienced, proven tutors. Premium tutors have consistent exceptional feedback, a longer track record of success, higher average score gains, and professional tutor certifications.
I heard you offer free tutoring. Is that true?
That is correct! Through the SoFlo SAT Scholarship Program we offer reduced or free SAT tutoring. We believe that everyone should have access to high quality test prep so they have an equal opportunity to succeed. College admissions should not be a game won by a select few. In high school, Adam received discounted SAT tutoring which was instrumental in his acceptance to Georgetown. We now pass on the same help he received to the next generation. Parents and students with financial need are encouraged to apply for the SoFlo SAT Scholarship. Apply for the scholarship here.
Can I use FaceTime or Skype instead?
We aim to please. If you'd prefer to have SAT tutoring on FaceTime or using Skype that is fine with us. FaceTime is the easiest video-call to set up and many students will use FaceTime if they are calling us from an unusual location like during a family vacation where they wouldn't have access to their home computer.
I don't know if Zoom tutoring will work for my child.
Zoom isn't for everyone. Some students need an in-person tutor to sit down with them. However, this new generation was raised with Zoom and Facetime. We also have no contracts, so we encourage you to try a session or two and then decide if online tutoring is the right fit.
You look pretty young. How old are you?
Our founder, Adam, is 24 years old. Most of the SoFlo team is made up of college students and recent graduates who crushed their exams, attended top schools, and enjoy teaching high school students. We see our youth as an advantage when it comes to connecting with high school students who are preparing for college.
Who are the tutors?
All of our SAT/ACT tutors come from elite universities and have all mastered the college admissions process. Each tutor has scored in the 99th percentile on the SATs, attended a top university like Princeton University, and is fun and engaging to work with. We have a competitive tutor application process, and we rigorously train our tutors until they are experts at teaching the tests. Learn more about our tutors' backgrounds and experience by visiting the Our Tutors page.
Where are you located?
Although our home base is in South Florida, we offer online SAT/ACT prep to students all over the world. Our tutors are located across the United States with teams in New York, California, Texas, Florida, Massachusetts, and more.
What are your results like? Do you have reviews?
On average our students improve 110 points after only 10 sessions. This is the result of their hard work, focused studying, and our valuable tutoring. Our job is to give them a consistent study plan, teach them tricks of the test, and motivate them to stay on track. We have a lot of success motivating students to improve because they can relate to our young tutors. Having someone closer in age who is a mentor as much as a tutor leads to a better dynamic during sessions and larger score improvements. But don't take our word for it, watch what SoFlo parents have to say here.
How do you show math work online?
We use an online classroom that allows us to show our work step by step. This classroom makes it easy for students to show their mistakes and for us to demonstrate the possible ways to solve a question.
Do all of your students end up at Ivy League colleges?
SoFlo has success with a variety of students who have a wide range of college aspirations. We tutor students from all backgrounds, but all students are seeking to improve their test scores. From an athlete with a 970 who's hoping to get a D1 scholarship to an overachiever who is striving for a perfect 1600, we cater to students with many different college goals
What do you think of the college admissions scandal?
I am glad that I didn't need to cheat my way into college and instead worked hard to get good grades, have nice internships, and achieve a 99th percentile score. However, my parents worked to get me expert SAT tutoring that helped boost my scores. If I didn't have that privilege I might not be in the position I am today. The college admissions process is in trouble and the anger that arose from Rick Singer, Lori Loughlin, and everyone else evinces a larger societal frustration. I want SoFlo to be part of the solution, and that's why we created the SoFlo SAT Scholarship to offer free tutoring to underserved students. We want to ensure that all students, regardless of financial background, can have access to the elite test prep they need to achieve their dreams.
What are the differences between online and in person prep?
The main differences with online sat prep tutoring is convenience. Students are able to learn from their pajamas and can schedule sessions based on their availability. We use all of the same curriculum for our online and in-person tutoring plus the online sessions are 1-on-1 with a live tutor.
However online tutoring is not for everyone so we offer in-person tutoring as well. It's just more expensive.