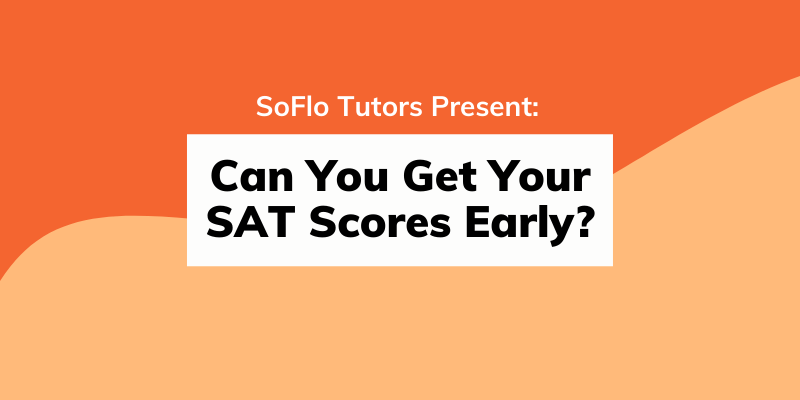 Waiting to receive SAT scores can be a stressful process for many students. From wanting to know what score you earned to decide you are retaking the SAT or if you want to ensure the colleges you are applying to receive your score reports in a timely manner to, there are many reasons students want to know what score they earned on the SAT as soon as possible.
As a result, there are many reasons why, despite the posted SAT score release dates on the College Board's website, many students may find themselves asking: "Can I get my SAT scores early?" In this article, we will discuss the answer to that question and its implications, as well as potential ways to send scores more quickly to your top choice colleges, among other related topics.
Can you receive your SAT scores earlier than the posted score release date?
Let's get this first point out of the way quickly: the answer to the question "Can I get my SAT scores earlier than the posted score release date?" is, for the most part, a definite no.
That was not always the case, however. The College Board once offered a service that allowed some students to see their SAT scores earlier than other students if they paid an additional fee. While many students greatly enjoyed and appreciated being able to access their scores early for a variety of reasons, including allowing early planning for a retake, adjusting college application plans accordingly, or simply satiating curiosity or anxiety around the score release, many other students and other people in the education field generally felt that the service conferred an unfair advantage upon those students who could afford to pay the additional fee, putting students who could not pay the additional fee at a relative disadvantage in terms of being able to plan early for retakes, decide what colleges to apply to a bit earlier, or simply being able to know one's scores ahead of time.
As a result, the College Board discontinued the service that allowed students to pay an additional fee to see their SAT scores early. Now, everyone receives their SAT scores at the same time, at or around the score release date posted on the College Board's website. Any information on the internet indicating you can get your SAT scores earlier than the College Board's release date through other means is almost certainly either false or outdated.
When do students receive SAT scores?
Given that, barring a delay or something of that sort, all students receive SAT scores at the same time, many students may find themselves wondering: "When do you actually receive your SAT scores?"
That question actually has more than one answer. Generally speaking, students will receive their scores at the posted score date, which is about two weeks after the SAT test date.
For example, students who take this year's October 2nd exam are expected to receive their scores on October 15th, and students who take this year's November 6th exam are expected to receive their scores on November 19th. That two-week turnaround is generally fairly consistent, but it is worth noting that in some cases, the December exam's score release can take longer because of the holiday season.
In some cases, score releases can be delayed for other reasons, such as technical issues. Many students find themselves understandably frustrated with that, and take to the internet, asking on many forums whether they can receive their scores early. Sometimes, not every student is impacted by a delay in the same way, which can worsen concerns. However, rest assured, only the College Board can give you your scores, and there is no way to receive them early.
Can my SAT Scores be sent to colleges any faster?
While you still cannot receive your SAT scores earlier than the posted score release date, there is a way for colleges to receive your scores more quickly than they normally would, via "Rush Reporting." For an additional fee, you can have your SAT scores sent to colleges within 1-4 business days (provided you have already received the scores), which could potentially allow colleges to receive your scores a little over two weeks after you take the test, depending on timing, rather than three to four weeks after you sit for the exam. This service could be particularly beneficial for students taking an exam close to the last date allowed for admissions by a given college. Nevertheless, students should plan ahead if they're planning to submit their scores to college admissions by the application deadline, especially for early decision/early action. Note that essay scores are usually sent a few days later than multiple-choice scores in all cases, whether they are sent through the normal process or through the College Board's Rush Reporting.
Conclusion on early SAT scores
In conclusion, everyone generally gets their SAT test scores at the same time, and you can't receive your scores earlier than the posted release date. The release date is typically around two weeks after the test and the score release schedule is available on the College Board's website. You should keep those timelines in mind when deciding when to test, and keep in mind that while delays are possible, you will receive your scores in a timely manner. You will receive them at your College Board account, not any other sources. You cannot pay any additional fee to receive SAT scores earlier, however, you can pay an additional fee for Rush Reporting to send scores to colleges quicker once you've already received your scores.
SoFlo SAT Tutoring
SoFlo SAT Tutors are graduates and attendees of selective colleges and Ivy League universities who received top SAT and ACT scores. They tutor high school test takers on either test through a tailored test prep curriculum. Check out our virtual tutoring services to find an SAT tutor who will help you achieve your score goals on test day.