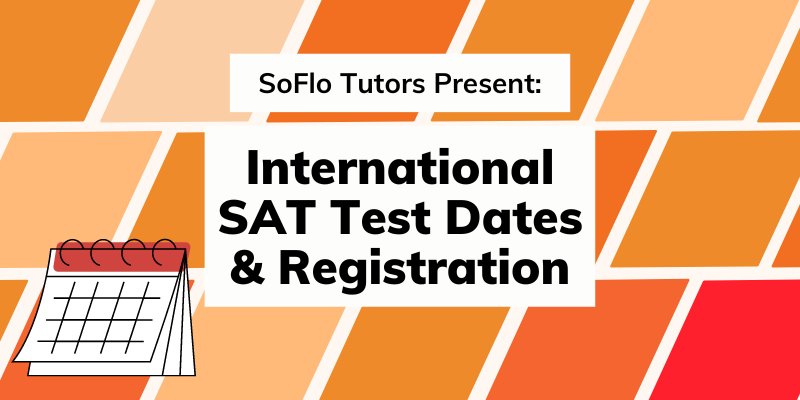 What Is The International SAT
The international SAT is a version of the well-known standardized test offered to international students outside of the United States or any US territories. It is similar to the US SAT in many ways, including the scoring (out of 1600) and the concepts tested (reading, writing, and math). This blog will highlight important information about the test including important things to keep in mind and international SAT test dates.
Is The International SAT Going Digital?
The SAT international test is going digital as of 2023. Beginning in March 2023, the tests will be offered digitally for all international students. If a student is taking the digital SAT and needs to borrow a device from College Board, they must register and request the device earlier than the registration deadline to account for international shipping.
International SAT Test Dates And Deadlines For Registration 2022-2023
There are 6 test dates offered annually for the international SAT. The test dates and registration deadlines for the 2022-2023 school year are as follows:
| | |
| --- | --- |
| SAT Test Date | Deadline for Registration and Regular Cancellation |
| August 27, 2022 | July 29, 2022 |
| October 1, 2022 | September 2, 2022 |
| December 3, 2022 | November 3, 2022 |
| March 11, 2023 | February 24, 2023 |
| May 6, 2023 | April 21, 2023 |
| June 3, 2023 | May 19, 2023 |
SAT International Test Dates for 2023-2024
Although not confirmed, College Board has released anticipated test dates for the 2023-2024 school year. Because these are still being planned, we will make sure to update this information when the international SAT test dates for 2023-2024 are finalized. Below are the tentative test dates (registration deadlines have not been announced):
SAT Test Dates
August 26, 2023
October 7, 2023
November 4, 2023
December 2, 2023
March 9, 2024
May 4, 2024
June 1, 2024
Things To Keep In Mind
College Board emphasizes that registration options will be limited if it is not being taken for one of its main purposes. This includes planning on applying to a college or university undergraduate program or scholarships, financial aid, or other programs that require a college admission test for the application. More information on this can be found on their website. When deciding what exam to take as an international student, the SAT may be appealing partly due to its familiarity. It is important to weigh the pros and cons to figure out which test is the best decision for you. Although the SAT emphasizes reading comprehension throughout which can be difficult for students whose first language is not English, reading/writing now account for only half of the score.
How To Choose The Best International SAT Test Dates
Choosing the best date for you is an extremely personal decision. Because there are only 6 international dates per year and no late registration is allowed, it is likely that you will not be able to wait for your previous test score before you register for the SAT. This only applies if you are taking the SAT multiple times of course!
Consider Admissions And Scholarship Deadlines
The most important factor in choosing a test date is admissions and scholarship deadlines. It is recommended to start preparing a year before the first deadline and take your preferred test at least twice. Overall make sure that you are aware of all school and scholarship deadlines to make sure that you don't miss out on any opportunities.
Stress And Your Personal Life
Next, you have to line up your test date with your personal life. This includes extracurriculars, school, and other factors that can be stressful. Many students find that their performance is better when they are less stressed and have less activities going on. This gives you more time to focus on preparation to ensure that you are well prepared on test day!
Preparation
It is important to study before you take the SAT. In my experience, students who are able to prepare and target their weaknesses score much higher than those who do not test prep. Even if you have already taken the SAT, it is important to take a couple weeks (or months preferably) to review your mistakes and take practice exams. Some students find that it is helpful to take the SAT after summer or winter break so that they can take advantage of that time to study.
School Classes
Finally, it is beneficial to line up your test date with the classes you are taking in school. The best time to take the SAT is after you have taken geometry and algebra 2, as there will be concepts from these classes on the test. In terms of the reading and writing sections, it is best to prep specifically for the SAT when studying for these sections.
Click here to read more about how to decide what date to choose for your SAT.
Start Preparing For The SAT In Advance
Like mentioned previously, preparation is key to scoring well on the SAT. Even if you have already taken the SAT before, most students find that they will only improve if they take the time to study and learn from their mistakes. For individualized tutoring that is tailored to your needs, SoFlo tutoring is the perfect service for you. Our tutors attend top universities and scored in the top percentiles of their class. With an average score increase of 110 points after 10 sessions, we can help you achieve the score you desire! Contact us through our website for more information.
Final Thoughts
Overall, the international SAT is extremely similar to the US SAT. The scoring and content tested are the same with the main difference being the test dates offered and lack of late registration. This means that it is important to plan out your testing schedule accordingly and ensure that you take your SAT before any important deadlines for scholarships and admissions. This is especially important for students who need to borrow a device for the digital SAT, as registration will need to be completed even earlier to account for international shipping.
Frequently Asked Questions
When Is The International SAT Test In 2023?
There are currently three test dates that have been released by the College Board. These are taking place on March 11, May 6, and June 3 2023. The test dates for the rest of 2023 are tentative and have not been confirmed yet.
What Are The International SAT Test Dates for 2024?
College Board has not released official test dates for 2024. The tentative dates are March 9, May 4, and June 1. We will be sure to update our website when the official dates and registration deadlines are released.
How To Choose The Best International SAT Test Dates?
Admissions and scholarship deadlines are a priority when choosing your international SAT test date. Making sure you have enough time to prepare and working around your personal life and stress are factors that will ensure the highest score possible. Finally, making sure that you have learned the material that will be tested, including geometry and algebra 2, will be essential to your success.
About The Author
Isabella Arias is a junior from Florida majoring in Health Science at the University of Florida. She scored a 1480 on her SATs, loves weightlifting, and enjoys baking/cooking all sorts of recipes in her free time! Outside of school she volunteers with organizations aimed at providing healthcare resources to the homeless community in Gainesville as well as improving literacy skills and providing tutoring support to elementary students in Alachua County.