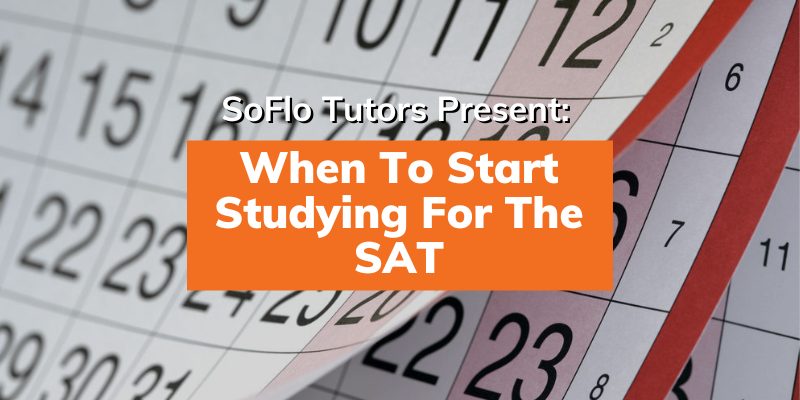 It's no secret that a student's SAT score is one of the most important aspects of the college admissions process. This often leaves high school students wondering what amount of time they need to dedicate to prep, and when they should begin studying for their first SAT test. Continue reading for advice on when you should begin studying for the SAT test.
Best Times to Start SAT Prep
There's no perfect answer as to when students should begin their SAT prep. Students need to consider their starting level, what classes they've taken, and when they hope to take the test. That being said, for most students, the safest time to begin studying is the summer before junior year.
Summer Before Junior Year
For most students, the ideal time to begin preparing is at the start of the summer before their junior year. There are multiple reasons for this. For one, by sophomore year, most students will have taken the necessary math classes. Math on the SAT is primarily algebra, with some geometry and trigonometry questions. This means that in order to be prepared for the math section of the exam, it's best to wait until you have taken algebra 1, algebra 2, trigonometry, and geometry. There is no pre-calculus or calculus on the SAT. While students may think that taking these classes will help them become more confident in their math abilities, it is unnecessary to have taken these classes for the SAT. Students should not wait to take the test if they haven't taken these classes.
Secondly, while students think preparing early for the SAT allows them more time to become comfortable with the material, there's no point in preparing so early that you begin to forget what you have learned. While beginning your SAT prep during your freshman year may initially sound like a great idea so you have a lot of time to prepare, it's unlikely that at this point in high school you'll know most of the material on the exam. You will need to spend a lot of time outside of school learning content that you would otherwise have learned in class, likely just a year or two later, and it's very probable that you'll forget much of this information before your exam.
The one exception to this is if you plan on taking the August SAT right before your junior year. Many students see this as a desirable option as it allows them to dedicate their summer to studying and to take the test before their junior year actually starts. For students who are relatively high scorers and are confident in their abilities, it is okay to begin prior to the summer before junior year in order to have enough time to prepare for the August SAT. However, this does not mean that these students need to begin studying during their freshman year, either. For students planning on taking the August SAT before their junior year, it is ideal to start studying towards the end of sophomore year, generally at the start of June when AP exams end.
Finally, beginning SAT prep during the summer before junior year gives students plenty of leeway in learning the material and re-taking the test as necessary. Ideally, students preparing during the summer will take the SAT for the first time no later than October (this is so they don't start forgetting the material they learned early during their prep). If students are unhappy with their performance on their first attempt, they have plenty of opportunities to re-take the test before their junior year ends.
End of Junior Year
If you're a student who has not taken all the necessary math classes until your junior year, or you were too busy during the year to prepare for your exam, it's better to start preparing no later than the end of your junior year. While these students will be in a little bit more of a time crunch, they still will have time to prepare for the exam and retake it if necessary.
To ensure they have enough time to prepare, students in this situation should start studying no later than early June, after any AP exams they take have finished. Students should aim to take the SAT for the first time no later than August, prior to beginning their senior year. If you're in this situation and planning on applying early decision or early action to any colleges, you will only have one opportunity to retake the exam after August, in October of senior year. Students not planning on applying early action or early decision will also be able to retake the exam in November and December if needed.
Decide What Works For You
At the end of the day, students must decide for themselves what capacity they have for studying, and how much they will need to study to achieve their goal score. It's no question that high school juniors are overloaded with other work and commitments as they prepare to submit college applications. If you're anticipating a junior year loaded with AP classes and extracurriculars, it's a good idea to try to take the test before the school year starts, or at least before the end of the busy school year, so you don't have to worry about balancing your school responsibilities with test prep.
However, there's nothing wrong with waiting either. College counselors often recommend students take the March exam during their junior year. This allows students to further develop their academic abilities before the exam. However, by the spring students are often busy with other commitments that may prevent them from preparing for the exam. Ultimately, students must balance their other commitments while also giving themselves enough time to prepare for the exam.
Develop a SAT Study Plan
The key to a high score on the SAT is consistent practice. Students who begin preparing early will have plenty of time to practice and typically feel more confident on test day as they've had more opportunities to be exposed to practice questions and have likely taken more full-length practice tests. During SoFlo's tutoring sessions, we typically meet with students for 2 hours a week, and assign an additional 2 hours of homework for students to complete on their own.
If you're unsure when to start studying, or how much time you can dedicate to SAT prep, it's best to be honest with yourself and develop a realistic study plan. This plan should be a study schedule that lays out when you plan to study and for how much time. Your study schedule should include what times and days you plan on studying, as well as what you hope to accomplish in those times.
This is what a study schedule may look like for a student during a week of prep who cannot commit to daily studying, but still wants to spend some time working on the SAT for most of the week:
Monday
Tuesday
Wednesday
Thursday
Friday
Saturday
Sunday
4-5PM: Review linear equations

5-6PM: Review punctuation rules
Break Day
4-5PM: Practice questions on linear equations

5-6PM: Practice questions on punctuation rules
4-6PM: Review and practice fiction passages
Break Day
9AM-12:30PM: Take Official CollegeBoard Test #3
9AM-11AM: Review Official CollegeBoard Test #3
Sample study plan
When developing your study plan, it's important to set high goals for yourself, but also to be realistic in how much time you can devote to studying. Regardless of what your target score is, if you participate in a sports team that meets daily in addition to working a part-time job, you cannot reasonably expect yourself to commit two hours to prep daily. This will lead to burnout and a poor test performance. 
Instead, be realistic with your other commitments, but also commit to regular studying. Don't study just when you're "in the mood." Block out regular times in your calendar when you and the people around you know you should be studying. For example, if Tuesday is a day where you have no outside commitments, block out 2 hours of your evening that you will dedicated solely to SAT prep, and use this time weekly to study. Let your friends and family know not to bother you on Tuesdays in this 2 hour block, because you'll be studying.
Also consider whether a particular section of the SAT is weaker for you than others. Most students tend to have a preference and score higher in one of the sections of the SAT, whether it's the reading and writing section or the math section. If you are performing stronger in one section over another, you should adjust your study schedule to spend less time on your stronger section and more time on your weaker section.
While developing your study plan, it's critical that you leave space to take as many full-length practice tests as possible, with time to review these tests! While the CollegeBoard recommends taking at least one full-length practice test before your first SAT, it's advisable that students take at least a few. While the SAT is standardized, students often find different tests to be of different difficulty levels depending on their own strengths and weaknesses (for example, a student who does not like science passages may have more difficulty if the paired passages in the reading section are science, rather than history, passages). Taking multiple tests allows students to become more familiar with more types of questions, as well as have a better understanding of the time constraints they're facing on test day. This can also be helpful for students who have test anxiety, as they'll have more experience with what they're going to be doing on test day.
If your score is not improving after a few weeks of your study schedule, consider whether you need to adjust the study schedule to include different practice, or practice at a time that is more convenient for you to study at. There's nothing wrong with regularly adjusting your schedule as you study, as long as you remain honest with yourself and don't study less than you planned simply because you no longer want to study. In fact, regularly adjusting your study plan will help you dedicate your time to the sections of the test you need the most practice with. If you're scoring perfectly on all linear equation practice questions, there's no need to keep practicing that topic if you can dedicate your time to something else, regardless of how much review of linear equations you initially put on your study schedule!
Available Test Dates
Students have a limited number of opportunities to take the SAT each year. However, because the SAT tends to fall around the same dates yearly, students don't have to wait until registration opens to consider their ideal test date and how much time they will need to give themselves to prepare.
2022 SAT Dates
| | |
| --- | --- |
| Test Date | Registration Deadline |
| March 12, 2022 | March 1, 2022 |
| May 7, 2022 | April 26, 2022 |
| June 4, 2022 | May 25, 2022 |
| August 27, 2022 | None confirmed |
| October 1, 2022 | None confirmed |
| November 5, 2022 | None confirmed |
| December 3, 2022 | None confirmed |
| March 11, 2023 | None confirmed |
| May 6, 2023 | None confirmed |
| June 3, 2023 | None confirmed |
When deciding when to begin studying for the SAT, you should also consider when you hope to take the test. There are 7 test dates for the SAT each year, from March to December. Generally, the SAT falls around the same dates each year (for example, the SAT offered every March has historically fallen on the second Saturday of the month). 
Note that only the first three test dates in the above table have been confirmed by the CollegeBoard. Registration is currently open for the March, May, and June tests, while the rest of the test dates are only tentative. However, because SATs generally fall around the same time each year, students can reasonably anticipate the test dates in the table to be true.
Consider Your Conflicts and Score Goals
While students may have an ideal date in mind, they first must consider what personal conflicts they have that would prevent them from studying. A student who is committed to a daily extracurricular activity, such as being on a sports team, will have to give themselves more time to prepare for the SAT given that they have less time to dedicate to SAT prep each day. These students will need at least three months to study for the exam. A student who is not as involved in SAT prep, however, can typically prepare for the SAT in less than three months as they're more likely to have time each day to study. 
Similarly, think of your score goals. A good score is relative, and will depend on what colleges a student is hoping to be admitted to, or if they are seeking a particular merit scholarship. Before registering for a test date, students should ideally take a practice test—preferably, an actual SAT from past years—to know their starting abilities, as well as decide on an approximate score goal. If a student has taken the PSAT exam before, this can also be a valuable diagnostic tool in understanding their starting abilities. 
This diagnostic or PSAT score will tell students how much work they need to put into studying. Students seeking to improve their scores by over 200 points will need to dedicate much more time to studying compared to a student who's already scoring close to their goal score.
Many students hope to achieve a certain score in order to obtain a merit scholarship. If you are in this situation, achieving a certain score level is often essential to be eligible for the merit scholarship, and it's worth it to consider how much time you will need to achieve that score.
It's also wise to think of what activities you may have going on around your test date. For students taking AP classes, the May exam date is likely to be a poor choice as it falls around the same time when AP exams are being administered. Because students are likely spending this time preparing for the AP exams, they are unlikely to have the time necessary to dedicate to studying for the SAT. For students participating in activities that tend to fall at the end of their school year, such as school plays or sports tournaments, the June date can also be difficult for students to be adequately prepared for. 
Conclusion
While each student must consider their personal situation, generally for most students the best time to begin studying for the SAT will be in the summer before their junior year. This gives students ample time to prep and retake the SAT as needed. Most students can also be confident that they've learned the majority of the math content on the SAT during school by this point. As students begin their prep, they should develop a study schedule and consider when is the best date for them to take the test. Given how similar the SAT and ACT are, students can also use the advice in this article if they're considering when to start studying for the ACT.
SoFlo Tutors Are Here to Help
Whether you're still confused on when to start studying, or you're ready to jump right into preparing for the SAT or ACT tests, SoFlo tutors are here to help you achieve your score goals. After beginning with a diagnostic test that allows students to understand their strengths and weaknesses, one of our high scoring tutors will work with you individually to prepare you for the SAT. Sign up for your first session today!
About the Author
Ava Levine is a junior from New York majoring in International Studies at Johns Hopkins University. When she's not in class studying various international issues, she enjoys learning about government policy and working with local nonprofits. She scored a 1570 on her SATs, is an avid Crocs-wearer, and loves to craft in her free time!