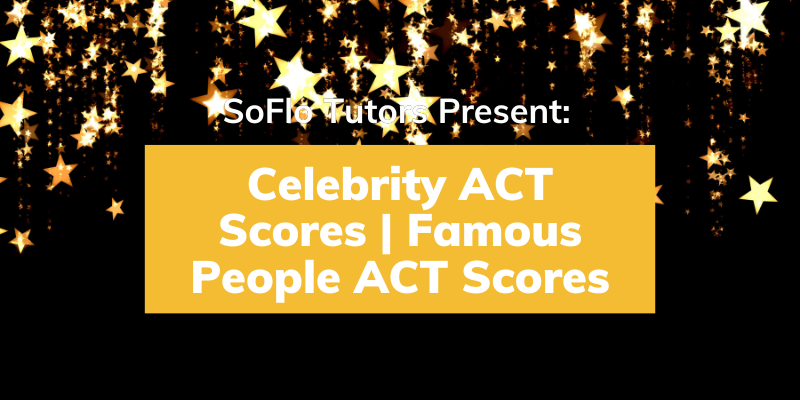 Rising To The Occasion One Step At A Time… Starting With The ACT
When celebrities begin to form their fan base, it is natural for fans to want to know how they got to fame. A fan who aspires towards being famous might ask such a question like: "Well, what did they score on their standardized tests? Perhaps they did poorly—perhaps an understanding of high school comprehensive material isn't a prerequisite for fame after-all!" The good news is that this kind of information out there for people to access regarding these celebrities and how they scored on the ACT.
This blog will provide the ACT scores of some of your favorite celebrity's ACT scores. At the end, I will also give some brief commentary on the breakdown of whatever makes a 'good' ACT score. However, I do urge the reader to keep in mind that much of what we 'know' about celebrities is mere speculation, that is, rumors, gossip, wives-tales, and so on.
Celebrities With (Assumed) High ACT Scores
Barack Obama
ACT Score: Rumored to be 30
Profession: Former President, Senator, Philanthropist
University: Columbia
And who doesn't know about this guy? Perhaps what you did not know about Mr. Obama is that he scored a 30 on the ACT. A 30 is quite a job well done as he was six points away from scoring the highest possible number on the SAT, a 36.
Matt Birk
ACT Score: Rumored to be 34
Profession: Professional Football Player
University: Harvard
If you're from Minnesota (or the midwest) then you probably recognize this man. Mr. Birk is a very famous football player, playing most of his years for the Minnesota Vikings. Following the Vikings, Mr. Birk played for the Baltimore Ravens. It is speculated that he scored a 34 on the ACT, putting him two points away from a perfect score.
Sonia Sotomayor
ACT Score: Rumored to be 35
Profession: Associate Justice of the Supreme Court of the United States
University: Princeton
Ms. Sotomayor was nominated to be an Associate Justice on the Supreme Court by none other than Mr. Obama, who we had spoken about earlier in this blog. An interesting fact about her is she won an award in leadership brought to her by the Hispanic Heritage Awards. As it stands, Ms. Sotomayor's presumed ACT score is the highest, standing only one point away from a perfect score.
Steve Jobs
SAT Score: Rumored to be 1600
Profession: Tech Guy
University: Reed College
Ah yes, if it isn't he who garnished the plate of the technological revolution with the bitten apple! Steve Jobs, the man behind Apple scored a very hearty 32 on the ACT.
Waka Flocka Flame
ACT Score: Rumored to be 34
Profession: Musician and artist
University: Bible Institute of American Theological Seminary
Waka Flocka is a musician and artist, dealing primarily in hip-hop music making. His absolute sensation Hard in Da Paint is absolutely rattling through my mind as I type this. Interestingly, Mr. Flaka is more than a rapper, he is something of an academic! An ACT score of 34 is seriously cool to see, especially if he knew he was going to pursue music instead of heading down an academic route. It makes me think there are still people out there pursuing knowledge and wisdom for the sake of it alone, not for whatever instrumental use it may bring about.
Celebrities With (Assumed) Low ACT Scores
Given that a majority of these numbers are rumored, I would hate to find myself (in some hypothetical world where I am a celebrity) on one of these lists. But perhaps even in this imagined world I would not be on such a list because in every possible world there exists SoFlo Tutors, and I would certainly get tutoring help from them as they specialize in ensuring you get the highest score possible. Alas, someone must provide the scores, high and low! Without further ado I present to you the following:
Lyndon B. Johnson
ACT Score: Rumored to be 26
Profession: 36th President of the United States
University: Texas State University
Former president Johnson is the first of two to arrive on our list of low ACT scores. Frankly, a 26 is not horrible, but comparatively to those celebrities we have mentioned in the previous section of the blog, it is significantly lower.
Marilyn Monroe
ACT Score: Rumored to be 21
Profession: Model, Actress
University: None
A very recognizable face and name, I would say! Some (and not all, frankly) may call her the pride of the American side. Madame Monroe, of all the listed celebrities, has scored the lowest on the ACT, but again, a 21 is not the worst score one can get. It certainly is listing toward the side of poor scoring, but the list is slight and one can still be impressed by the feat of a woman who veered from academia.
What Is A Good ACT Score?
Now that is quite a good question, my friend! Here is a breakdown of the ACT which will inevitably lead us into what makes a good ACT score, and how you can adequately prepare yourself in order to score highly.
The ACT is quite like the SAT except for one thing, the ACT adds an additional subject—science. The ACT consists of four tests internal to its system. There is an English portion, a mathematics portion, and a reading portion. All of which you would expect to see on the SAT. However, the ACT then goes on to include a science portion. This science section is quite like the others such that it measures your comprehension of subjects learned in school, only in this instance it would be those subjects of natural sciences.
How does one get a good ACT score? I will go over those in a moment. First the breakdown of the ACT's scoring. The lowest you can get on the ACT is a 1, this would be considered the worst possible score to receive. The highest you can score on the ACT is a 36. Let us now cover what would get us closer, if not in arms reach, of that 36!
Tips For A Perfect Score On The ACT
Practice Makes Perfect! There is no better way to familiarize yourself with the content and bolster your understanding than to exercise yourself on various ACT practice tests. Doing these tests will help you in two ways. First, it will help you understand the mechanics of the test in a physical sense (i.e., time management, how it works, etc.). Knowing this aspect of the test ensures that your time is spent on the relevant material, not in confusion about some particular aspect of the test itself. Second, it will help you to connect more dots. Reviewing the material helps you see how it all connects.
Time Management: Pacing yourself is crucial in getting a good score. There is nothing that worsens your ability to score highly than to let time slip from you and be forced to Christmas-tree the second half of some section. Practice taking the practice tests with a timer. Make sure you get comfortable working under the pressure!
Adopting A More Technical Vocabulary: Learning more 'academic' words will help you greatly on the English and Reading portions of the tests. A lot of the time the ACT will use 'big' words to throw you off. Knowing what the words mean will help you avoid any hurdles which may be put in your way to test you.
Don't Dwell On A Problem You Can't Solve In A Minute: If you have arrived at a question you are struggling to answer, skip it. If you have time at the end you may come back. But if you dwell on the problem you will only do yourself harm as it will stress you and worsen your ability to perform on other questions as a result. Skip and come back.
Take A Chance To Get The Highest ACT Score With SoFlo Tutors!
Are you ready to begin your preparations for the ACT and get the score you want? Check out our team of talented tutors here at SoFlo for expert help in getting the practice, and preparations, you need. All of our tutors attend high-ranking universities within the United States, and have familiarized themselves with the content of the SAT.
Our tutors will work with you to identify and improve your weaknesses on particular sections of the ACT to help improve your score and comfort with the material. We know your time is valuable, that's why our tutors work around your schedule whether it be after school, or before, we will find an availability that works for you! Check out our tutoring services here to book a session.
About The Author
Dahlia is a graduate of Florida State University earning a B.S. in both philosophy and psychology. In her free time she enjoys filmmaking and photography, backpacking, and cycling.