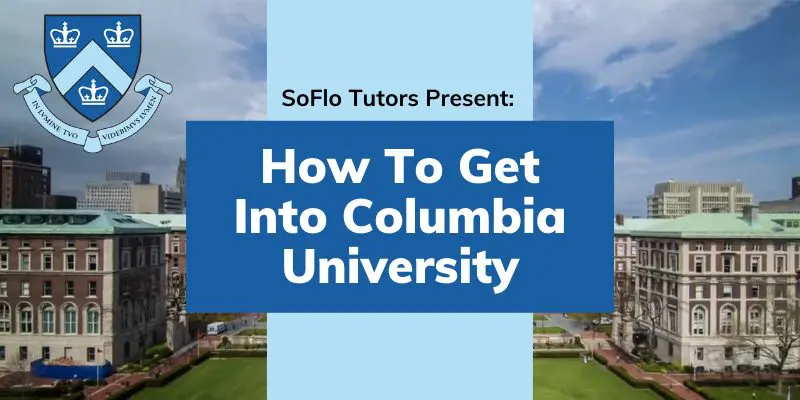 Columbia University: GPA, SAT/ACT Score Requirements
Columbia University is an Ivy League school located in New York, so the admissions process for this college can be intimidating; if you want to know the average Columbia University GPA or SAT score of accepted scores and how to increase your chances of getting admitted to Columbia, don't miss this SoFlo post.
Columbia's Acceptance Rate
Being a private Ivy League research university, Columbia University's admission, or acceptance, rate is much lower than a typical public or private university.
Namely, with an acceptance rate of 6.7%, means Columbia University only accepts about 7 percent of the people that apply.
Having a low acceptance rate can mean two things:
A lot of people apply and the school can only fit a small portion of those student's into their dorms, so they only accept a small percentage of those applying and/or…
The university has extremely high expectations of prospective students and they only accept the highest tier of those individuals, which is a small proportion of those applying.
Admission Requirements Overview
Columbia University looks primarily at a combination of your (1) GPA, (2) high school transcript, and (3) ACT & SAT scores to determine your acceptance.
Required Materials to apply to Columbia University are:
SAT or ACT (writing section not required)
English Proficiency Examination (if necessary)
High School Transcript & Counselor's Recommendation
Answering the Columbia Specific Questions
Teacher Recommendations
Application Fee
You can also submit supplementary materials about your extracurriculars, creative portfolio, or academic research.
Supplementary information like extracurricular activities, can improve your chances of admission, but it is better to focus on doing your absolute best on the required material first and foremost.
Application portable that you can apply through are:
Columbia University GPA Requirements
While Columbia University does not have any official requirements for how high your GPA should be, being a prestigious university, Columbia University typically admits students with a higher GPA.
The average GPA of students accepted into Columbia University is 4.12 weighted GPA, and a 3.91 unweighted GPA.
How Can You Get A GPA Above 4.0?
You may be wondering how you can have a 4.12 GPA, since most GPA scores range from 0 to 4. Some GPAs are unweighted, meaning the scale is from 0 to 4. However, weighted GPAs can technically have a range from 0 to 5, given that AP courses are weighted higher than a typical highschool course. In general a 4.12 GPA looks like straight A's while taking some+ AP courses.
Columbia University SAT Scores
Columbia University requires you to take an SAT or ACT test. If you pick the SAT, here is everything you need to know about what scores you'll want to get to improve your chances of getting into Columbia University.
The average, accepted student at Columbia University has an SAT score of 1500. As depicted in the chart below, you want to shoot for a cumulative SAT score of a 1500 to 1590 to improve your chances of getting into Columbia University,
| | | | |
| --- | --- | --- | --- |
| Group | 25th Percentile | 75th Percentile | Average Accepted Student Scores |
| Math | 710 | 800 | 755 |
| Reading & Writing | 700 | 790 | 745 |
| Cumulative Score | 1410 | 1590 | 1500 |
As you can see from the chart, the average SAT score that Columbia admits students for is around a 1500 cumulative score, with slightly higher Math section score than Reading/Writing.
For more information about how SAT score percentiles work, check out this article.
Does Columbia Allow Superscoring?
When determining which scores to submit to Columbia University for your application, you may want to consider superscoring your SAT scores.
Superscoring refers to when you take your highest scores from each of the reading, writing, and math sections and combine them into a single very high score.
For example: I took two SATs and on my first one, I got an 800 on Math and a 650 on Reading & Writing. On my second attempt, I got a 690 on Math but an 800 on Reading & Writing. Using superscoring, I can combine the 800 on Math from my first SAT with the 800 on Reading & Writing from my second SAT to get a cumulative superscore of 1600, a perfect score on the SAT.
Superscoring, also known as your "highest section", may make your SAT score more attractive to the Columbia University admissions office, and could improve your likelihood of getting in. Thus, it is a good idea to superscore if it benefits you.
Some universities don't allow you to send in superscored SAT test results, but Columbia's policy allows you to superscore.
Typical Columbia ACT Scores
The typical student at Columbia University scores a cumulative average score of 33 on their ACT. Based on the quartile chart below, scoring a 33 to 35 on your ACT out of 36 improves your chances of getting into Columbia University.
| | | | |
| --- | --- | --- | --- |
| Group | 25th Percentile | 75th Percentile | Average Accepted ACT Score |
| Math | 30 | 35 | 32 |
| Reading | 33 | 35 | 34 |
| Writing | 32 | 35 | 33 |
ACT Or SAT Score Sending Policy
For sending an ACT or SAT score, you can self report your score on Common App or Coalition App, and/or send an official report via College Board. If you choose to send an official report via College Board, make sure to use the appropriate SAT code, which is 2116, and the appropriate ACT code, which is 2717.
For more specific information about sending scores for Columbia University, check out their requirements: Testing Policy | Columbia Undergraduate Admissions
Other Information Included In Your Application
Outside of standardized test scores, the college application process with Columbia University has other required documents.
Namely, a (1) high school transcript, (2) counselor's recommendation, (3) school profile, and (4) mid-year report are all included in your application to Columbia University. Need more information about sending AP scores to your college, check out: How To Send AP Scores To Colleges
Secondary School Report (Includes High School Transcript)
A secondary school report is a form that the applicant's guidance counselor fills out, and it explains the applicant's academic record.
Typically, the secondary school report includes your official high school transcript, which is sent by your highschool to Columbia University. Simply, ask your counselor to fill it out, and they will do the rest!
Your school report will give the admissions board an idea of your academic achievement by including your class grades and GPA.
High School Counselor Recommendation
A recommendation letter is a great way for the admission's office to get to know you. However, nothing is worse than a generic recommendation letter. To make that recommendation the best it can be, it is a good idea to provide a list of extracurricular activities, any volunteer work, and family or cultural values, with your counselor so that they can highlight these aspects in their recommendation letter for you. Additionally, fostering a strong connection with your guidance counselor will not only improve your recommendation letter, but might really benefit you as you navigate highschool.
School Profile
A school profile, which is typically submitted by your guidance counselor, is a summary about your high school. It can include course curriculum, grading systems, and student body statistics. Overall, it's just a way for Columbia University to get to know where you come from.
Mid-Year Report
Since the majority of students will apply to college their Junior or Senior years in high school, the mid-year report is basically the grades you get after applying.
Essentially, Columbia University is making sure your grades don't plummet after applying or being accepted, so keep up the hard work. Additionally, this is something that your guidance counselor typically sends to the university or may be self-reported.
In some extreme cases, schools can rescind your acceptance. While this is rare, if your grades plummet significantly, colleges like Columbia can take back their acceptance — so make sure to fight the senioritis off the best you can.
Columbia University Requirements For High School Courses
Columbia is looking for well rounded students. The classes you choose in high school are a good indication of how prepared you are for college.
Having a strong academic performance across all subjects (e.g. math, science, english, & foreign language) is what Columbia University is looking for. Additionally if you plan on going into engineering, and applying to Columbia Engineering, make sure you have a strong math and physics background.
How To Reach Columbia's Requirements And Get Accepted
Now that you know what a typical student at Columbia University looks like, you now need to start working towards those requirements to improve your chances of getting accepted.
Start Early
Nothing is worse than rushing through your application to meet a deadline. It is stressful and your application won't be as good. Instead put thoughtful consideration into your application by starting early. This means start writing your supplementals early, start studying for your standardized tests early, and start researching Columbia University early.
Keep Track of Admission Deadlines
A good thing to keep in mind is deadlines. Below are Columbia University application deadlines:
November 1
January 1
Deadline for Regular Decision applications
For more information about deadlines see here: First-Year Applicants | Columbia Undergraduate Admissions
Get A Good SAT/ACT Prep Program
Given the high standards in SAT and ACT scores, improving your chances of getting into Columbia University means studying for those standardized tests.
In order to prepare for standardized tests, having a regimented SAT or ACT study program will ensure success. It is a good idea to start studying 5 month in advance, with weekly practice. If setting your own schedule is difficult, or if you need someone to keep you on track, consider affordable tutoring.
Write Excellent Personal Essays and Supplementals
Given that most of your grades and standardized tests will be fixed by the time you apply to colleges, one way to improve your chances is by having stellar personal essays and supplemental materials. When applying to Columbia University, you will need to fill out a series of essays that give admissions officers a perspective of your life outside of academic grades.
Columbia-Specific Application Questions can include list questions and short essay questions:
A list question might include listing your favorite books, podcasts, or news outlets. Keep in mind that Columbia is looking for a well-rounded, conscientious student.
Short essay questions include answering questions in 200 words or less. They typically ask you to describe your motivation for applying to Columbia University or describing yourself.
Below are some short answer questions used by Columbia University:
A hallmark of the Columbia experience is being able to learn and live in a community with a wide range of perspectives. How do you or would you learn from and contribute to diverse, collaborative communities?
Why are you interested in attending Columbia University? We encourage you to consider the aspect(s) that you find unique and compelling about Columbia.
Please tell us what from your current and past experiences (either academic or personal) attracts you specifically to the areas of study that you noted in the application
To answer these questions as best as you can, make sure:
There are no grammar or spelling mistakes. This is a red flag to the admissions officers.
It is coherent and can be clearly read.
It has an interesting or unique story about you.
It highlights why you are a good candidate.
If you need more specifics, check out: Columbia-Specific Application Questions | Columbia Undergraduate Admissions
Increase Your Chances Of Getting Accepted To Columbia With SoFlo
Are you looking for tutors that can help you improve your SAT or ACT score to improve your chances of getting into your dream school?
SoFlo Tutoring provides 1-on-1 tutoring with real tutors, who know what it's like to stress about standardized tests but still manage to perform excellently on them. You can schedule meetings that work with your schedule and focus on improving your weakest areas on the ACT and SAT. We provide structure, strategies, and practice problems.
We also offer college application counseling if you want to speak with someone who has firsthand experience applying and gaining admission to top schools.
Meet our highly trained tutors and counselors to start improving your application today.
About The Author
Gabriella Colletti attends to Johns Hopkins University and is studying Cybersecurity there. She had an SAT score of 1520. Her favorite plant is a eucalyptus tree and her favorite dish is noodles.