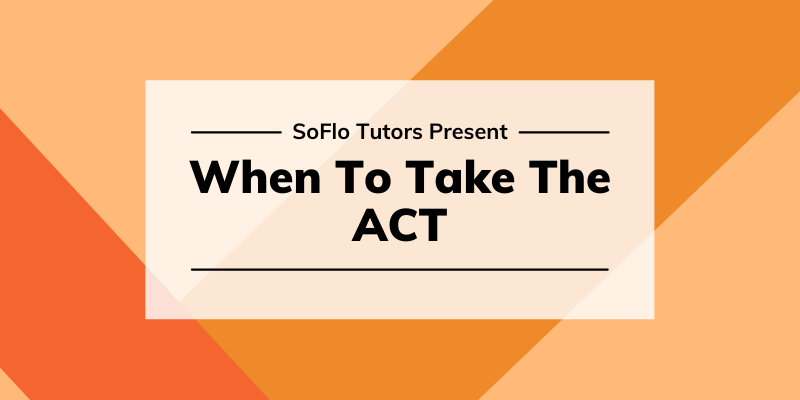 Determining When You Should Take The ACT
Identifying a starting place is often the most difficult aspect of standardized testing. Knowing when to take the ACT, or similar standardized tests, relies on several factors including a students' goal scores, availability for preparation, dedication to improvement, and other scheduling considerations. Knowing when you should begin preparing for the ACT and when is the optimal time to take the test are key to succeeding.
What's Important About ACT Test Dates?
It's important to sign up for an ACT test date that fits your schedule and provides you with ample time to prepare. Registration for each ACT usually closes slightly over a month prior to the test date. In order to avoid a late fee and have time to test prep, it is crucial to plan ahead for each ACT that you sign up for. Signing up early allows you to implement a test preparation schedule leading up to the test date. For example, a student may commit an hour per day to studying for the ACT for the month preceding the test.
ACT Dates 2022
ACT Test dates are released for the school year, rather than the calendar year. Therefore, the only 2022 test dates solidified currently are for the spring semester and summer. Test dates fluctuate per semester but are generally offered around the same month per year for each session. Usually, tests are available 2-3 times per semester and in the summer. Test dates are posted to the official ACT website as they are released; this is also where students access their scores after completing the test.
Test dates for Spring-Summer 2022:
| | | |
| --- | --- | --- |
| Test Dates 2022 | Regular Registration Deadline | Late Registration Deadline(Late Fee) |
| February 12 | January 7 | January 21 |
| April 2 | February 25 | March 11 |
| June 11 | May 6 | May 20 |
| July 16 | June 17 | June 24 |
When to Take ACT for the First Time
It is most common for students to take the ACT for the first time in their junior year of high school, however some students may opt to take the test earlier or later than this average.
Testing as a Junior Vs. as a Senior
Testing as a junior is very common for first time testers, however many students take the ACT more than once, often leading into their senior year. There are usually 3 test dates available per semester, so if a student were to take the ACT for the first time in the Spring of their junior year, it would leave them with multiple opportunities to retake the test before sending out college applications in the fall of their senior year.
If a student takes the test for the first time in the fall of their senior year, it leaves them with very few opportunities to retake the test before college applications are due in the case that they are unhappy with their original scores. For example, if a student were to take the ACT in the first test offered in the fall of their senior year, they might take a test in mid September and get their results back at the end of September. This leaves them with only one more opportunity (usually in October) to retake the test before early acceptance applications are due. Even if they were able to take the test a second time, such as in October, it is not guaranteed that results will be released before the November 1st deadline that is imposed by many universities as an early acceptance for scholarship consideration deadline.
Taking the test earlier is often better to allow time to retake if necessary. However, taking a test too early with little preparation can be seen as a waste of time and money if the student is planning on retaking the test anyway.
When Should I Take the ACT Vs. the SAT
It is up to the student's own discretion on whether to take the ACT, SAT, or both. However, both are usually taken within the same time frame. It is common for students to start taking these standardized tests in the Spring of their junior year and continuing into the fall of their senior year. Test preparation for either test can look very similar, however the tests still have considerable differences, so it is recommended to study and prepare for each one separately.
It is not recommended to take these tests back to back or even on the same weekend because it will tire the student out and can cause confusion in differentiating the tests from one another. Taking the tests a month apart is an appropriate time to prepare for each test individually.
How Many Times Can You Take the Exam
Students are permitted to take the ACT up to 12 times, however it is highly encouraged to avoid the time and money commitment of taking the test 12 times and aim to take the ACT fewer times. Generally speaking, students are usually able to maximize their score by taking the test three times or less.
Retaking the test at least once is often recommended, especially for students who did not prepare or were not familiar with the test content the first time they took it.
For students who had never taken a practice test or familiarized themselves with the setup of the ACT prior to taking it for the first time will usually show significant improvement just by taking the test a second time after knowing what to expect.
Personally, I used the first ACT I took to identify a benchmark score for myself without preparing beforehand, and then I took the test two more times afterwards. I never improved my composite score from the first test that I had taken, however I was able to increase my superscore. A superscore is the "best possible" composite score that you earned by averaging your highest score in each of the four sections across each ACT that you took. For example, if you maximize your math and reading scores on the first ACT that you took and maximize your english and science scores on the second ACT that you took, your superscore would be the average of your math and reading scores from the first test with the english and science scores from the second test that you took for a maximum composite score.
Questions to Ask Yourself to Decide When to Take the ACT
What's My Starting Point
It is best to identify a "starting point" for your standardized test journey by acknowledging when you can begin studying and preparing for the test. Once you know a timeline for test preparation, you can create a schedule and dedicate the time preceding the test to making sure you are as prepared as possible.
What's My Target Score
There is no general target score for all students, but each individual student should create a reasonable goal score for themselves based on how much time they have put into preparation, their academic performance, and possibly previous test scores.
To identify a goal for yourself, it is recommended that you look into the schools you are hoping to apply to and aim for a score that falls into their middle 50% range. This will provide you a better chance of gaining admission to that institution. The same applies for students using their scores to earn scholarships or admission into certain programs in universities.
Doing your research beforehand is going to be the first step in identifying a target score by looking up previous scores earned by students who achieved the goals that you are hoping to achieve (i.e. admission into a certain university, scholarship program, or major).
How Much Time Do I Need To Gain These Points
Often scholarship programs or universities have a baseline test score needed in order to be considered for acceptance. If your academic future depends on meeting a certain score in order to qualify for a certain scholarship, then there is a greater weight placed on your ability to gain extra points. For these situations, it is encouraged to begin preparing for your test early and dedicate considerable time to studying for the ACT in order to reach your fullest potential and the program qualifications.
How Did I Do On The PreACT
Not all students take the PreACT, however, if you have, you should consider your score on this test in deciding when to take the ACT.
How Can I Fit Test Prep Into My Current and Future Schedule
Consider how much time you have in the present to begin preparing for the ACT. If you know that you have a flexible schedule currently, but a more rigorous schedule in the future, you should begin preparing for the ACT now and schedule it in the near future. Planning for the ACT requires thinking about it months in advance. You need to contemplate whether you are currently prepared to take the test and whether or not you will have time in the future to retake the test. Students who go into the first test knowing that they plan to retake the test at least once often don't maximize their potential in the first test. Going into each test with the mindset that you are prepared to do your very best is encouraged.
Calculating the Estimated Preparation Time
Prep Method
Students may choose to prepare for the ACT individually or through guided tutoring. If a student decides to self study, they may purchase a study book, enroll in an online program, or even just study ACTs from previous test dates. The timeline for self studying is entirely up to the student and their availability. Consistency is imperative, so dedicating a small amount of time per day leading up to the test is a great place to start.
If a student opts to study through a tutor, they should calculate their preparation time based on the tutoring agency's recommendation and availability. Some tutoring companies meet with students weekly, while others meet multiple times a week. Discussing with a tutor your own availability and how much time you are able to commit per week is the first step in creating a tutoring schedule.
Student's Commitment
Students who are committed to improving tend to have better results on the ACT. For students who self study, they have to exercise self discipline in order to actually follow through on their preparation goals. For students who acquire motivation through having a set schedule, tutoring is a great option to encourage accountability. However, tutoring can be ineffectual if the student doesn't dedicate their greatest effort to the test preparation. Students need to give their best during tutoring sessions and throughout the week on their own.
Starting Score
Calculating a benchmark score for yourself by either taking the official test at least once or by taking a practice test can give you a starting point to evaluate your goals for the future. Based on your starting score, you can identify a goal score for the future. This also helps to point out your strengths and weaknesses so that you know what sections you need to improve on and dedicate more time towards.
Individual Academic Profile
Students who have a history of high academic achievement may require less time to prepare for the ACT than students who have trouble with test taking or school in general. Knowing your own academic strengths and weaknesses can help you determine how much time you will need to prepare for the ACT. The subjects tested on in the ACT include English, Math, Science, and Reading, so knowing which of those subjects you may struggle more with can help you identify which subjects you should dedicate more time to and which need only a light refresher.
Key Takeaways: When Is the Best Time to Take the ACT
Generally speaking, the ideal time to take the ACT is the spring semester of your junior year of high school if you intend to apply to universities in the fall of your senior year for attendance in the fall after graduation. Taking the ACT in your junior spring allows for you to gain as much knowledge as possible before taking the test by completing more classes and studying more subjects that will be tested on as opposed to taking the test as an underclassman. This time period also allows ample opportunities for you to retake the test if necessary into the summer or early fall of your senior year.
SoFlo Tutoring
One of the best ways to hold yourself accountable in preparing for the ACT is through tutoring. SoFlo SAT Tutoring offers tutoring services for both the SAT and ACT from high scoring students who attend top universities. Our online tutors have proven their mastery in the subject and provide individualized attention to other students. Check out our tutoring services to get started today and begin the journey to improving your own scores.
About the Author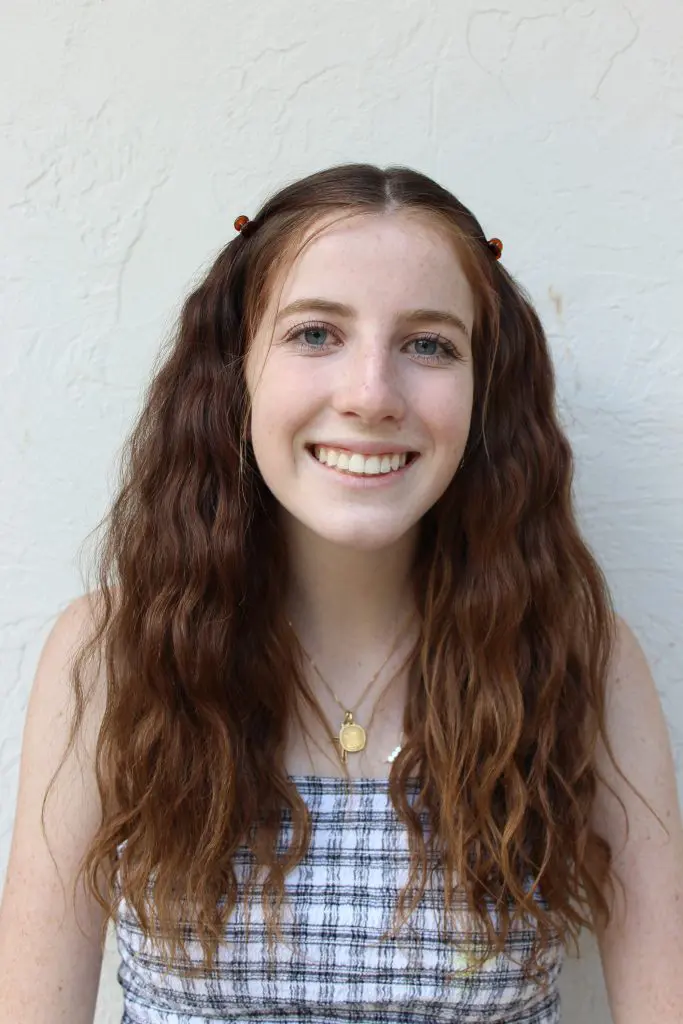 Catie Mullin is a sophomore at the University of Southern California studying Psychology. She is an expert tutor with SoFlo Tutoring and scored a 33 on her ACT. While she's from Boise, Idaho, she was actually born in Germany!