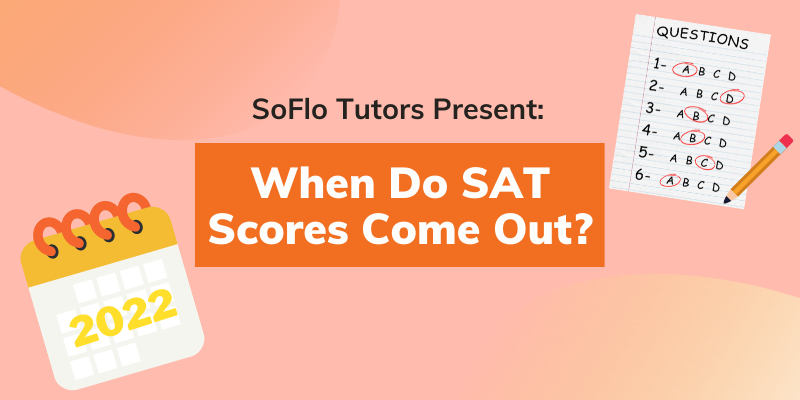 SAT Score Release Dates Breakdown
After you've put in the hard work and finally taken the SAT you've been preparing for, knowing when your scores will be available to you is probably the first thing on your mind! This article breaks down the score release schedule per test, explains why the process can take so long, and describes what your numerical SAT score actually means when the release date rolls around.
How Long Does It Take To Get SAT Scores Back?
How long it will take to get back your Multiple-Choice SAT score will depend on your test date. For most Saturday tests, results come back within just 13 days, or about two weeks after sitting for the test. For School Day SAT tests, the wait time will be three weeks. 
If you choose to take the SAT Essay, as well, your score for the essay should come in a few days after you receive your Multiple-Choice score.
SAT Score Release Dates
The chart below outlines the release dates of SAT scores according to test date, with approximations for when colleges will receive your SAT score.
Release Schedule For 2023
| | | | |
| --- | --- | --- | --- |
| Test Date | Multiple Choice Score Released | Essay Score Released | College Receive Test Results |
| August 26, 2023 | September 8, 2023 | A Few Days After MC Score Release | Around September 18 |
| October 7, 2023 | October 20, 2023 | A Few Days After MC Score Release | Around October 30 |
| November 4, 2023 | November 17, 2023 | A Few Days After MC Score Release | Around November 27 |
| December 2, 2023 | December 15, 2023 | A Few Days After MC Score Release | Around December 25 |
School Day Score Release Dates
| | | | |
| --- | --- | --- | --- |
| Test Date | Multiple Choice Score Released | Essay Score Released | College Receive Test Results |
| April 12, 2023 | May 3, 2023 | A Few Days After MC Score Release | Around May 13 |
| April 25, 2023 | May 18, 2023 | A Few Days After MC Score Release | Around May 28 |
When Will Colleges Receive My Score Reports
Colleges receive score reports within 10 days of you receiving your own score. The process is automatic, and you cannot reverse the decision to send your score report to the colleges you selected at SAT registration.
However, if you're concerned that you didn't perform well on your SAT, you can have your scores canceled and then try again later. You must cancel your score before 11:59PM EST the Thursday following your SAT test. If you choose this option, your scores cannot be reinstated or reported to you/your institution – think carefully about the decision to do so!
Unfortunately, there is no way to reverse sending your score report to colleges after you have received your score. Bear this in mind when registering for the SAT!
What Time Are SAT Scores Released
The day scores are released for any given test, most students are asking the same question: When will I get my SAT scores?
Typically, around one half of SAT test takers will receive the score by 8:00AM EST the day scores are released.
The other half will receive their score no later than 8:00PM EST the day scores are released.
Try not to stress too much if release day arrives and you don't have scores right away – you'll receive an email when your scores are in!
How To Check The SAT Scores
When you receive your email letting you know that scores are in, go to Student Score Reports and sign in with your College Board username and password. (You'll access PSAT and Subject Test scores here, as well.)
If you registered for the SAT by mail, never making an online account, a physical copy of your score will arrive via mail. You can also access it over the phone. When you register, keep track of the information that will let you access your score later!
Why Does The SAT Scores Release Take So Long?
Waiting around for an SAT score can be incredibly stressful, but a lot goes into fairly grading each SAT – millions of students take the test each year, after all. Here's why that process may take longer than you think it would:
Test Answers Are Delivered to The College Board
The physical form you filled out during test day has to get to The College Board to be scored.
The Raw Score Is Calculated
Your raw score on the SAT is simply the number of questions you answered correctly in each section.
For the Reading and Writing sections, your raw score is converted to a scale ranging from 10 to 40. After, that number is multiplied by 10 to result in a score between 200-800 total on the combined Reading/Writing sections.
For the Math-No Calculator and Math-Calculator OK sections, the total number of math questions you answered correctly (out of 58 total) is converted to a score between 200-800.
The Essay Is Evaluated By Two Human Graders
Although the Multiple-Choice section can be graded automatically, the essay section must be evaluated by real human beings. While it may be an essential part of the process, this slows down essay score release significantly.
The Final SAT Score Is Released
At last: results are in! With Multiple-Choice and Essay scores released to everyone from a given test date, you can put the SAT behind you – or decide to buckle down and give the test another go.
Understanding Your SAT Score
There are multiple ways to understand your SAT score: questions answered correctly (raw score), raw score applied to test structure (composite score), and your score in comparison to your peers nationwide (percentile score). Below, learn more about composite vs. percentile scores.
What Are Composite Scores?
Your composite score is a number between 400 and 1600 that represents your personal performance on the Evidence-Based Reading and Writing and Math sections. Check out the chart below from The College Board to understand how that composite scoring process works .
To determine your composite, find your raw score for any given section along the left column in blue and move across the row to the section where you earned that score. For the Reading and Writing & Language sections, multiply the number you find by 10 for your score.
What Are Percentile Scores?
Your percentile score is a reflection of how well you personally scored on the SAT by comparison to all other test takers for a given test. You can find the most recent data here – and you'll notice a few interesting patterns!
Let's say you earn a 1010 on the SAT. A score of 1010 would place you in the 50th percentile in the "Nationally Representative Sample" and in the 44th percentile for the "SAT User" category, meaning you scored better than about 43% of students, and about 56% of students scored higher than your 1010.
Raise your score to an 1110, however, and now you're in the 69th percentile for the "Nationally Representative Sample" – a pretty dramatic increase in college application competitiveness with that 100 point score increase!
Percentile wise, there's not a huge difference between scoring a 1450 and a 1600 (perfect score), although that same point difference is a big deal between a 1000 and an 1150.
To use the chart from The College Board, simply find your score along the column to the left and follow the row over for your two percentiles.
Remember, this is not a score out of 100 in the traditional sense; if you see a 37, that doesn't mean you got 37/100 questions correct on the test! These numbers simply show you how well you did on the test comparatively.
What Are Subscores?
With your composite score and percentile score, you'll also receive seven subscores, or information about how well you performed in seven categories.
For the Math section, these categories are Heart of Algebra, Passport to Advanced Mathematics, and Problem Solving and Data Analysis.
For the Evidence-Based Reading and Writing sections, the subscores are Expression of Ideas, Standard English Conventions, Words in Context, and Command of Evidence.
The chart below summarizes which topics might appear in these categories.
Category
Subjects
Heart of Algebra
solving linear equations and linear inequalities; interpreting linear functions; linear equation/linear inequality word problems; graphing linear equations; linear function word problems; systems of linear equalities/systems of linear equations word problems; solving systems of linear equations
Passport to Advanced Mathematics
solving quadratic equations; interpreting nonlinear expressions; quadratic and exponential word problems; manipulating quadratic and exponential expressions; radical and rational exponents/equations; operation with rational expressions/polynomials; polynomial factors and graphs; nonlinear equation graphs; linear and quadratic systems; structure in expressions; isolating quantities; function notation
Problem Solving and Data Analysis
ratios, rates, and proportions; percents; units; table data; scatterplots; features of graphs; linear and exponential growth; data inferences; center, spread, and shape of distributions; data collection and conclusions
Expression of Ideas
tweaking passages for clarity, flow, and effect
Standard English Conventions
grammar, punctuation, and syntax
Words in Context
adding or changing words within paragraphs to sharpen clarity; considering the meaning of a word or phrase and and thinking about its effect
Command of Evidence
showing how textual evidence supports a claim
*to understand this subscore, think about evidence broadly: ideas, facts, charts, details, and even word choice as a way of connoting a positive or negative result
While the information you need to know for these subscores may look like a lot right now, the breakdown is actually an incredibly useful study tool. If you're someone who loved Algebra I and II and you feel you really understand that "Heart of Algebra" category, then you can anticipate a strong subscore there and study "Passport to Advanced Mathematics" or "Problem Solving and Data Analysis" questions instead! The same is true for the Reading/Writing sections – if you're a grammar nerd, you can study the "Expression of Ideas," "Words in Context," and "Command of Evidence" categories instead.
Conclusion
Because the process of fairly scoring tests is a bit complicated, SAT scores can never be automatic. Although frustrating, this process gives you access to essential data about how you performed on the test – your percentile score, for example, which helps you understand where your score stands in comparison to your peers.
Waiting for your SAT score to come out is almost guaranteed to be stressful, but take the time to relax – after preparing for the test, you've earned it! The good news is that most students will be waiting for just 2-3 weeks. And if you're someone who dislikes the anticipation of awaiting results, plan to take an SAT test with a shorter release window – for 2022, the August 7, October 1, November 5, or December 3 Weekend Tests.
Improve Your Score With SoFlo Tutors!
If you or your student is looking for help studying for the test with a qualified and friendly tutor, SoFlo's Online SAT Tutoring is a great resource for one-on-one tutoring with college students who excelled on their own SATs, retain familiarity with the material, and know key techniques to make taking the SAT a better experience.
With SoFlo, students have flexibility with scheduling, session structure, and homework. SoFlo students see noticeable performance results – consider scheduling a free consultation!
Note: A great scholarship is available to underserved students.
About the Author
Renée Flory is a student at Johns Hopkins University. She studies professional & creative writing and English literature.
Sources