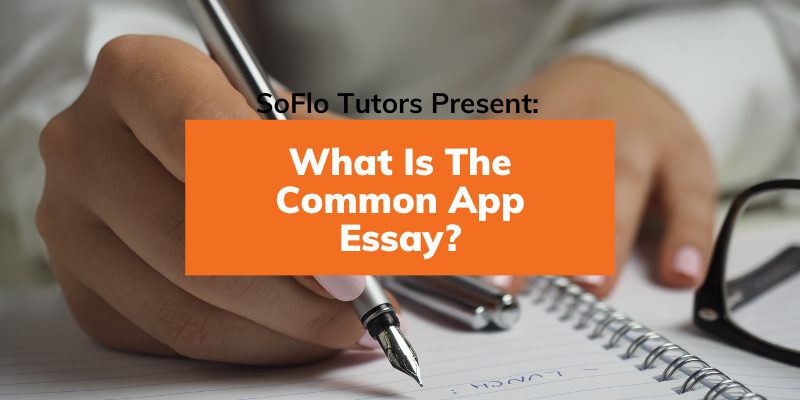 What Is The Common App Essay?
The Common Application essay is the major writing sample that you can submit as part of your Common App. The Common App is the common application system that many schools across the United States accept. All schools that you apply to using the Common App will review the same application, which includes your Common App essay.
The Common App Essay is typically not the only essay you will have to submit when you apply with the Common App, but it's a general sample meant to show the admissions officers a little more of your personality.
Since the Common App Essay will be reviewed by all of the colleges you apply to using the Common App portal, you don't want to make the essay school specific the way you would for a supplemental essay. Supplemental essays usually have more school specific questions (like, "Why [name of school]?" On the other hand, the Common App Essay will have a broader set of prompts that don't focus on specific colleges and universities, but instead ask about yourself and your experiences.
Does The Common App Essay Matter?
Yes, the Common App essay does matter for your college applications. All of the schools you apply to using the Common Application will see and read your essay, and it's a personal statement that has the potential to really impact the admissions committee.
Especially for highly selective colleges and universities that may receive thousands of applications with amazing GPAs and SAT or ACT scores, the Common App essay and supplemental essays can be the difference between rejection and acceptance.
Additionally, since most schools operate using the holistic approach to applications, an outstanding and extremely strong Common App essay could potentially be the tipping point for an application that might be a little weaker in terms of other stats like, again, your GPA or test scores.
Like any part of your application, the Common App essay matters. But, like any part of your application, a strong Common App essay alone will probably not be enough to guarantee you admission — it takes a well balanced application that has strengths in multiple areas. So, if you write the best Common App essay ever but are lacking in other areas like leadership experience or extracurricular activities, your essay alone will probably not be enough to get you into a highly selective school. But, if you are on the brink of admission, a strong essay could make the difference.
What Can I Write About In The Common App Essay?
The Common App essay, as mentioned above, is another (and arguably best) way for you to demonstrate your personality and qualities as a person to the admissions committee. Most colleges and universities like to take a "holistic" approach to college applications, meaning they'll look at every aspect of the applicant, not just statistics like their SAT scores or GPAs. This means that your personality, interests, and experiences all matter and can all make a difference to the admissions officers who will be reviewing your application.
The Common App essay prompts are pretty expansive, covering a broad range of topics. This will allow you to show any part of your personality that you want to, and give you some space to showcase an important aspect of your life and experience.
Common App Essay Prompts
To get a sense of what the Common App essay can be about, here is a complete list of the 2023 to 2024 essay prompts:
Some students have a background, identity, interest, or talent that is so meaningful they believe their application would be incomplete without it. If this sounds like you, then please share your story.
The lessons we take from obstacles we encounter can be fundamental to later success. Recount a time when you faced a challenge, setback, or failure. How did it affect you, and what did you learn from the experience?
Reflect on a time when you questioned or challenged a belief or idea. What prompted your thinking? What was the outcome?
Reflect on something that someone has done for you that has made you happy or thankful in a surprising way. How has this gratitude affected or motivated you?
Discuss an accomplishment, event, or realization that sparked a period of personal growth and a new understanding of yourself or others.
Describe a topic, idea, or concept you find so engaging that it makes you lose all track of time. Why does it captivate you? What or who do you turn to when you want to learn more?
Share an essay on any topic of your choice. It can be one you've already written, one that responds to a different prompt, or one of your own design.
Typically, the Common App essay prompts will stay more or less the same from year to year, so if you're seeing this after 2023-2024, don't worry — the prompts probably won't be that different.
As you can see from the Common App essay prompts for 2023, you'll have plenty of flexibility to use your Common App essay to talk about whatever you think is most compelling or showcases the most about yourself.
How To Choose The Right Common App Essay Prompt
The Common App essay prompts are general enough to accommodate just about any essay subject, which makes it both easier and harder on you — on one hand, you know you'll probably be able to write about whatever you want to, but on the other hand now there's so much choice when it comes to selecting the right prompt.
If you already have a topic that you know you want to write about, then work backwards to find which prompt fits it best. For instance, if you know you want to write about a particularly difficult challenge you overcame, you could read through the prompts and realize that prompt number 2 would set you up to talk about that subject the best ("The lessons we take from obstacles we encounter can be fundamental to later success. Recount a time when you faced a challenge, setback, or failure. How did it affect you, and what did you learn from the experience?").
However, if you don't already have a specific topic in mind and are struggling to choose a prompt, there are a few ways you can try to brainstorm and pick a prompt from there.
Here are a few steps to consider when choosing the right Common App essay prompt for you:
Carefully read through all of the prompts! Sounds obvious, but it's a really effective and simple way to see which ones immediately spark some interest or ideas.
If some of the essay prompts don't feel like they relate to you, cross them off and continue thinking about the ones that interest you or inspire you.
With the essay prompts that sound interesting to you, write down a few ideas you have related to each prompt. These could be short phrases that help you remember relevant interests or experiences, or it could be a brief summary of a story that comes to mind when you read the prompt.
Continue to focus your attention on the prompts and ideas that excite you and that tell a story about who you are and what is important to you.
What To Focus On In The Common App Essay
As we mentioned earlier, the Common App is a really good opportunity to show your personality and what matters to you. When admissions officers look through your application, a few of the things they think about are: will this person be a good student and what can this person contribute to campus, not just through their achievements but also with their personality, service, experience, and character. To put it simply, they obviously care about your academic performance, but they also care about who you are and how you'll fit into campus life.
Therefore, it's important to show your personality and character. This might seem difficult to do in a short essay, but this is one of the few opportunities for you to stand out beyond your test scores and GPA. Other opportunities for college admissions officers to "get to know you" include your teachers' recommendation letters and any supplemental essays or questions the schools may ask, but the Common App essay is really the only 100% guaranteed chance for you to talk about whatever you want to share about yourself. Some schools might not offer other chances for you to show your personality and traits through supplemental essays, so the Common App essay is extremely important. 
Once you've looked over the Common App essay prompts, think about which of the questions is most compelling to you, or which of them you believe you have a strong answer to. It will also help to think about what matters most you, and what experiences in your life have left a lasting and unique impact on who you are and what your values are.
How Long Is The Common App Essay?
The Common App essay does have a minimum and maximum length: your Common App essay must be between 250 and 650 words.
Since you are applying through the Common App portal online, you will not be able to exceed 650 words — the online application won't allow you to submit an essay longer than the limit.
Although you can opt to write and submit an essay that is around the minimum length of 250 words, you should capitalize on the word limit to give yourself the best chance of showing who you are and connecting to the admissions officers. Getting as close to 650 words as possible (not with fluff or filler, but with real content) will give you the opportunity to express yourself as best as possible within the word limit.
While there are length limits on the Common App essay, there are no limits as to your personal writing style or the way you choose to approach the essay. If it fits your personality and style, you can write your Common App essay in any way you want — it does not necessarily have to be like an essay you might write for school.
Is The Common App Essay Required?
If you are using the Common Application portal to submit applications to different colleges and universities, you are required to include a Common App essay.
As mentioned before, some schools will require additional writing samples in the form of school-specific supplemental essays. While the Common App essay is to appeal to all of the colleges you are applying to, the supplemental essays should be highly specific and individually tailored to the specific school that required the supplement.
Common App Essay Tips
Every Word Is Valuable
One of the most important things to realize is that you have a limited word count, so everything you write should matter: that means no unnecessary fluff that doesn't show anything about your personality or life!
Since the Common App essay does have a strict word limit of 650 words, you want to make sure you're including as much substance as possible and you're not using your word count on filler.

Rereading and editing your draft multiple times should help you identify and remove unnecessary words, phrases, or sentences that do not contribute to your story.
Remember, even though you're trying to remove fluff, fluff and filler does not include important details about your topic! You want to demonstrate your specific experience and how it impacted who you are as a person, meaning writing something very general that doesn't have any details will probably not help differentiate your experiences from other people's. So remember that axing filler does not necessarily mean axing details — details are extremely important in the Common App essay!
Finding A Good Topic Is a Key First Step — Be Specific To Yourself!
Choosing a good subject is also an important step to consider when you start writing your Common App essay. It can be difficult to think of a topic that is specific enough that it is interesting to read and unique, but broad enough that you can write an entire essay about it.
When you think about what to write your essay about, start by thinking of experiences or ideas that are extremely important to you specifically. Getting as specific to yourself as possible is key, because you might enjoy things or have experiences that many other students will write about. For example, if you have a strong connection with music, then you might want to write about that. But just writing about music might be too general, as most people can relate to loving music. However, if you have a more specific experience with music that many other people might not have had, then it might be a viable topic. Again, you want to make sure that you're writing about something that impacted you specifically.
That being said, just because something is extremely unique or rare, doesn't necessarily mean you have to or should choose to write about it as your Common App topic. If you experienced something extremely new or rare, but it didn't really impact who you are as a person or student, then it's probably not the right topic to explore.
At the end of the day, you should feel excited to write about your chosen topic for the Common App essay, even if you're not a big fan of writing or are just burnt out from the rest of the college application process. Ideally, you'll be writing about something or someone who shaped you in some way. Writing with passion and genuine interest usually shows through in the finished product, so if you're writing about something that is boring you, perhaps you should think about changing your topic.
Give Yourself Enough Time To Brainstorm, Write, And Edit
Choosing a Common App essay topic can be extremely difficult and sometimes frustrating, so it's important to start planning for your Common App essay as early as you can. Especially as the college admissions process can really begin during junior year, as you prepare and take admissions exams (like the SAT and ACT), you might be hard pressed to find time to even think about your Common App essay. So, take your workload into consideration and come up with a game plan if you're planning on applying to highly competitive colleges. Having enough time to think of a strong topic — and having enough time to properly write and edit the essay — is extremely important.
Do Not Try To Force Anything
Writing a Common App essay is about showing who you are and what characteristics and values you would bring to a college campus. College admissions officers are interested in things like what drives you, what kind of person you are, and what you have experienced that helped form you into the person you are today. Basically, they want to know more about your identity and personality.
As a result, you should be trying to show your authentic self as much as possible. If you are trying to force yourself to write in a specific way to sound smarter or more professional or anything like that, don't! Write the way you want to write (within reason, since of course you still want to come off appropriately).
If you feel like your essay does not do a good job reflecting who you are, it might be worth it to reconsider the way you wrote it. Every person has their own writing style and voice, and it's important you let yours come through as much as you can.
Some people even include humor in their Common App essays, which can be a great way to engage the readers and make them want to continue reading. However, again remember it's extremely important not to force it. If your jokes are falling flat and you feel like you are reaching to include humor, you should probably remove it.
Keep Your Goal In Mind While Writing
The end goal of your Common App essay is ultimately to make the college admissions officer believe you would be a good fit for the school and its campus culture.
Therefore, keep the following points in mind while you write your essay:
Write in your own words, but make sure to keep it appropriate. At the end of the day, the people reading your essay have to have a good impression of who you are and what kind of person they'd potentially be letting on their campus. Stay away from any offensive or inappropriate language and remember who your audience is.
Avoid cliches. The college admissions officers who will read your essay have read thousands and thousands of others. Not only does this mean you will have to work to stand out, but it also means they've probably read some of the same phrases over and over again thousands of times — and they're probably sick of it.
Edit, re-read, and edit again. Editing will be the best way to perfect your essay. When you edit, try as much as you can to take an outside view on what you wrote. While your story, flow, and structure might make sense to you, it might be confusing to someone who hasn't lived your life. You also want to look out for cliches, as mentioned above.
Ask for help. Show someone whose opinion you value and trust for help reviewing your Common App essay. They'll be able to take a more objective view on your work and let you know what is working and what is not to someone from an outside perspective. Again, make sure the person you ask for help is a strong writer or has a good idea of what college admissions officers are looking for! Asking someone like a teacher or admissions counselor is a good idea, especially as they'll probably have experience reading other essays and can let you know if yours stands out.
Don't be overly negative about yourself or your experiences. Yes, sometimes it can really help to demonstrate a fault you had that you worked on and improved with time and dedication. However, if you're writing extremely negatively, it can definitely put off the reader and might not paint you in a great light. At the end of the day, again, you're trying to convince the admissions officers that you would be a good person and student to have around on campus.
Your Conclusion Matters
The conclusion of your Common App essay is the last big chance you have to really make an impression. Unlike the kinds of essays you might be writing for school, your conclusion paragraph should not be a simple regurgitation of everything you already said during the essay. Like we mentioned earlier, every single word counts in the Common App essay and you want to take full advantage. Instead, try writing a more forward looking conclusion that builds upon the points you made earlier while demonstrating your goals for the future.
Writing a conclusion can't be boiled down to a formula for the Common App essay, especially because everyone's essay is vastly different. Therefore, just try to avoid repeating the same thing you have already said and focus on how you can make an impact while tying in the previous paragraphs.
Are Any Other Essays Required Besides The Common App Essay?
Generally, schools will have other essay prompts specific to their school and their application. These supplemental essays will usually be required in order to submit an application to that school, so there will be other "required" essays besides the Common App essay to submit.
However, there are some schools that do not require any supplemental essays. For these schools, you would apply through the Common App portal and would not need to submit a school-specific essay. These schools will still read and review your general Common App essay.
If there are supplemental essays required for the schools you apply to, you should treat them with consideration as well, especially for schools you really want to attend and for highly selective institutions. These supplemental essays are another way for you to showcase who you are, and might even give you a chance to get more specific about what draws you to the school campus and how you might contribute to that particular community.
Prepare For College Admissions With SoFlo Tutors!
Whether you need extra help editing your Common App essay or want to boost your SAT/ACT score, SoFlo Tutors has you covered. Our tutors are top scorers who attend top universities across the U.S. Schedule a free consultation here or visit our website to learn more.
About The Author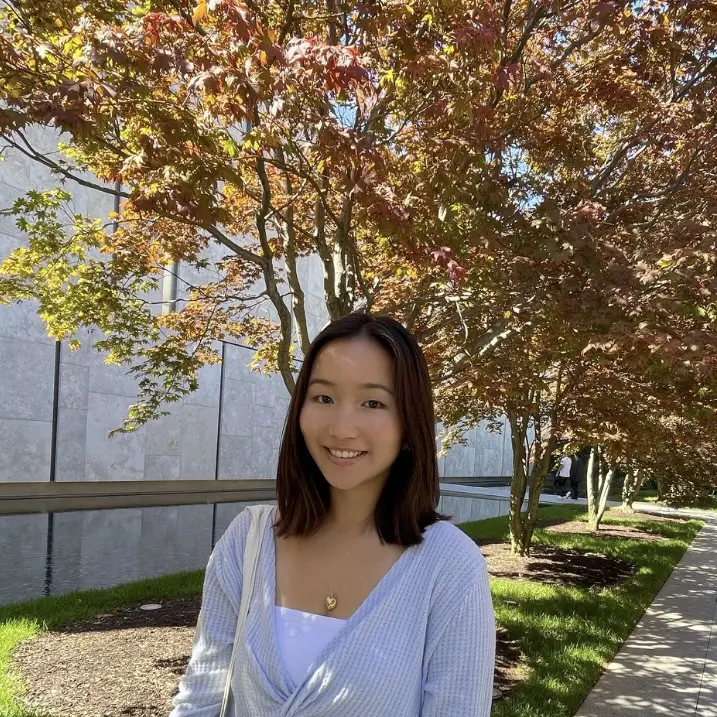 Emily is a recent graduate of the University of Pennsylvania and will be working in marketing in New York City. In her free time, she enjoys painting and playing the guitar.