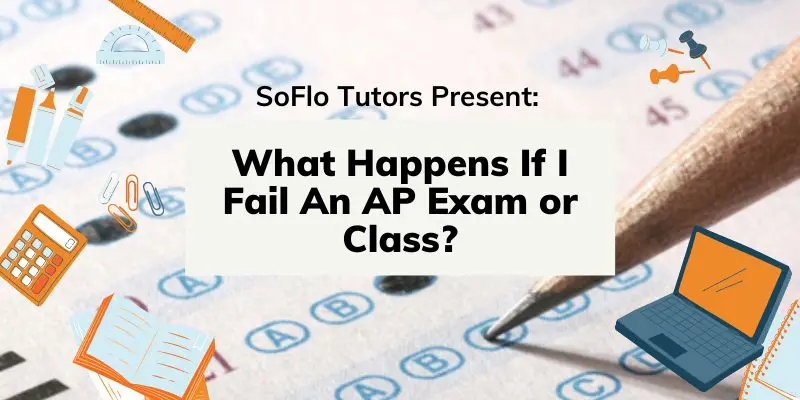 It's halfway through the semester and you realize that you're not doing so hot in an Advanced Placement class. Maybe you're worried about how well you're going to do the exam, or you're questioning whether you should take it at all. Don't fret — here's some information and advice on what happens if you fail an AP exam or class.
How are AP Exams Scored?
AP exams are scored on a five point scale ranging from 1 to 5. A panel of college faculty develops a set of "achievement-level descriptors" for each test, which are then turned into cutoffs for raw scores. These raw scores are then translated into one of the five scores.
| | | |
| --- | --- | --- |
| AP Exam Score | Recommendation | Equivalent College Course Grade |
| 5 | Extremely well qualified | A, A+ |
| 4 | Very well qualified | A-, B+, B- |
| 3 | Qualified | B-, C+, C- |
| 2 | Possibly Qualified | D |
| 1 | No recommendation | F |
There are a two important things to note about the scoring of AP Exams:
First, there is no universal set cutoff for each score. Every subject is different and even within the same subject, cutoffs and their measurement can vary year to year. Don't worry about trying to get a certain number of questions on the AP test correct, and just do your best to answer all of the questions to the best of your ability!
AP classes are designed to be similar to entry-level college courses, and the "Recommendation" column above just means that the result of the exam indicates how well you might do in a similar class in college. It's not about qualifying you for admission to the college itself, though.
Scoring well on the AP exam can sometimes help you receive AP credit, depending on which university you choose to attend. College credit from high scores on the AP test can help you "skip" certain required classes because you've already taken a college–equivalent course!
Usually, universities that accept AP credits only accept "good scores" like 4s and 5s. However, different schools have different policies, so make sure you research their guidelines online or ask your guidance counselor about your specific situation.
What Happens If You Fail the AP Exam But Pass the Class?
In short? It's not a big deal.
The majority of colleges don't require that you submit AP exam scores, and you can simply not submit that low score. Some high schools might automatically send out AP exam scores as part of a transcript, however. Colleges take other academic standards like GPA and SAT/ACT scores into much higher account than the score of your AP exam.
By taking and passing the AP class, however, you've demonstrated that you're interested in challenging yourself and capable of learning on a college level, which is much more significant to admissions officers than the score of a one-time exam.
The Influence Of a Failed Exam On a GPA
If GPA is so important to college admissions officers, then, you might be asking whether the score that you get on an AP exam affects your GPA. The answer is that it doesn't!
Only the final course grade of the classes that you take affects your GPA — that means the tests that you take in the AP class matter, of course, but the CollegeBoard-administered AP exams have no impact on your GPA.
Do Colleges Care If You Fail An AP Exam?
Colleges definitely like it when you pass an AP exam with a 4 or a 5 – including this as part of your application can only help you. But what if you get a 3, or even below?
Being a standardized test for all college applicants, AP exams give colleges the context behind the rest of your application. However, a low AP exam score is very unlikely to hurt your application.
If you get a 1 or a 2, you can choose not to report it, and if you get a 3, it's up to you, as it will likely have no impact one way or another. A 3 is a passing score, so it won't help you but probably won't hurt you.
Ultimately, the AP exam score is a very small part of the rest of your application, and even submitting a score of 1 or 2 will largely be disregarded if the rest of your application is strong.
What Happens If You Fail An AP Class In High School?
Failing an AP class is completely different, however. Here are some of the things that'll happen if you fail an AP class:
Your GPA Will Be Lowered: If you fail an AP Class, your unweighted GPA will be impacted the same way as if you'd failed any other class, which isn't great! However, your weighted GPA will fall by less, since AP classes are usually weighted a point or two higher than normal classes depending on your school. Still, it's something you want to avoid.
You Will Not Receive Credit for the Class: Failing the AP class means there's no chance you'll be able to claim college credit for the class once in university. There's also the issue that it won't give you any high school credit either, which might mean…
If the Class Was a Graduation Requirement, You Will Have to Take the Class Again: If the AP class was part of your graduation requirements, and you haven't taken another class that fulfills that spot for the requirement, you'll have to take that AP class or another class that fulfills that requirement again. This might mean that…
You May Have To Enroll In Summer School, or Graduate Late: That's right, everyone's nightmare: you might have to enroll in summer school to make up the class, or have to graduate later after having made up the credits.
The Failed Grade Will Be Added On Your Transcript: Finally, the biggest impact on college admissions is that the failed grade will be recorded on your transcript. This is a much bigger deal to admissions officers than a 1 or a 2 on an AP exam, because it reflects how well you did in the entire course. Of course, given the difficulty of AP courses, it's not quite as impactful as failing a regular course, but it'll definitely be factored in.
For high school students looking to submit college applications, maintaining a strong GPA is extremely important — your AP class grade does matter in your transcript. Especially for Ivy League schools, failing an AP class might demonstrate that you're not equipped for rigorous course loads.
The actual AP test scores may not matter too much, especially during senior year when students are likely to already have college admission by the time their AP score reports are released, but the class grade definitely does.
What Are the Hardest AP Exams To Pass?
CollegeBoard publishes the score distributions of AP exams! You can find them here and look at what percent of exam-takers get which scores. Here are a few notable examples:
AP English Literature and Composition: With only 4.9% of exam takers receiving a 5 and only 43.8% of exam takers receiving a score of 3 or above, AP English Literature and Composition (not to be confused with Language and Composition) is one of the statistically toughest exams.
AP US History: Many students dread history exams, and the APUSH exam is no exception – with only 47.2% of students getting a 3 or higher on the AP US History exam, it's one of the most difficult exams. Comparing it to AP European History, with a pass rate of 54.7%, and AP World History, with a pass rate of 52.2%, AP US History is a hard exam for students to take.
AP Physics 1: With only 6.9% of students getting a 5 and only 42.1% of students getting a 3 or above, AP Physics 1 was actually the statistically hardest Physics exam for students in 2021, despite the class technically being easier than Physics 2 or either Physics C courses. Why? That's because students confident enough to take the Physics 2 or C exams already took Physics 1, and have a background in the subject. If you're only casually interested in science, though, the AP Physics 1 exam might present a challenge for you.
Make Sure To Pass All Of Your AP Exams With SoFlo Tutors!
If all that talk about AP classes and AP exams worries you, worry no more — tutors at SoFlo Tutors offer world-class test prep for your AP exam preparation needs.
Tutors at SoFlo received high scores on AP exams as well as the SAT and ACT, and attend elite universities like Georgetown and Princeton. If you want help preparing for your AP exam, or other tests like the SAT or ACT, contact us here for a free consultation to match with a tutor that will work for you.
Sources
About the Author Section
Sukwon Jeong is from Charlotte, North Carolina, and is currently a student at Vanderbilt University double majoring in Economics and History. When not being an incredible tutor for SoFlo, he can be found reading twentieth century Japanese literature, obsessing over brewing the perfect cup of coffee, and terribly playing the piano.