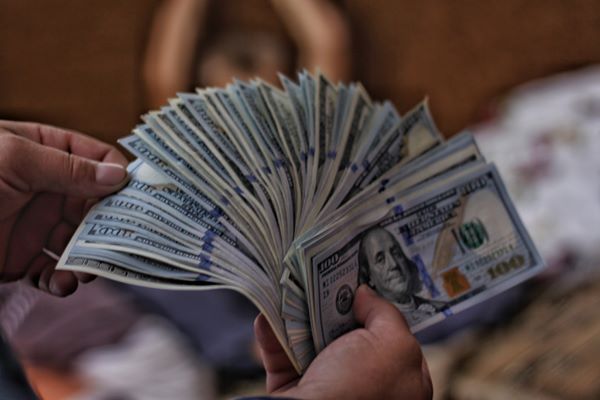 Is SAT Tutoring Worth the Cost?
The true cost of SAT tutoring varies based on many factors, like the class setting, the tutor, the location, and the payment plans. SoFlo has written a pricing guide to help your family make the best decision.
Class Setting:
Although most parents prefer individual SAT tutoring to group prep classes, individual tutoring does cost more. The extra rate you're paying for individual lessons comes from the additional, personalized attention that the tutor is able to give to a student's individual needs. 1 on 1 tutors prepare lesson plans and homework specifically for each student, leading to a higher price for a more specialized service.
If you're signing up for group tutoring sessions, one of the best ways to evaluate the classroom experience is by obtaining a course syllabus. Many group classes employ "one size fits all" syllabi which often fall short of addressing students' individual needs. Although this isn't always the case, it can be a driving factor towards parents seeking more specialized learning.
One of the other key benefits of individualized tutoring is that it helps students stay focused by addressing the 'classroom zombie' issue, where students can drift off in the back of group lessons or fade as lecturers drone on. The most important thing is assessing the student's past experiences in different learning environments and making the right choice for their needs. Some students need other students around to focus, and others get distracted. There is no prescribed path for learning and there are benefits and drawbacks to each method of tutoring.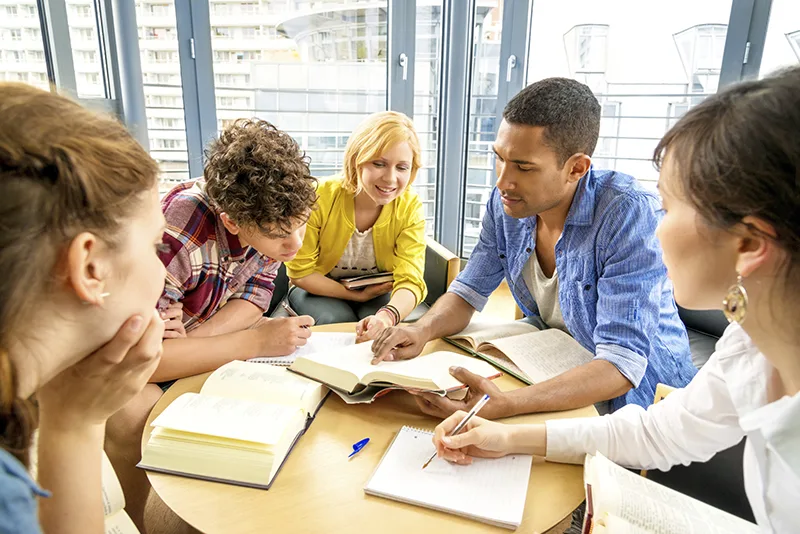 The Tutor:
Not all tutors are created equal. Tutors with advanced degrees from accredited universities or many years of experience will always cost more. This isn't to say that these expensive tutors will always be better than less conventionally qualified tutors for your child, they just come with a set of credentials that merit a higher pay grade from the company that contracts them. It's also hard to find smart people who choose to work full time tutoring jobs over other salaried professions.
Many of the most qualified and affordable tutors are part-time workers who might be concurrently pursuing a graduate degree or working a 9-5. Large tutoring companies often combat this issue by sacrificing quality for convenience. The Princeton Review only requires tutors to have a 1200 aggregate SAT score to apply for tutoring positions. Although scores aren't everything, when it comes to teaching the SAT, they're inseparable from the tools and tricks a teacher would need to transfer to a student to improve their score.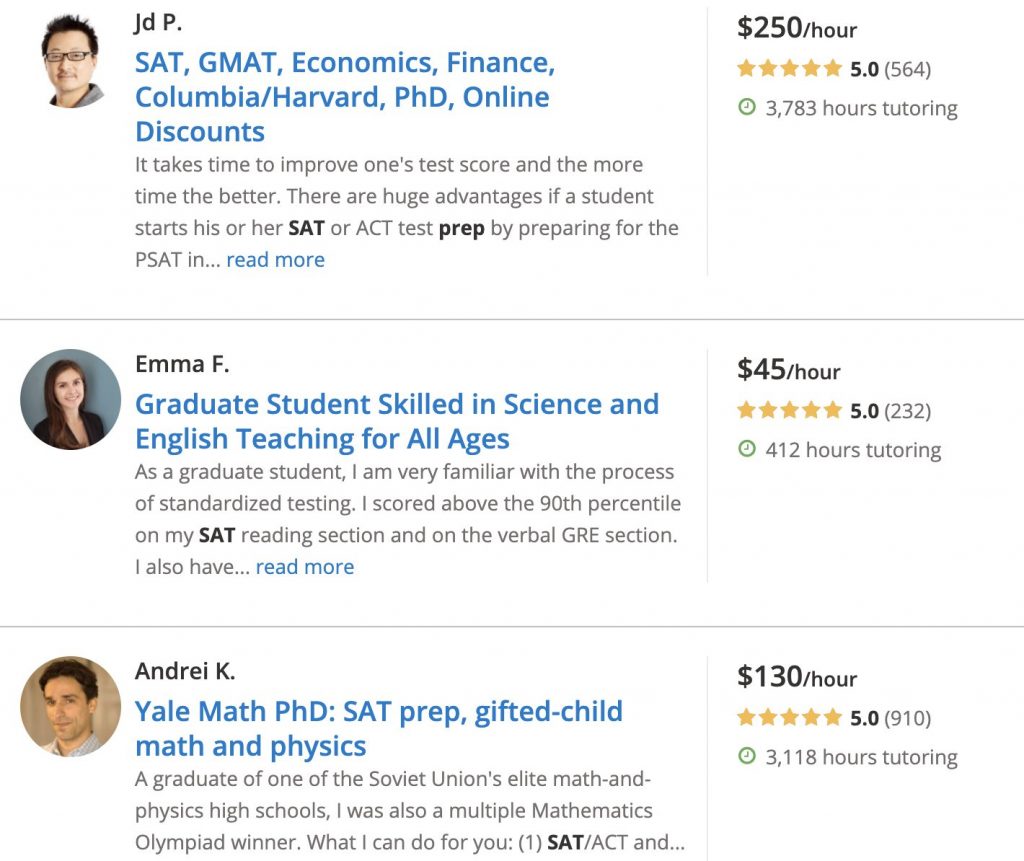 The Location:
Standard rates in the operating city or county will always influence the cost of a service. Since competitor tutoring services exist with competitive rates, in-person tutoring companies (like all local businesses) will generally base their pricing off of the local market. In tier 1 cities like New York and San Francisco, local rates can be exorbitant and unfeasible for families. Conversely, in rural areas, lack of access to quality local tutoring can drive up transportation costs which need to be counted into the total cost of tutoring.
In both of these scenarios, and in all of the others in between, online tutoring can address the root of the problem. By offering affordable rates that are accessible from the comfort of your own home, online tutoring can be the perfect solution to a variety of local constraints. Online tutoring also provides families with a much wider selection of tutors. Some parents want their kids tutored by a STEM major at Princeton who scored a 1600 on the SAT. Some parents would prefer a tutor with extensive knowledge of the college application process. In other situations, the score isn't nearly as important as the tutor's area of study or personality type. Not only do prices start to drop when the location is no longer a driving factor, but the marketplace for tutors also gets a whole lot larger.
Payment Plans:
Many tutoring companies offer payment plans with discounted prices, although they can come at a long term cost. Companies that offer lump sum plans (pay everything at the beginning) can rope you into a multi-week or even multi-month plan before you've even met the tutor. Although the price may be more affordable when broken down to a session by session basis, this business practice relies on students not being happy with their lessons or unknowingly paying for more sessions than are needed to turn a profit. The lower-commitment option that offers a similar benefit is installments, where you may pay for multiple sessions at once at a discounted rate, or on a payment schedule that fits your family's financial need. While both of these plans can end up paying off if you are satisfied with the full product that you ended up buying, the best option is almost always paying as you go. You should never have to pay for a tutoring session that you didn't end up attending. Pay as you go plans make sure that you are getting your money's worth of tutoring, and that there's no way you are upset with a bad tutor or a scheduling mishap.
School Funding:
There are resources available at discounted prices that often depend on the type of school that the student is attending, If a tutoring class is subsidized by a government program like at certain public and charter schools, they can be among the most affordable options available. Some private schools bring in private contractors or pre-paid group classes that are either free or almost entirely discounted. Take all of these options with a grain of salt, however. Many of our students sign up for SoFlo because of bad experiences with in-school tutors from underfunded government programs or overcrowded classes.
Why Pay for SAT Tutoring?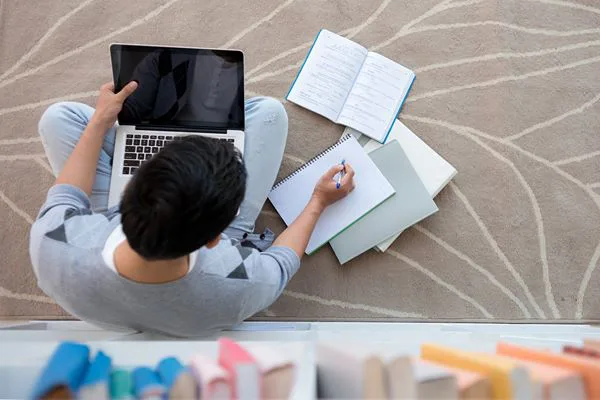 The SAT doesn't test intelligence or academic excellence. It tests preparedness, specifically for the SAT. Many of the tips and tricks that help students mentally navigate through the sections at a faster pace or with a greater success rate come from carefully studying the test. The sentence structure of the questions is uniform and will often reveal the answer to someone who knows how to find it. Some questions in the math section can't be solved without knowledge of a specific formula. SAT Tutoring is particularly effective because it pairs students with someone who has dedicated time to understanding how to take the test, which is ultimately what is reflected in a student's score.
How effective? It can be the make or break factor in your child's academic future. Many U.S. States offer college scholarship grants to students who earn above a certain score. In Florida students scoring above a 1210 on the SAT are awarded a $19,000 college scholarship. For a test that is so catered towards memorization and mental shortcuts, even 10 tutoring sessions can make a huge difference, and that $800 of tutoring can more than pay for itself.

The benefits of tutoring go well beyond tangible measures of success. Just a 100 point score increase can unlock a whole new higher education community. College isn't just about the job opportunities that a degree can create for a student. Students learn just as much if not more from the connections they forge with their peers and the friends they make. Having a smarter, more disciplined student body at your college can be the kind of positive environmental influence that brings value to education and structure to a student's understanding of work and life.
But what about prep books like the Princeton Review one that sell for less than $30? Why would I pay $600? Studying for the SAT isn't fun, and it certainly isn't self-motivating. The material can be dry and it requires a lot of menial repetition to master. You're not just paying for the tips and tricks that are conveniently distilled in the Princeton Review book. You're paying for a coach and mentor who will help your child stay focused and give them structured tasks that can be rewarding, like mastering a specific type of question that you struggled with. Good instruction can help students find the intrinsic motivation that would otherwise be hard to derive from sitting down and staring at a book for 30 minutes. More specifically, you're paying for the individualized help that your child might need with a particular passage or type of problem. Sometimes the only way to overcome a challenging subject or difficult passage is to have the help of another pair of eyes – particularly one that has seen it all before and is equipped with the tools to help.
Say You Don't Want to Pay For Expensive Tutors
There are many widely available cheap and free resources to self study for the SAT, and a lot of students are able to independently boost their scores. Khan Academy offers free SAT content packaged in playful and visually appealing videos. There are endless youtube tutorials and TikToks that are widely available and free of charge. One of the best free resources available is Everydae, an extremely accessible digital platform that is plugged into contemporary trends and terminology, and not in a corny way. Signing up for Everydae is a one minute process and unlocks a whole library of great studying resources.
For those who don't want to pay for tutoring, the most important take home is that education has gone digital. The best and most available free resources are all online. One of the biggest benefits of the huge range of online resources and platforms is that they accommodate more and more types of learners. As modern science expands research into developmental psychology and education, it has become clear that conventional schooling and methods of teaching aren't the right fit for everyone. The most commonly cited example of this are the 4 broad categories of learner taught in Montessori schools: "visual learner, tactile learner, interactive learner, passive learner." In reality, no brain is the same, and it's worth exploring all of the websites and platforms you can to find the best free one.
For those who enjoy more traditional textbooks, SoFlo also offers a Free Complete Guide to the SAT, which contains a written version of the tools that our tutors teach their students. Everything from study tricks to tough formulas that you would find in that Princeton Review book is covered in our completely free resource. It's worth checking out.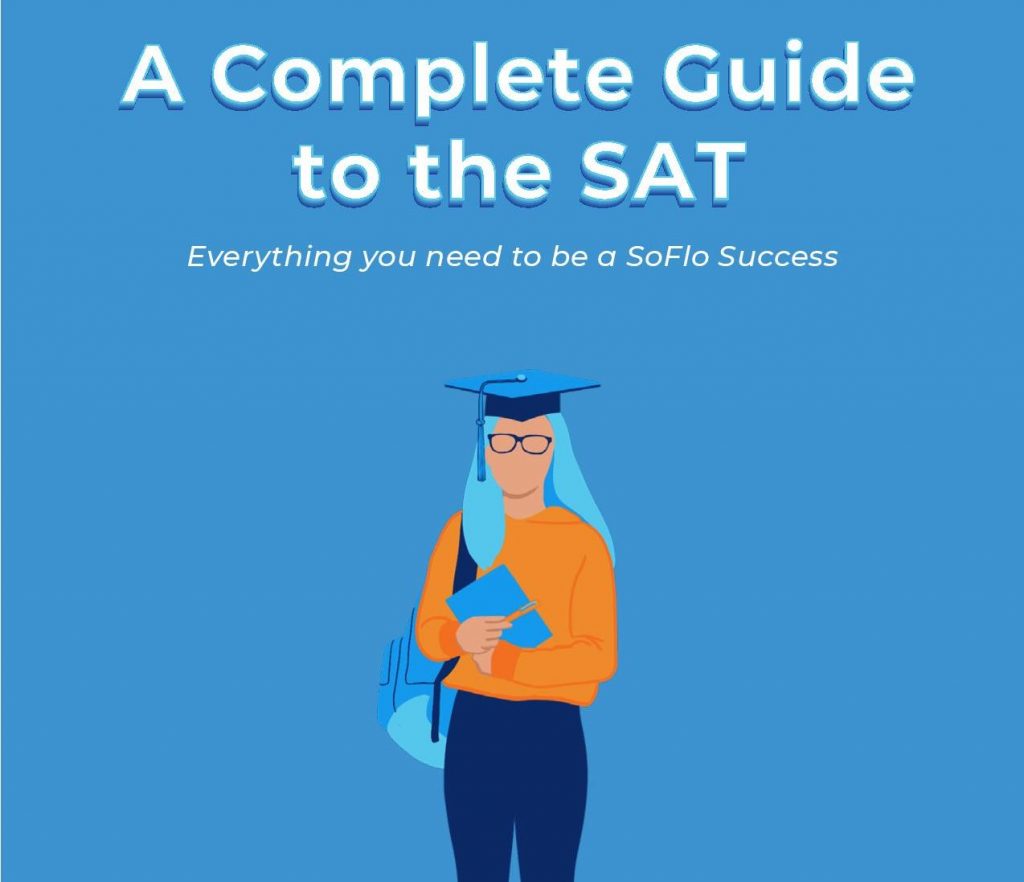 Our Advice
As veterans in the tutoring business, there are four main take homes we've learned about finding the right tutoring experience for your family:
Try before you buy: Lots of tutoring companies sell payment plans that rope you into 6 or 10 sessions up front before you've even met the tutor. The tutor-student relationship is absolutely crucial to the efficacy of the sessions, and not every good tutor will be the right match for each student. With tutoring, more than almost anything, try before you buy.
Do your research: Giving a tutoring company a call to discuss their business and the service they provide can be extremely revealing. Within the first few minutes of a phone call with these companies it can be clear whether they will be a good fit for your kid. If you have the time, try to call multiple companies and see the different responses you get from their team. It can be a greater disparity than you might realize. Tutors.com and Thumbtack are also great resources for tutoring centers as the highs and lows of good and bad tutoring often spark reviews either way.
Go in with a plan: Unlike many industries, when it comes to tutoring, you really can ask for what you want, and you shouldn't settle for less. Whether it's a specific educational background or area of expertise or even just a type of person, a good tutoring company should be able to meet you where you are. This also applies to your child's SAT/ACT needs. Picking a target score is crucial to figuring out the best course of action for your child. If your child is a great self-studier and is only looking to improve their score by about 50 points from their first practice test, tools like the Princeton Review book and SoFlo's free SAT Textbook can absolutely be adequate. For students that are looking for 100-200 point score increases, self-studying can often lack the depth and structure required to make large improvements. By assessing your student's wants and needs before signing up for tutoring, you will save time, energy, and money down the road.
Go Online: Even if you think in-person tutoring is the best option for your student, it really is worth it to check out some of the online resources, including online tutoring businesses like SoFlo. At SoFlo, we have the unique privilege of recruiting the most qualified tutors from all over the country, not just the best tutors in our town. Our prices, and those of other online tutoring services, are affordable compared to any in-person local tutoring center, and we don't operate under the same hiring and administrative constraints.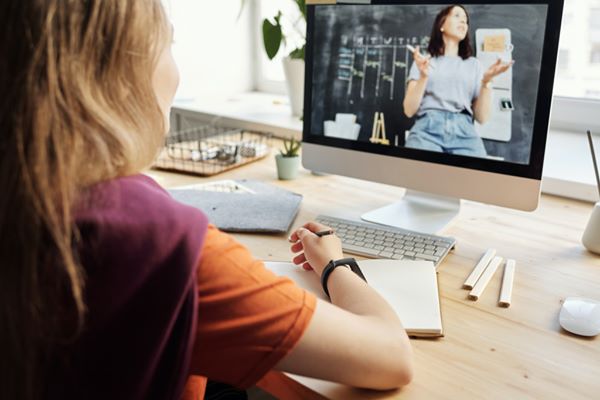 Our Rate
SoFlo charges $60/hour and your student will work 1-on-1 with a tutor who attended an elite university. For context, Advantage Tutoring, another reputable online tutoring service, charges $490/hour. On average, our students improve their scores by 110 points after 10 sessions, competitive for any excellent tutoring service.
One of the other cost-effective benefits of SoFlo is the scheduling flexibility. Not only are you saving money on transportation costs, you're also saving money with your time. All scheduling for tutoring sessions is done directly between the tutor and the family, and we never charge surge pricing for weekends or periods of heavy traffic. At SoFlo, we value your convenience and comfort over turning a profit. This is a big part of why we've slashed all long term contracts as part of our payment program. We want families and students to be able to use SoFlo whenever they want it, and never pay for a session they didn't attend or end up needing.
We charge the rate we do because we are proud of the amazing service we provide. Our tutors go through a rigorous vetting and training process, and we care about employee wages just as much as giving our customers a fair price. We love the work that we do and we want every family that needs it to be able to afford it.
Check out our new blog post: What to Bring to the SAT on Test Day 2021?