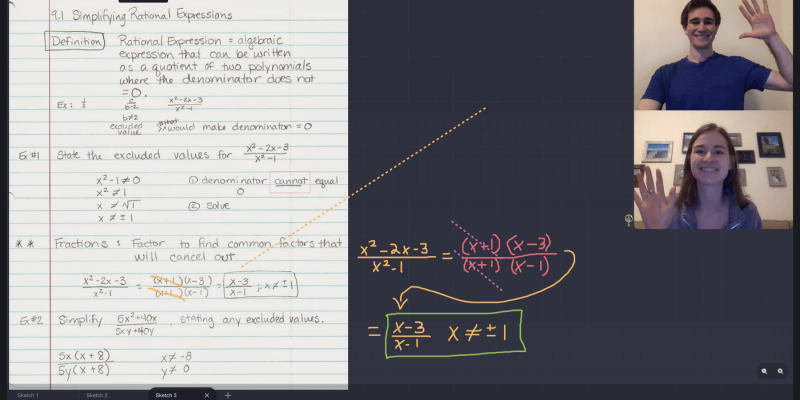 7 Reasons why SoFlo Tutors are the best remote SAT Prep Tutoring
Almost all students could use a little support in a certain subject or a little extra work outside of class to brush up on the SAT and subject tests. For students looking to improve their academic experience, there's SoFlo remote SAT Tutoring. SoFlo virtual tutors are here to make your life easy. They are accessible, convenient for your schedule, and technologically advanced. We've been in the remote learning business for years, and are more than prepared to handle all of your remote educational support needs. 
The best tutors from all over the world at your fingertip
One of the biggest upsides of a distance learning environment is unlimited access to world-class resources. At SoFlo, we pride ourselves on hiring talented, motivated young people as our tutors. Among our ranks are undergrads from Princeton and UPenn, masters students from Harvard, and postdoctoral researchers from the London School of Economics, Johns Hopkins, and more. Each semester, we review hundreds of applicants from top schools all over the world and vet them on personality-based qualities.
We firmly believe that the best tutors are more than just stellar students. They should be people we would want to spend time with. We assess these crucial qualities through a rigorous, multi-step interview process that emphasizes extracurricular personality traits by going beyond simple job qualifications.
When it comes to geography, we understand the drawbacks involved with searching for the best tutor in your hometown, because we've been there. Just like finding quality local tutors is hard for you, it's hard for us. We hire in-person tutors from local pools as well, and we pour through resume after resume that can't compete with the ones we get for remote tutoring positions. It is surprisingly hard to find smart people in a given area with free time and prior teaching experience. Having tutors who recently took the exam allows us to give useful advice like what to bring to the SAT on test day.
By operating on a virtual platform, our talent pool shifts from the best tutors in a certain area to the best tutors period. Whether it is a 22 year old recent college grad living on the west coast of the U.S. or a grad student taking a break from their thesis research in Spain, you have instant access to a range of talented tutors from the comfort of your couch. Quality tutoring should be a right. And in a rapidly digitizing world, this means connecting more and more students with the educational support resources that they need.
Students are paired by interests to find the perfect match
The SAT is not the most interesting test to study for. The first step to combatting that fact is admitting it. The second step is to figure out ways to solve that problem. We at SoFlo have come up with some strategies to remedy the potential pitfalls of a virtual SAT tutoring model. We see the tutor-student relationship as more of a friendship or a mentorship opportunity.
When a student signs up for SoFlo, they are paired with the tutor who best matches their extracurricular interests. High school athletes are paired with college athlete tutors. Kids who are interested in musical theater are paired with grad students who work part time for a theater tech company. Students who love video games are paired with gamer tutors. We take everything from hobbies to personality traits to learning style into consideration when trying to make the perfect match.
When a student enrolls in SoFlo's online SAT prep course, they are also signing up to spend time with a like-minded person who can help them grow outside of the classroom. Many of our tutors claim the bond they form with their students is the best part of their job. Another solid portion of our tutors have prior experience in college admissions consulting and would be happy to look at your essays and help you make tough choices.
Education is Evolving with Technology, Not Vice Versa
As many students are discovering now, remote learning is possible, but it isn't easy. As high schools and universities move to remote platforms, the need for effective online learning solutions could never be more pronounced.
SoFlo tutors come equipped with the tools and expertise in the distance learning sphere to make the transition simple and seamless for all our students. Unlike teachers and professors, our tutors have been tutoring remotely for years. We've worked out the kinks of Zoom, Skype, and Facetime and bring proactive expertise to a field generally marked by reactive disorganization.
Like our students, our tutors are young and grew up with technology as well. They are comfortable using technology platforms and applications and great at troubleshooting technical difficulties which are inevitable in any online transaction.
Our tutors use a virtual whiteboard – bitpaper.io – which affords them all of the advantages of in-person tutoring in their virtual lessons. Tutors also have iPads which they use as writing tablets to easily show their work. This tech allows for collaborative work between the tutor and student. Files like practice tests and homework problems can be uploaded as backgrounds of the whiteboard so that students can follow along and write or type directly on the board as they see fit. Once lessons are over, students can save their annotated tests for future lessons or personal practice.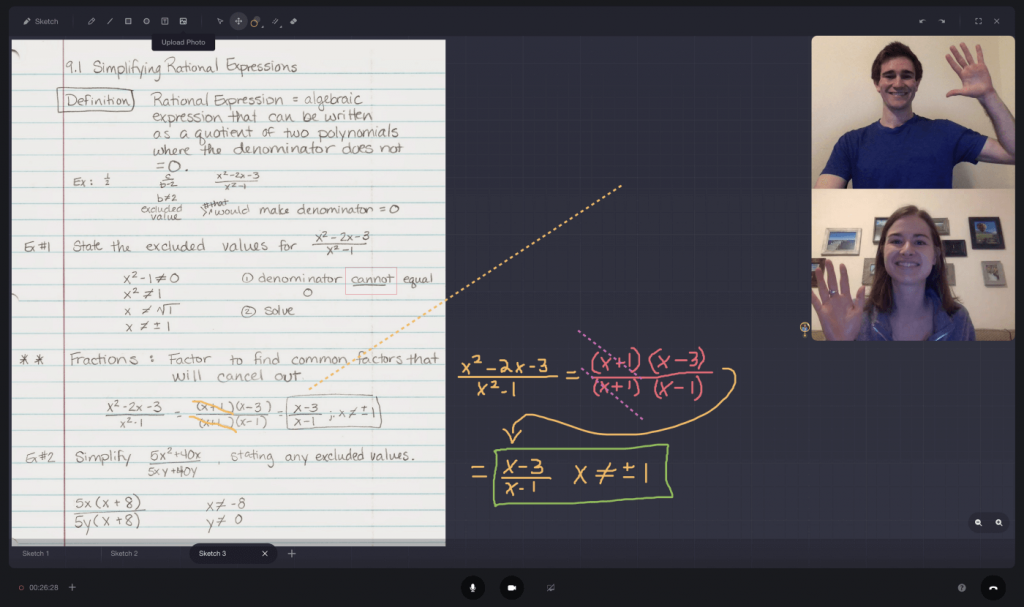 For video chat, our tutors use Skype as a general standard since it hosts the best video quality. They are also trained and comfortable in Zoom and Facetime and are happy to use whatever the student finds easiest. If the student would like, tutors can also record sessions and make them available for additional review after meetings. We see technology as a key advantage and something that should simplify tutoring and learning, not complicate it. The possibilities of remote learning are endless and we have the technology to make it happen.
Curriculum & Homework Tailored to the Student's Needs
At SoFlo, our tutors provide students with all of the curriculum necessary for their needs. Tutors send students PDFs each week with homework assignments to be printed out and done with pencil and paper. Despite the virtual instruction, we want to simulate the real exam conditions as much as possible. Practicing the way you perform is one of the most crucial tips when it comes to the SAT and standardized testing in general.
The homework that is assigned, however, is not based on a set schedule or model for what a student should look like or at what pace they should be performing. Instead, our tutors will assess a student's learning style and their strengths and weaknesses before devising a tailored strategy for out of class preparation. Maybe a student needs extra help in the second math section. Maybe they are a slow reader and feel rushed during the reading comprehension. Our teaching style and corresponding homework assignments reflect the individual time we spend on each student's needs. Our students also have access to a free online SAT course.
When a student turns in their homework, it will be scored and reviewed during the tutoring session. Some students prefer to scan the pages they work on and email their work, while others prefer to text photos or simply read off their answers out loud over video chat. There is no right approach and no expected approach for correcting homework. Our tutors are open-minded, accommodating, and ready to adapt to students' preferences.
Virtual Tutoring is Cozy and Convenient
Virtual tutoring is a rare educational scenario where students can learn from the comfort of their own home without having to change out of their pajamas. It also operates around the clock and around your schedule.
Say goodbye to the inconvenience of driving to a testing center or losing access to your tutor during vacation or travel periods. Scheduling tutoring sessions is as easy as scheduling a call with a friend. SoFlo doesn't act as an administrative middleman in the scheduling process, because, simply, it would be unnecessary and inconvenient. Instead, we encourage tutors and families to text, email, or whatever they prefer to figure out times that work best for both parties actually involved in the session; no third party necessary.
Many student athletes and international students choose our virtual prep courses because we fit into their sometimes unorthodox schedules. This convenience isn't limited to students with unconventional needs.
We've tutored students from prep schools who previously received weekly in-home tutoring but now require a remote equivalent. We've tutored public school students from underfunded districts whose afterschool programs have been slashed. We've had international students looking for ways to study for the SAT that aren't supported in their country of residence.
We're proud to offer an accessible and convenient service that can meet any family's needs.
Affordable Sessions and Consumer Friendly Payment Policies
Due to our internet business platform, SoFlo saves a big portion of normal business costs that would be spent on rent and storefront insurance. Instead, we are able to reinvest those expenditures on high quality tutors and affordable rates for our customers.
After 10 tutoring sessions, our students on average improve their SAT score by 110 points. How much does SAT Tutoring cost? At a rate of $60/hr, the service we provide and the results our students see are a direct result of our consumer-friendly investments.
Affordability isn't the only benefit of our payment policy. We take it upon ourselves to make sure that none of our customers get roped into a payment plan they aren't satisfied with. That's why we made SoFlo contract free.
Many group classes require an upfront payment for a full class or multi-week prep course that you may not end up wanting to stick with. Payment plans like this only exist to benefit businesses at the expense of consumers.
At SoFlo, our customers pay on a session by session basis. We would never charge families for a service they don't want, because we care about providing a service that they will want. We're in the business of tutoring, not profiteering.
This also manifests itself in our easy scheduling and cancellation policy:
SoFlo's cancellation/rescheduling policy:
First cancellation or no show is free of charge
Afterwards cancellation within 1 hour of the session invokes a 50% charge
No binding contracts and hidden fees like competitor virtual prep courses
In addition to these policies, we have a dedicated team available around the clock for customer support. Experiencing a billing problem or a scheduling confusion? We have online agents who are ready to help 24/7.
We believe education should be convenient and that a tutoring business should make sense for its customers. We pride ourselves on having designed SoFlo to be the ultimate user experience from our dorm rooms, apartments, and libraries to your homes.
Virtual Tutoring Isn't For Everyone
We wouldn't be honest if we said that SoFlo is for everyone. Although many students thrive when they receive the undivided attention our tutors are able to provide them, there are also students who are better fit for group settings or in-person tutoring.
Some students are able to focus better in group settings or are tactile learners and need to sit down at the same table with a tutor to be able to focus. We understand that. We encourage families to try our remote tutoring to see if it's the right fit for them. We'll even give you a free consultation and a 20% discount on your first session. If it still doesn't feel like the right fit, we'll gladly connect families with our network of in-person tutors who can help them reach their full potential.