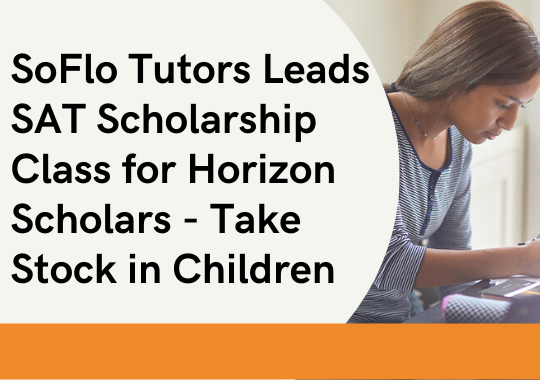 A partnership designed to help students raise their test scores so they can earn the Bright Futures scholarship and have more college options available.
8 Week SAT Prep Course
SoFlo Tutors teamed up with Valencia College and created a 32 hour group SAT prep class for Horizon Scholars – Take Stock in Children Students to learn core concepts and testing strategies needed to succeed on the SAT. When asked about the partnership and course, SoFlo founder Adam Shlomi said, "This is a great opportunity for us to give back to the community and help out students in need. I love their excitement and am also super excited to see how far our partnership goes."
This course was led by senior SoFlo tutors Luis Rubio — a second year undergraduate at Johns Hopkins University — and Max Frankel —  a semi-professional cyclist — both of whom scored 1520 when they took the test, a top 1% SAT score.
Structure of the Class
The course was set to last 8 weeks, with classes meeting for two hours twice a week during this time, and was split into two sections based on students' prior PSAT/SAT scores: the Knights and the Gators. Splitting the group in this way allowed instructors to customize lesson plans based on the students' relative skill levels and weaknesses.
Prior to the first meeting, instructors prepared and distributed a syllabus for the class that provided a general overview of what would be taught and also helped set expectations for both students and instructors. This provided students with a better understanding of what they were walking into, and made sure everyone was on the same page.
As part of the initial stages of the course, students were tasked with taking a diagnostic test. This assessment gave instructors an understanding of the baseline for students' knowledge, and using these results the instructors tailored lessons to fit the needs of students and optimize learning outcomes.
In the opening weeks, students reviewed grammar rules, math formulas, reading comprehension, and timing strategies for taking the SAT. This in-depth SAT review guaranteed that all students were equipped with the basic foundation of knowledge needed for the SAT. This early part of the process was one of the key reasons for splitting the class — students with a higher starting point would not benefit as much from extensive review of content they were already familiar with, but other students might need to spend more time actually learning the concepts assessed on the SAT, so for all students to feel like the class time was productive, it was important to consider where they were starting and what the best direction was to go based on this.
Once the students were taught foundational concepts and strategies, they began drilling SAT practice tests and learning from their mistakes. SoFlo instructors used Google Classroom to upload and assign past SATs for students to complete outside of class time and review with the instructor during the class period.
To maximize time in class, instructors made use of Google Forms also uploaded to the Classroom through which students submitted their answers for the assigned test. This allowed for instructors to identify questions that many students struggled with, and in particular identify if there was some specific content that needed further review. For example, if many students got a certain question wrong on a certain test, and the same type of question (vocabulary, main idea, quadratics) wrong on another test, then it would be worthwhile to review the content that the question assessed in class.
The in depth review that tutors do with their students is a critical part of the class. Rather than having students sit and answer questions blindly, — which does very little good if students are getting the same questions wrong over and over again, and thus reviewing the same wrong answers over and over again –— the instructors work with students to identify areas of weakness in their test taking so that further practice and lessons can work to fortify these and improve test scores.
For example: two students might be having a hard time on the math sections of the test, but one struggles with geometry questions while the other doesn't understand trigonometry, they should each thus study according to what they most need to work on. Identifying these weak areas and helping students target them is a large part of the instructor's job, and by working closely with the students in their course, tutors are able to achieve the best results for each member of their class.
Instructors also made use of online tools throughout the sessions. Polls were put up to make sure students understood why a certain answer was right, screen shares were used for the instructors to walk students through math problems, graphing and drawing tools gave students a visual representation of mathematical concepts. When asked how he felt about using these tools and teaching this class, instructor Luis Rubio said, "I'm really happy I took on this opportunity. I remember taking a group SAT class during my test prep, and I've been able to implement a lot of the things I wished that class had done, and seeing the students respond and grow every class has been a great experience."
Additionally, instructors sought to create a feeling of community and togetherness that can be hard to come across in the classroom setting. To achieve this, tutors would put out fun polls on the Google Classroom asking students what their favorite dessert or movie was as well as take part in icebreaker activities during the first few minutes of class. This allowed for students and instructors alike to feel a sense of belonging in the class, which made students more willing to participate and remain actively engaged throughout the duration of the course.
The online format of the class is also convenient for students: regardless of where they are, as long as students have access to a smart device and internet, they are able to participate in the class and learn the content necessary to succeed on the SAT.
Over the course of the meetings, instructors and students alike grew and learned together, and now all anxiously await the results from the test which will demonstrate just how much they developed through this course.
Mission Driven to Increase Educational Equity
This partnership comes from a place of wanting to help others succeed regardless of their financial situation. SoFlo Tutors and Valencia College have created a premiere test prep experience for students from underserved communities who might not have the same opportunities in life as others.
A strong SAT score can be the difference between an acceptance or a rejection from a college or university, and a weak score is one of the biggest reasons why qualified and capable students are rejected from their schools of choice.
Strong performance on these assessments will increase opportunities and public schools in Florida still require the SAT. Moreover, the Florida Bright Futures scholarship can cover 75% or 100% of in-state college tuition costs for students who meet the test score requirements.
Horizon Scholars – Take Stock in Children and SoFlo are committed to this mission that everyone who has the heart and desire to pursue higher education has their appropriate access, and will do everything in their power to open the doors to a brighter future for any student in need.