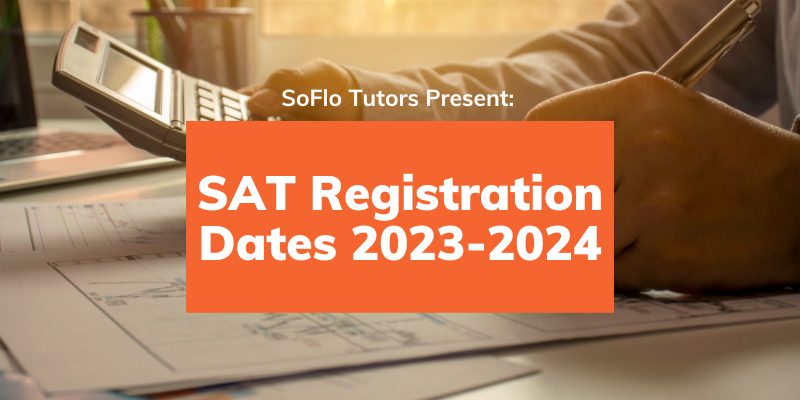 2023-2024 Registration Dates For The SAT
Taking the SAT is a critical step in the process of preparing for college, but navigating the registration process can be confusing and overwhelming. This step-by-step guide will explain what you need to consider before registering, when and where you can take the SAT, and how to complete your registration on the College Board website.
Things To Keep In Mind Before The Registration Process
Before you decide on a registration date, keep these things in mind:
The SAT costs $55 and lasts 3 hours.
CollegeBoard will send your SAT scores to up to four colleges of your choice, which you will pick during the registration process. It may be a good idea to gather a list of colleges to which you are applying and their respective reference IDs ahead of time. You can choose to send scores to additional colleges for $12 each.
Colleges differ on the SAT score ranges they are looking for, how they process scores (i.e. some take the highest overall score, whereas others take the highest score from each section or a "superscore"), and the latest date they will accept SAT scores. Be sure to double-check this information as you are making a testing plan.
Fee waivers are available to qualifying applicants. Visit your local high school guidance counselor to see if you qualify.
Before you register for the SAT, it may be a good idea to find out when your college admissions applications are due. You may want to take the SAT more than once, and you definitely want to leave yourself plenty of time to prepare for the test. Even if you have a firm grasp of the concepts you'll be tested on, it's still a good idea to plan for 2-3 months of prep time to take practice tests and become comfortable with the timing and format of the SAT.
For example, if your college has an early application deadline of November 15, 2022, the November test date would be too late to submit your SAT scores. If you want to take the SAT twice before submitting your application, you'll want to register for the August and October tests by July 29! Most colleges will accept updated scores after your application, but they also usually require initial scores to submit your application. Some schools may also stop accepting new scores after a certain cutoff. Check your prospective college's admissions webpage to ensure you submit your best scores.
As you can see, you'll need to plan your test registration very far in advance. It might even be helpful to write out a timeline with the following information to help you make a study plan:
Dates of SAT Practice Testing at your school
SAT Registration Deadlines for your planned test dates.
SAT Testing Dates
Score Release Dates
College application deadlines
Not sure where to start on test prep? Head to SoFloTutors.com to schedule tutoring sessions with highly qualified and engaging tutors.
Deadlines To Register For SAT In 2023-2024
The following table shows the schedule for 2023-2024 SAT testing dates, the deadlines to register for the SAT, the late registration dates, and SAT score release dates. All registration deadlines expire at 11:59pm U.S. Eastern Time.
| | | | |
| --- | --- | --- | --- |
| SAT Test Dates | Registration Deadline | Late Registration Deadline | Score Release Date |
| August 26, 2023 | July 28, 2023 | August 15, 2023 | Already Released |
| October 7, 2023 | September 7, 2023 | September 26, 2023 | October 20, 2023 |
| November 4, 2023 | October 5, 2023 | October 24, 2023 | November 17, 2023 |
| December 2, 2023 | November 2, 2023 | November 21, 2023 | December 15, 2023 |
| March 9, 2024 | February 23, 2024 | February 27, 2024 | March 22, 2023 |
| May 4, 2024 | April 19, 2024 | April 23, 2024 | May 17, 2023 |
| June 1, 2024 | May 16, 2024 | May 21, 2024 | June 14, 2023 |
*Please check the CollegeBoard "SAT Dates" page for the most up-to-date information.1
SAT Late Registration Dates
Missed the deadline to register for your test at your school? No worries! You can still register up to two weeks before a scheduled test date by registering online or by calling 866-756-7346 (or +1-212-713-7789 for international calls).
Who Is Eligible For Late Registration? 
Anyone can register late for the SAT by calling the numbers above or registering online. However, do keep the following considerations in mind:
Late registration, changes to an existing registration, or cancellations incur a $25-35 fee.2
Testing centers have a limited number of seats, so there's no guarantee that you'll be able to take the test at your desired location if you wait until the last minute.
There is no waitlist available for the 2021-2022 testing cycle.
If you are taking the test under special circumstances (see below) your test center options may be limited.
How To Register For The SAT Online
Navigating the CollegeBoard registration website can be tricky. Here's a step-by-step guide to ensuring that you register for the correct date and location and complete all necessary steps to confirm your place.
Determine Which Date Suits You Best 
To find your ideal test date, count backwards from your college admissions deadlines. It generally takes about two weeks after the testing date for SAT scores to be released, and the registration deadline is about a month before the test date. If you are planning to take the SAT more than once, be sure to factor that in to your timeline.
See the chart above to see which test date is right for you, then visit https://collegereadiness.collegeboard.org/sat/register/dates-deadlines. Pick your test date from the table and click the "register" button.
Create/Sign Into Your College Board Account
After clicking the "register" link, you'll be redirected to a page where you'll need to sign in to your CollegeBoard account. If this is your first time taking the SAT, you'll need to register a new account by clicking the "Create Account" button.
To create your account, you'll need to input your personal information, including:
Full name
Gender
Date of birth
Email address
Mailing address
High school graduation date
Parent's name and contact info
Phone number
Name and location of your high school
You'll then be asked to create a unique username and password to sign in. You'll need to confirm your email address before your account will be activated.
Provide The Requested Information
Once you are logged in, you'll be able to fill out the registration form. You'll need to provide your full legal name and other identifying information again (be sure that this information matches your photo ID).
You'll also be asked to provide other identifying information by enrolling in the Student Search Service. This is free, optional, and somewhat time consuming, but it can help colleges and scholarship organizations find you and your test scores.
Explore Test Center Locations And Dates
Once you have completed the personal information forms, you'll be asked to select a testing center. Centers are listed by availability during your chosen testing date, and you can narrow the search by state and zip code. Be aware that if you are registering close to the registration deadline, the closest center to you may be full.
You can find a list of testing centers in your state before you register by visiting https://collegereadiness.collegeboard.org/sat/register/find-test-centers. Each testing center has a corresponding Center Code that you can use to find your center quickly during registration.
Upload Your Photo
You are required to submit a photo during registration to verify your identity at the testing center. Uploaded photos must meet the following requirements:
You're easy to recognize.
You're the only one in the picture.
Your entire face, head, shoulders, and hair is clearly visible. Your head should not be covered (except for religious purposes), and both of your eyes should be clearly visible (i.e., not covered by hair or sunglasses – non-tinted prescription glasses are fine).
The photo is clearly focused and lit.
If registering online, make sure your photo is one of the following formats: .jpg, .gif, or .png. You will be able to crop and reposition photos during the upload process. You can also link a photo from Facebook.3
To achieve a good photo, it might be a good idea to have another person take it in a well-lit area with a neutral background. Keep in mind: even if you receive a message that your photo upload was successful, your photo can still be rejected if it does not meet all of the above requirements.
Get The Admission Ticket
Once you have completed all the necessary forms, it's time to pay with a valid credit or debit card or a Paypal account. Double-check that all of your information is correct before submitting the payment. Changing your registration will incur fees.
Once your payment is confirmed, you'll be able to print your admission ticket, which you will need to bring with you to your testing center on the date of your SAT.
Special Circumstances
You may be subject to different testing locations, dates, and fees, as well as other regulations if you meet one of the following criteria:
You have a disability and want to test with accommodations.
You are homeschooled.
You are older than 21 and planning to take the SAT (students under 13 are no longer allowed to take the SAT).
You cannot test on a Saturday due to religious regions.
Please visit https://collegereadiness.collegeboard.org/sat/register/special-circumstances for more information regarding these special circumstances.4
Make Sure You Are Prepared For The Next SAT With SoFlo
Whether you're struggling to improve your SAT score, preparing for your first test date, or are just looking to boost your score with some proven test taking strategies, SoFlo Tutors provides high-quality and affordable online tutoring. SoFlo provides one-on-one video tutoring with highly qualified and engaging tutors, as well as free resources to help you ace the test.
SoFlo's test prep is highly customized to your needs: study on your schedule, at your pace, and on skills with which you need the most practice. On average, students improve their scores by 110 points after 10 sessions. High test scores can make the difference between acceptance and rejection into top-tier universities. Get into your dream school with the help of SoFlo!
Are you also studying for the ACT? Are you just looking to improve your math skills? SoFlo also offers ACT Prep classes and general math tutoring.
Check out SoFloTutors.com or click here to schedule a free consultation.
Final Thoughts
Don't wait around on registering for the SAT; registration deadlines approach fast. Get the registration process over with so you can focus on test prep and do your best on test day. As always, remember to get a full night's sleep and a big breakfast before the test.
About The Author
Cody Love is a SoFlo SAT/ACT tutor and blogger, as well as a Ph.D. candidate in History at the University of North Carolina. He has more than ten years of experience as a teacher, tutor, and wilderness guide. When he isn't traveling the world or helping students, he can be found walking his dog on a beautiful trail or fishing on a peaceful shore.
Sources