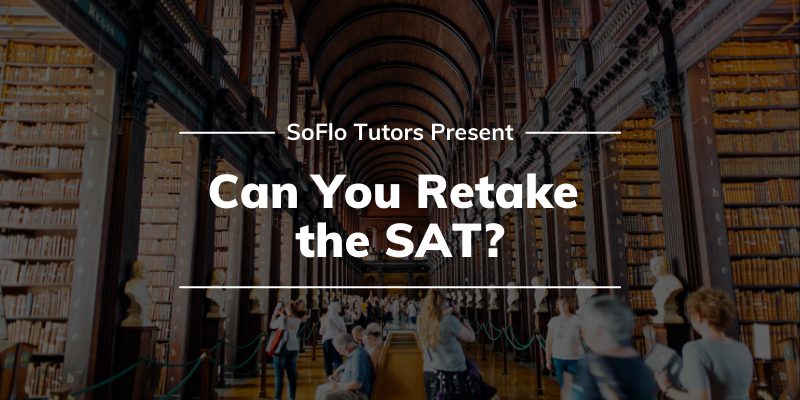 Many students study hard for the SAT for several weeks or months. They should be congratulated! Taking the SAT is a major accomplishment. However, when they receive their score report, many students are disappointed that they didn't perform as well as they had hoped they would.
As a result, many students find themselves asking: "Can I retake the SAT?" This article breaks down if you can retake the SAT, why you might or might not want to, and how much benefit students typically see from retakes, among other tips.
Can I retake the SAT?
The answer to this question is a resounding "yes!" Students are allowed to take the SAT as many times as they would like to. Whether you should or not is a decision only you can make. How you feel, how far your current score is from the scores you might need to get into your dream school or earn a particular scholarship you want, and how far you are from actually applying to college, are all factors you would want to consider. However, for reasons we'll discuss in this article, including SAT Score Choice and Superscoring, there is a fairly large incentive for most students to retake the test, and the majority of students will be better off by retaking it.
At SoFlo SAT Tutoring, we encourage all students to take the test at least twice. Next, we'll discuss some of those potential benefits (and drawbacks, where applicable) to retaking the SAT, and we'll show how most students will end up benefiting from retaking.
What is SAT Score Choice?
Many students worry that if they retake the SAT and end up scoring lower the second tMany students worry that if they retake the SAT and end up scoring lower the second time, that will reflect poorly on their college admissions application. That problem can be solved through SAT Score Choice.
Score Choice is a program offered by the College Board that allows you to choose which scores you send to colleges. This way, admissions officers at colleges will only see your highest scores, and won't know how many times you took the test, allowing you to put forth only your strongest performance. This takes the stress out of retaking for a lot of students. However, it's worth noting that, while most colleges allow you to use Score Choice, there are quite a few that require all scores be sent, including some of the nation's most selective universities, like Cornell University, Georgetown University, Rice University, and Yale University. If you're interested in applying to a school that requires all scores, you only want to retake the SAT if you're confident you'll do better. You can find each school's policy on Score Choice on their websites.
What is SAT Superscoring?
Another benefit to students retaking the SAT is Superscoring. Superscoring is when, if you're submitting more than one SAT score, a college will take your highest score on each section to form a new composite. This allows you to put together a college admissions application that reflects the best of your abilities.
For example, say you took the SAT twice. The first time, you scored a 650 on Evidence-Based Reading & Writing and a 600 on Math. You worked hard on the Math section prior to your second take, which netted you a 650 Math score, but your Evidence-Based Reading & Writing score dropped to 590. In this case, your two composite scores are 1250 and 1240, but a college that is Superscoring will add up your highest Math score, 650, and highest Evidence-Based Reading & Writing score, 650, and evaluate you based on your super-scored composite, 1300.
In the aforementioned example, your new super-scored composite, which took the highest section scores across multiple tests you took, would be higher than either of your two previous composite scores! It is a great way to reach your target score without putting all your eggs in one basket. Taking the SAT multiple times and combining the highest scores also allows you to focus on different sections. For example, if a student only has time to study for one or two sections due to a busy high school schedule, they can take practice tests and focus on studying for just the Reading and Writing sections on the first test, then devote their test prep to Math for the next test date. Superscoring is another great benefit to taking the SAT more than once.
While most colleges will allowing Superscoring (or otherwise focus on a student's highest score on each section), there are many colleges that do not Superscore, including some of the most selective colleges in the country, like the University of Texas-Austin and the University of Wisconsin-Madison. You can find each college's Superscoring policy on its website.
How Much do SAT Scores Improve on the Second Take?
Now that you know the many benefits (and occasional drawbacks) to retake the SAT, you mNow that you know the many benefits (and occasional drawbacks) to retake the SAT, you might be wondering how much students' test scores usually improve by when they take the SAT a second time.
Approximately, the national average for score improvement on SAT retakes is 40 points. However, every student is different, and many students attain a much higher score than a 40 point improvement. If the colleges you want to apply to allow you to use Score Choice when applying, you may essentially have nothing to lose by retaking other than the time spent preparing, and you may have even more to gain if they also allow Superscoring.
However, if your top choice colleges require you to send all scores or don't Superscore, you may only want to retake if you're positive you can do better the second time. In general, though, as long as Score Choice is an option for you at the colleges you're interested in applying to, retaking the SAT won't hurt you at all. Getting a better score that lands you in a higher percentile is often a very worthwhile and impactful way to improve your college application, especially if other areas, such as your GPA or extracurriculars, are lacking. Unless you are planning on applying to many colleges that don't allow Score Choice, then, provided you have the time to adequately study and prepare for your retake, then you most likely will benefit from taking the SAT an additional time.
Does this mean that you should take the SAT a large number of times? Most high school students tend to see less overall composite score improvements beyond a 3rd or 4th take, however, that isn't the case for everyone, and if the colleges you are applying to allow superscoring, then there is even more incentive for multiple retakes. Overall, every situation is different, but retaking the SAT can be a benefit to the vast majority of students.
Make Sure to be Prepared With SoFlo
SoFlo SAT Tutors are high-scoring graduates and attendees of top universities who have mastered the SAT. Check out our virtual tutoring services to find an SAT tutor who will provide official SAT practice and help you towards your score goals, whether it's your first take, second take, or beyond.