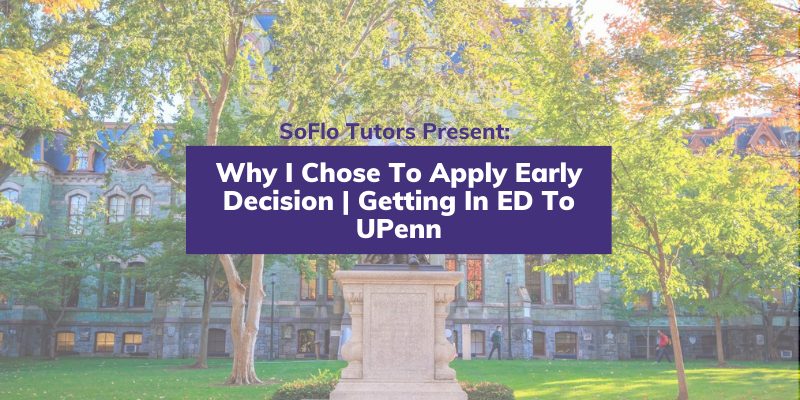 Recent UPenn grad Emily, who's been an expert SoFlo tutor for the past three years, sat down with us to discuss her decision to apply Early Decision (ED) to UPenn as a high school senior.
Applying early to a school – especially ED – can vastly improve your chances of getting in. It seems like a no brainer to take advantage of this huge opportunity, but applying ED is also a big decision and there are a lot of different factors to consider. The importance of these factors differs between each student, so it's important to reflect on your own college goals and financial situation when weighing whether to ED to a school.
What Factors Went Into Your Decision To ED To Penn?
E: I wasn't entirely sure what I wanted to study in college, but I knew that I wanted to go somewhere that offered a wide breadth of topics and majors/minors to explore. So that's why I was interested in the humanities options Penn offered. I also cared about the number of extracurricular opportunities offered, but beyond the basics of classes and clubs, I was really interested in the people and culture of the school.
I spoke to some friends who had graduated from my high school and started at Penn and they all had really different circles and areas of study, but they seemed really involved in their communities and had already made really strong friendships.
Was There A Specific Moment Where You Knew That Penn Was Your "Dream" School?
E: Penn was actually one of the few schools I toured, so I definitely recommend touring as much as possible when you're deciding where to apply. I didn't know Penn would be my dream school until I took an on campus tour and I just felt really strongly about the vibe of the campus – and how pretty it was! I also thought my tour guide was someone I could relate to and loved hearing about what the school had to offer. So Penn definitely became my dream school after I took the tour.
Were There Other Schools That You Were Considering?
E: Like I mentioned previously, I didn't really tour that many schools, so I don't have a huge sample size for universities where I was able to really see the campus and people first-hand. I didn't feel super strongly about the other schools I had toured, like UChicago and Northwestern, so it didn't make sense to me to consider them to ED to. I also think Penn was one of the most selective schools I planned on applying to. Because I wanted to give myself the best chance at admission as possible, I decided to ED to Penn.
How Did You Prepare For The SAT?
E: I prepared for the SAT by taking practice tests and working through the questions I got wrong. I was lucky in that I had resources in other people to ask for help if I didn't understand the reasoning or method behind an answer. Having someone explain a concept to you and work through it together is super helpful in my opinion compared to trying to guess or find the reasoning behind an answer yourself.
I took the SAT once and didn't really have a goal score. I just wanted to get it as high as possible and then re-evaluate once I received my score to see if it would be strong enough for the schools I was applying to.
Any Advice For Students Who Are Deciding Whether To EA Or ED To A School?
E: Decide if you really want a specific school and then really ask yourself why. It's not always about the school's rank or prestige or anything. I really, really recommend sitting down and thinking through what matters to you in a school because where you EA or ED might be the next four years of your life.
Do you want a small school? Big school? Does it matter where the school is located, state-wise and city-wise? Do you want something that is more University City vibe or integrated into an actual city? What majors and concentrations matter? There are a ton of questions you need to be intentional with before going all in with an ED decision.
Craft Your Best Early Application With SoFlo
Whether you're on the fence or already decided on whether to apply early to your dream college, SoFlo Tutors can help you out! Our expert tutors can help you achieve your testing goals to maximize your shot in getting in these schools. Our tutors scored in the 99th percentile of the SAT/ACT and attend top universities worldwide. Click here to schedule your first tutoring session today!
About The Author
Andie Pinga is an expert SoFlo tutor and graduated from the University of Pennsylvania with a B.A. in Economics and a minor in Anthropology. She scored a 35 on her ACT and enjoys rock climbing and playing the guitar.