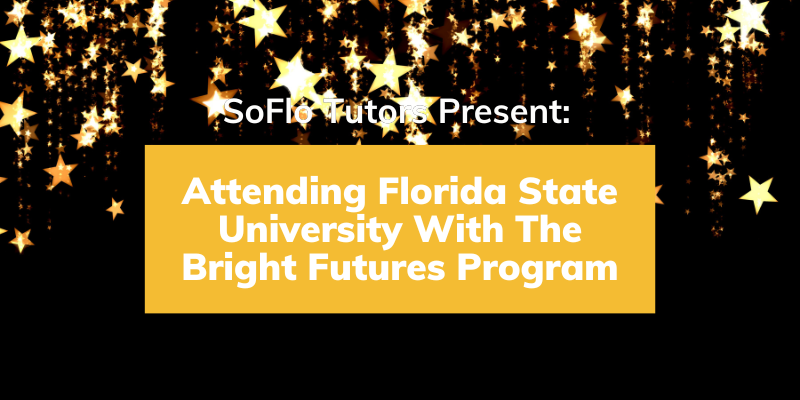 Expert SoFlo tutor Dahlia recently graduated from Florida State University with majors in philosophy and psychology. She entered FSU as part of the Bright Futures Program – a competitive, academic scholarship awarded to Florida residents. Awardees could potentially earn a full ride to college, and with rising and exorbitant college costs, graduating debt-free is no small accomplishment. Read on to learn more about Dahlia's college application journey, as well as her experience getting into the Bright Futures Scholarship Program.
How did you approach your college applications?
Frankly, I procrastinated until the last two months to even begin sorting out my college applications. At that point in my life I had the mentality that I could exert very little effort and get the things I wanted which, unfortunately, lead to my lack of responsibility in adequately preparing for a good application. I applied to three schools in total – Florida State University, University of Miami, and University of South Florida. I wanted to go out of state, however, my parents had established the 'Florida prepaid' (though UM is excluded since it is private) and that is why I chose all Florida schools. 
Why did you choose FSU?
Well, I had it in my mind that I wanted to be a psychologist ultimately, but that is not the reason why I chose FSU, even though they have quite an impressive psychology program. The reason why I chose FSU was because I thought it would have the most satisfactory party/sorority life. I spent hours trying to imagine myself in a particular sorority, or the cool parties I would be able to participate in. Ironically, when I rushed I was rejected by the sorority I wanted and I did not find that I fit into the party crowd. I'm thankful for this as it allowed me to get my priorities straightened and focus on education instead of a fantasy I had of college in my head. 
Did you apply to any scholarship programs?
The only scholarship I applied to was the Bright Futures Scholarship which is awarded to students who achieved some necessary level of academic achievement in high school. I was awarded the Florida Medallion Scholarship within the Bright Futures scholarship branch. This meant that I received 75% of my tuition from the scholarship that I could put towards classes.
Do you have any advice for students applying to colleges and preparing to take the SAT/ACT right now?
Take school seriously. Your individual education is not something that ought to be replaced by a device, and cannot be anyway. Our over-reliance on the phones, the AI, and all other technology will be the fall of us and we will one day awake to figure out that we had spent so much time letting something that is not us think for us. Our ability to think is what makes us so special. Learning is imperative for it enables us to develop more complex thoughts and see how each thought connects in the web. If you plan to take the ACT and SAT, try hard. Seriously, give it your all. If you have the opportunity to get into a good school, do everything in your power to get in. Take pleasure in studying instead of viewing it as a chore – view it as your duty to yourself. 
Qualify For The Bright Futures Scholarship With SoFlo Tutors
The Bright Futures Scholarship Program has various SAT and ACT minimum requirements. To qualify for their 100% full scholarship program, students must earn at least a 1330 SAT score (or ACT equivalent). SoFlo can help you get there. We've tutored hundreds of students that have gone on to receive the Bright Futures Scholarship. The average SoFlo student improves their score after just 10 tutoring sessions with us.
All of our tutors attend top universities around the nation and scored in the 99th percentile on their SAT. They will work one-on-one on you to identify and improve your weak areas and increase your chances of getting your target score. Our tutors schedule to sessions to your availability and our costs start at $60/hour. Check out our tutoring services to book a session!