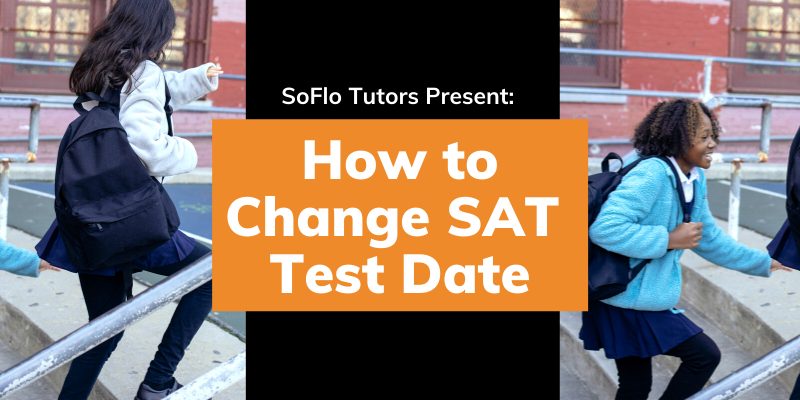 Is Changing the SAT Test Date Possible?
For many students, their SAT test date is one that they can't stop thinking about until it's finally here. However, life can get in the way for a variety of reasons, and students might need to change their SAT test date — but don't worry, it's doable and SoFlo is here to guide you through the entire process.
Main Reasons to Change SAT Test Date
While there are too many reasons to name for why a student might need to change their SAT test date, two of the most common reasons could be feeling unprepared or facing a schedule conflict.
Not Prepared
Students spend hours of their time and effort preparing for the SAT, but sometimes even with their best preparation, there's just not enough time in the day to get in the necessary practice. For this reason, students have the option to reschedule their test date to the next month in order to further prepare.
Still, students should think carefully about their decision to reschedule if they are feeling unprepared and consider all factors. Some highly competitive schools will mandate that students send in every single one of their test scores. If a student has their heart set on a school with that policy and knows that they will not be able to perform to the fullest of their ability on test day, rescheduling for next month can be a smart decision.
However, if a student is cutting it close to college application due dates, pushing off the SAT could adversely impact them and their chances of admission. If a student leaves only one chance to take the SAT and achieve their target score, it could place an immense amount of pressure on them. Even though taking the SAT only one time is ideal, a variety of factors like test anxiety could hinder a student from reaching their full test score potential. Rescheduling the SAT test date would probably not be the right move if it left a very limited number of future test dates before scores are due.
Schedule Conflict
Scheduling conflicts with activities, whether they are academic, extracurricular, or personal, could potentially cause students to change their SAT test date. For highly important events that the student cannot miss, they will need to change their SAT test date and reschedule for a date when they are free. Students should also double-check their calendars, accounting for the length of the SAT and how long they'll be at the testing center.
Even though many scheduling conflicts will require students to reschedule their SAT test date, for certain school-related conflicts, students might be able to take the test on an alternate SAT test date instead of rescheduling. In these cases, educators can contact College Board about the event to learn more about alternate test dates. However, students should be aware that the College Board is not offering any alternate test dates during Fall 2021.
When rescheduling the next SAT test date, students should make sure that they are considering all future commitments that may interfere with when they are scheduled to take the exam. While it can become difficult to look that far in the future, and unexpected life events can happen without notice, students can minimize the stress of rescheduling by considering their future time commitments to the best of their ability.
What to Know When Changing SAT Test Date
Is there a deadline to reschedule?
Luckily, there is no deadline to reschedule SAT test dates — even if the original test date has already passed! As long as a student did not go to the test location to sit for the test, there is no deadline to reschedule.
Does it cost money?
Changing your SAT registration date will cost $28 for every reschedule, in addition to the money students already pay when initially registering for the exam. Luckily, however, this reschedule fee will remain the same regardless of if you change the test date or location. This fee will apply to all students, even those who received fee waivers for SAT registration.
How close to the new test date can students reschedule?
When rescheduling a new upcoming SAT exam date, students should also be aware that they will incur an additional $28 late exam fee if the desired SAT exam is less than a month away. If the upcoming test that the student wants to register for is over a month away, there will only be the rescheduling fee and not the late registration fee.
How to Reschedule the SAT Test Date
Rescheduling SAT dates won't take more than a few minutes to complete, and the steps are the same for both the standard SAT and the SAT Subject Tests.
Sign-in to College Board
On the "My SAT" page, click "Change Registration"
At the bottom of the page, click "Change my test date"
Look through the new test dates that are available for upcoming SATs, and select one
Select a test center
Confirm personal information
Pay the reschedule fee
Check email for confirmation of the change, and a new test date admissions ticket
Print out admissions ticket
Is Rescheduling the Right Move?
Before rescheduling an SAT test date, students should carefully think about the pros and cons of changing their exam date. Unless there is a clear scheduling conflict, it's extremely important that students consider all aspects of a reschedule.
Some of the negatives associated with rescheduling include added costs or missed application deadlines. Getting SAT scores to various college admissions boards on time is extremely important, as some schools require test scores for consideration.
On the other hand, some of the more positive aspects of rescheduling an SAT test date include allowing more time for preparation or that it's cheaper than canceling. Canceling the SAT will cost $45 without the essay and $57 with the essay, compared to the $28 cost of rescheduling.
Make Sure to be Prepared for the Next Test With SoFlo
Students should only reschedule a test to prepare more if they are certain they have the time and energy to spend on preparation. Postponing the test will not boost a student's score unless they put in the work and actually target their personal areas of concern. Students who are looking to reschedule should consider working with a personal tutor like through SoFlo Tutors.
SoFlo Tutor's team of experienced tutors has the tools to help you reach your goal score on the SAT. Through virtual one-on-one weekly sessions, SoFlo gives you the flexibility of learning on your schedule to work toward your goals while receiving personalized feedback and tips and tricks. Our tutors guide students through the process and give students the insight they wouldn't be able to gain on their own.