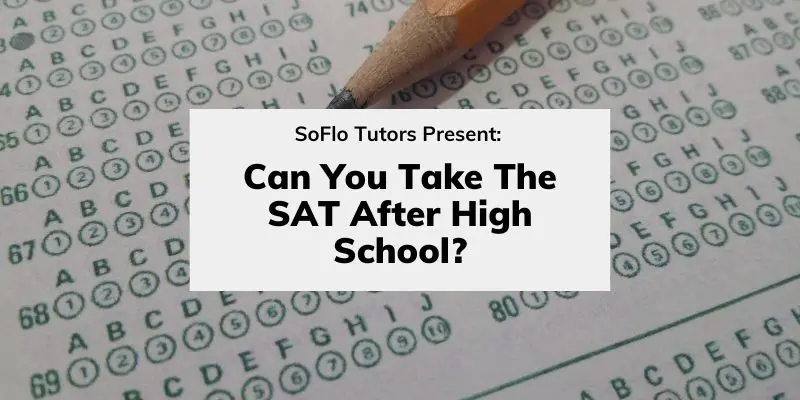 Why You Might Want To Take The SAT After High School
There are many different reasons why you might want to take (or retake) the SAT after high school, but if you're considering sitting for the exam, here are a few reasons why it might benefit you.
Applying to college
SAT scores have historically been a large part of college admissions. Now, with many schools becoming test-optional, applicants don't have to take the SAT or ACT if they don't want to. However, it can still be a huge help and can boost your chances if you choose to include your scores.
Again, since many schools are going the test optional route, you might not have to take the SAT if you're applying to colleges. Still, make sure you check the requirements of the schools you're applying to in order to make sure you're increasing the odds of getting admitted.
If you delayed going to university or college and already took the SAT, be sure to note that SAT scores are good for 5 years — so if you took the exam longer than 5 years ago, you will need to take it again in order to update your scores.
Even if your score is more recent than it's required to be, your old score might not be indicative of your abilities anymore, so don't count out retaking the SAT just because your score hasn't "expired" yet. Taking a practice SAT exam as a self diagnostic test can give you a great idea about how you would do if you were to take the exam again now.
Transferring colleges
Another reason you may consider taking the SAT after high school is to transfer colleges. You might transfer for a variety of reasons, one of the most common being fit. Fit can refer to not only campus culture and people, but also how well you fit into the competitive academic landscape of your school. For those looking to transfer to a more rigorous college, you should definitely consider retaking the SAT to boost your score.
Transferring colleges means you have to apply again to other schools, so making sure your test scores and grades are the best they could be is the smartest way to be a strong candidate for transfer.
Applying for a job or scholarship
A high SAT score can open many doors in terms of scholarships. If your score wasn't high enough to qualify for scholarships in the past, you might consider retaking the exam and applying to receive one.
You might consider retaking the SAT not only for scholarship eligibility, but also for jobs or post college opportunities. For instance, certain rigorous and high paying jobs look for candidates with high GPAs and high test scores (these might include management consulting or investment banking firms). These can actually play a huge role in whether or not you can get your foot in the door for a first round interview, so brushing up your SAT score might be a smart way to prepare for post grad opportunities.
Likewise, if you're strongly considering or planning to apply to graduate school, you should again think about your SAT or ACT score. While not all programs and schools will require or look at your SAT score, some might find them valuable. For this reason, you might consider retaking the SAT after high school.
Can You Take The SAT After High School?
So, there are obviously many different reasons someone might want to retake the SAT after you've graduated — but can you actually take the SAT after high school?
Yes! Thankfully, you can take the SAT after you graduate high school. While it's true that most SAT test takers are under the age of 25, with most taking the SAT to apply to college while still in high school, the College Board will not bar you from taking the SAT if you're not enrolled in high school anymore.
Especially if it's been a while since you logged on (or even thought about) the College Board, the process to take the SAT might seem a bit daunting or confusing. However, in this article, we'll go over all the details and steps you need to know about before taking the SAT in this section, so keep reading below!
How To Take The SAT After High School
Registering as a high school graduate
First, you need to register as a user on the College Board's registration website. This part of the process should be fairly straightforward — just input your information when they prompt you for it.
Next, you should look into when and where the College Board offers the SAT in your area. Thinking about your timeframe will become important when you're choosing a test date. You want to make sure you give yourself enough time to study and prepare for the exam, but you also want to remember that you won't get your score back immediately after you finish your exam. Planning for the deadlines you have to meet (transfer deadlines, graduate school deadlines, etc.) is extremely important when choosing a date.
In terms of location, there is usually a local school or university that will host the SAT exam on a weekend. You can look at the testing locations in your area before choosing the one that works for you. Again, keep in mind that the test lasts multiple hours (you should block off 3-4 hours), so plan accordingly.
Once you've decided on a date and place, you can finish up your registration by paying the test fee of $55. If you change details of your exam, you can incur a $25 change fee; if you register too late for an upcoming exam, you can incur a $30 late registration fee — so make sure you've thought about the date and location of your exam before you finish registration. If you qualify, you might be able to waive the fee. If you feel as though you cannot afford to pay the fee, you might want to consider looking into a fee waive.
Taking the SAT multiple times or missing your assigned test date can become expensive quickly, so make sure you mark your calendar and take all of the necessary items you need on test day to ensure you're not turned away. We'll cover all of the things you absolutely must bring to your test center in the next section, and we recommend using our list to make a checklist later on.
SAT test day requirements
First, make sure you have a printed version of your College Board SAT Admission ticket. You won't be able to enter the testing center at all without your admission ticket, so you absolutely need a hard copy before leaving to take the exam. You won't be able to pull it up on your phone in order to get in, so bring one (or even two) printed copies.
Next, you need an accepted ID. This can't be a photocopy or picture, so you'll need to pack your physical ID. This can be a government issued ID or a school issued ID, but your school ID will be valid only through December of the current calendar year (for example, school IDs from the 2021-2022 school year are only valid through December 31st, 2022). However, if you're over the age of 21, you can't use a student or school ID – you have to produce your government issued ID.
While the first two items are absolutely necessary to sit down for the test, the following items are recommended but not required. You should definitely bring a calculator, as there is a calculator math section where you are allowed to make use of one. Not all calculators are accepted, so check your model with the list of allowed ones. A few acceptable calculators include the TI 30x, TI-84 Plus, and the Casio FX-6000 series.
You should also bring #2 pencils to the exam, even though the testing center probably will have a few spares. Make sure that your pencils are actually #2, because it might prevent the Scantron from being able to read your answers.
Snacks and water are some optional but recommended things to pack for your testing day — you're going to be sitting in the testing center for long periods of time, and you want to make sure you're not feeling uncomfortable.
A few other optional items to bring to the SAT can include:
A bag, backpack, or purse
Jacket or sweater
Digital watch (not an Apple Watch or other smart watch)
Pencil sharpener
There are also a few items you should not bring to the SAT:
Mechanical pencils
Highlighters
Colored pens
Cameras
Standalone timers or alarms
Protractors, compasses, or rulers
Dictionaries, scratch paper, or books
Even though these items are pretty harmless, don't even risk bringing them into the testing center — the College Board has the ability to confiscate them and even cancel your score. Play it safe and leave them at home.
How Is Taking The SAT As An Adult Different?
Registration
The process to register for the SAT is pretty similar to the way you'd do it in high school, but there are a few minor differences. One is that the registration process will ask for information about your parents. In these instances, you can leave those sections blank or click on an option that says, "I am not in high school."
Test waitlist
If you're 21 and older, you can't be placed on the SAT waitlist. This means that you won't be put on the waitlist if you didn't sign up for the SAT on time, so make sure you're registering ahead of time.
Test changes from 2016
In the past, the SAT was scored from 800-2400 (with 800 as the minimum possible score and 2400 as the highest possible score). However, the SAT is now scored on a scale of 400-1600.
The reading and writing sections have been combined into one section score, and sentence completion questions have been removed from the SAT. Every single question in the reading and writing section is now going to be passage based, so you'll be answering questions that refer to individual sentences within a larger passage.
The math section has also changed slightly, as it now focuses a bit more on algebra. As mentioned earlier, there is a calculator section. There is also a non-calculator section, where you won't be able to use a calculator. Of course, you can use the sides of your exam as "scratch paper" to work out the math so you don't have to do it all in your head.
The SAT For Adults – Expert Tips On How To Prepare For The Exam
Okay, so you've decided to take the SAT after graduating high school. Since you might not be in the high school mindset of preparing for the SAT after school every day, here are a few tips and tricks to make sure you're ready for test day.
Learn the test format
Again, you might not remember what the test format is like. Understanding the SAT format and being familiar with the test is an important part of studying for the exam.
A quick refresher:
The SAT has multiple different sections: Reading, Writing, Math Non-Calculator, and Math with Calculator
Each section has slightly different allotted times and number of questions
In the Reading and Writing sections, the exam will be all multiple choice
At the end of both Math sections, there will be a few fill-in questions where you'll bubble in a number
Take practice tests
One of the best ways you can familiarize yourself with the SAT's format and content is to take practice exams. Even for students currently in high school, taking SAT practice tests is one of the most effective ways to prepare for the exam.
When you take SAT practice exams, try to recreate the testing environment to the best of your abilities — follow the time constraints of each section and sit down in a quiet environment. You'll feel a lot more at ease when you're sitting in the testing center after you've gotten used to taking a long and arduous exam in a very quiet place.
You can find some official practice tests from the College Board, along with answers. Checking your answer sheet after can help you pinpoint what types of questions you're struggling with so you can decide where to focus your studying efforts. It will also help you calculate your score, which will allow you to benchmark how you're doing and keep track of progress before you sit for the exam. If you have a target score, or if the scholarship/school/job you're applying for has a specific cut off, taking practice tests and scoring them is extremely important.
Follow a practice plan
Especially if you're in a time crunch, following a practice plan is vital to your success on the SAT. Once you know what your deadlines are, you should start working backwards for that date and sign up for your exam accordingly. From there, you'll know how much time you have before your exam and can start thinking about following a practice plan or schedule.
Focus on the topics you don't remember well
Again, taking a diagnostic practice exam will definitely help jog your memory about topics you need to brush up on. The SAT tests on a certain curriculum, and looking over which questions you struggled with will demonstrate the parts you should study again before sitting for your exam.
Get additional help
Working with a tutor can help you get back into the groove of studying for a standardized exam like the SAT. They'll be able to tell you about the exam format as well as any tips and tricks you might have forgotten about.
Prepare With SoFlo Tutors
Set yourself up for success with SoFlo Tutors! All of our tutors attend top universities around the nation and scored in the 99th percentile on their SAT. They will work with you one-on-one to identify your testing weak areas, create a personalized study plan for you, and increase your chances of achieving a PSAT score high enough to qualify for the National Merit Scholarship Competition. Our tutors schedule sessions to your availability. Check out our tutoring services and rates to book a session!