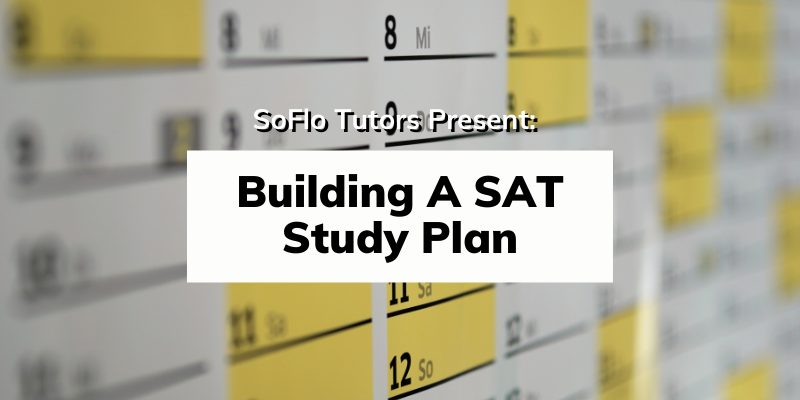 How To Build A SAT Study Plan
The SAT is the standardized multiple choice exam used as a factor in college admissions. Just like any other big exam, studying is crucial to doing well on the SAT.
Building a study plan, working through all four sections of the SAT systematically, and getting comfortable with all of the material while managing your time is the best way for you to succeed.
If you're a high school students looking to boost your college applications, creating a study plan can help you reach your SAT goals and hopefully gain admission to your dream school!
Benefits Of Building A Study Plan
A SAT prep study plan will allow you to balance your schedule and not overwhelm yourself with content and information in the weeks before the exam. Knowing when to study, what to study, and how much to study on a weekly or daily basis can be incredibly helpful to your SAT score progression.
Having a customized study plan will also help you figure out what subjects you need the most work on, and allow you to dedicate the most time to those subjects. For example, if you really struggle with math questions, but are doing great at the reading section, you may spend significantly more hours a week reviewing math than reading.
Lastly, consistent review and active learning of the material will allow you to improve most significantly. Looking at and analyzing your scores on a weekly basis means that you can track improvement over time. It's incredibly satisfying to see your score increase as you develop confidence with the material.
How To Start Making A SAT Study Plan
Set A Target Score
There are a couple things you want to ask yourself when setting a target SAT score. What do you think is personally attainable? What's your dream college? What other schools are you looking at applying to?
Once you've taken the time to answer these questions, take a look at the middle 50 percent SAT range for your college list. This middle 50 range (aka the 25th percentile to the 75th percentile) indicates the average SAT score for accepted students to that college or university.
If you want to maximize your chances of getting into a university, your final SAT score should fall somewhere between or above the middle 50 percent range. Establish your goal score based on the percentiles of the colleges you want to go to.
For example, if my dream school was the University of Maryland, which has a mid-50% SAT range of 1290-1460, I would probably want to set my goal SAT score as a 1350 or above.
Determine what is most feasible for you and also most closely aligns with your goals.
Establish Your SAT Baseline
Next, establish your baseline SAT score to determine how much you need to improve to reach your goal.
Take a full length practice test while timing yourself, trying to mimic exam day settings as closely as possible. Make sure there are no distractions present, print out the test and do it on paper, give yourself the correct amount of time for each section, and bubble your answers to practice.
After you've spent approximately 3 hours doing this, score your preliminary test. The score that you get will be your baseline and starting point. Subtract your baseline from your goal to determine how much you will need to improve.
Using your test, figure out which sections you struggle with the most. Maybe it's geometry. Maybe it's comma rules. Determine what areas you need to spend the most time on when you create your study plan.
Determine When You Want To Take The Exam
Take a look at your schedule in the upcoming months and decide for yourself when the best time to take the exam is. There are a couple of things you want to consider when scheduling your exam.
Firstly, don't schedule your first SAT for a month when you're swamped with other obligations, and make sure the testing date is one that works for you.
Secondly, give yourself enough time to prepare for the exam before test day. If you're looking to improve your score by 200 points, don't schedule your exam for the next month. Take the time to really become familiar and comfortable with the test.
Lastly, make sure you take your test early enough so that your scores can be sent to your colleges in time.
For example, if you're applying in the early application round, which generally requires applications to be submitted by early November, you want to take your test at least a month prior, just to be safe.
If you're a high school senior applying in the regular application round, you should be able to take any of the SAT tests prior to December without issue.
Decide How Many Hours You Need To Study
The next step is to determine how many hours you will need to study to get from your baseline score to your goal score. Generally, if you're studying well, more time put into studying directly correlates to a higher score. You should also take into consideration your general studying pace.
The absolute minimum amount you should study if you're looking for improvement is 10 hours. The more you study beyond that, the more you're likely to improve.
If you want to improve between 150 and 200 points, you want to study for at least 80 hours.
If you want to improve over 200 points on your SAT, you should dedicate at least 150 hours, if not more, to studying.
Setting a goal is an integral part of understanding how to build your study schedule: the more hours of test prep you complete and the more SAT practice tests you finish, the better your chances of reaching your target score.
Gather SAT Study Materials
Finally, before studying, gather all of the materials you will need. These resources should definitely include official SAT resources, which offer the best representation of the test.
Official SAT resources include past tests, sample questions and study guides made specifically by the College Board.
The Official SAT Study Guide should be your go to resource for learning and understanding the format of the exam, the content of the exam, and how to study for the exam.
There are also 8 full-length practice tests that you can download and print to use as material. These tests will be exactly like what you see on testing day, and are most accurate in terms of content.
SAT prep books are also a solid way to gain exposure to different practice questions. They can also help by including information to help you study the SAT curriculum.
Additionally, there are other unofficial resources to consider when trying to find material to work with. However, be more careful with unofficial resources, and crosscheck them with official resources to ensure that they are giving you a good representation of what the test will look like.
You can also consider working with a tutor to help you stay on track with your prep and answer any questions you may have.
Finding a tutor who has insight into the exam can be extremely helpful to get any tips and tricks that you can't find within official SAT practice tests! Tutors can also be your personal cheerleaders up until your SAT test date to keep you motivated and confident.
Tips For Creating A SAT Study Plan
Creating a study plan really depends on your schedule, how much time you have before the exam, what areas you struggle with and how many points you're looking to improve by before testing day.
With every study plan however, there should be a general structure that you follow in order to see the most improvement. The most important thing is to stay consistent and follow whatever schedule you've created to the tee.
Aim to study for the same amount of hours each week- this may be more or less depending on how many hours you're looking to study in total, and how long you have before your exam. While it's better if you study throughout the week (like two hours every other day), if you're particularly busy, you can group your study time (by doing focused, dedicated studying on one or two days) instead.
The first couple of hours studying should always be dedicated to familiarizing yourself with the SAT. Get to know the structure, the amount of time given for each section, and analyze the results of your baseline to determine your strengths and weaknesses.
Then, spend some time focusing on each of the sections individually. Really get to know the reading section format, types of questions asked, and different types of passages that will be presented. Do the same for the writing and language section and the math sections. It's ok if you don't spend the same amount of time on each section. If you're naturally better at math, spend more time focusing on understanding the reading section, and vise versa.
Then, really concentrate on key content. There are a couple of things that you absolutely have to know for the SAT.
Then, spend some time developing strategies for the test. Learn tips and tricks to improve your speed in each section and learn when to use each trick for each different type of question. This time should really be spent working figuring out how to answer questions accurately and quickly to give yourself more leeway and time to check at the end.
The last weeks or hours spent before the test should be spent finalizing review, and going over any content you may still find yourself struggling with. Really take the time to do full length practice tests to simulate the true testing environment as much as possible.
For the reading section, you should develop a solid reading strategy in order to get the most out of the passages. In the writing section, this includes common grammar rules, specifically punctuation.
In the math section, go over key topics such as geometry and basic trigonometry, probability and statistics, algebra, fractions and ratios, and other forms of advanced math. Memorize some of the important math formulas.
During this entire process, periodically take full length practice tests in order to measure improvement, and see which areas you still need to work on. See how fast you're learning the material and adjust your schedule and study plan as necessary.
Things To Consider And Mistakes To Avoid
The biggest mistake that people make when trying to study for the SAT is trying to cram for the exam in the few weeks before.
Last-minute scrambling is guaranteed to stress you out, and will oftentimes do more harm than good. It is so important to develop good studying habits and review for the test thoroughly and systematically.
After creating a study plan, it's also important for you to stick with it and follow your schedule as you have created it. If you fall behind or procrastinate, it may be hard to compensate later down the line.
Furthermore, don't try to overwhelm yourself with material. It can be tempting to try to study everything at once, but this will only lead to burnout before the test even occurs.
Lastly, make sure your study plan works with your schedule, obligations, and any extracurriculars you may have. Treat studying for the SAT like another activity, block out time for it weekly, and make sure not to double-book yourself.
Good luck and have fun!
Prepare For Your SAT With SoFlo
If you're looking to schedule your first SAT, or want to review for the exam, SoFlo is a great resource to get you started. SoFlo offers one-on-one tutoring for the SAT, and all tutors are highly trained and skilled college students with the expertise to help you excel.
SoFlo students make their own schedules and are offered flexible tutoring plans while also seeing noticeable improvements in their own scores. Schedule your first free consultation now!
About the Author
Originally from Princeton, New Jersey, Shirley Xie attends Johns Hopkins University and is majoring in Public Health and Behavioral Biology. She scored a 1580 on the SAT. In her free time, she enjoys playing volleyball and baking with friends.