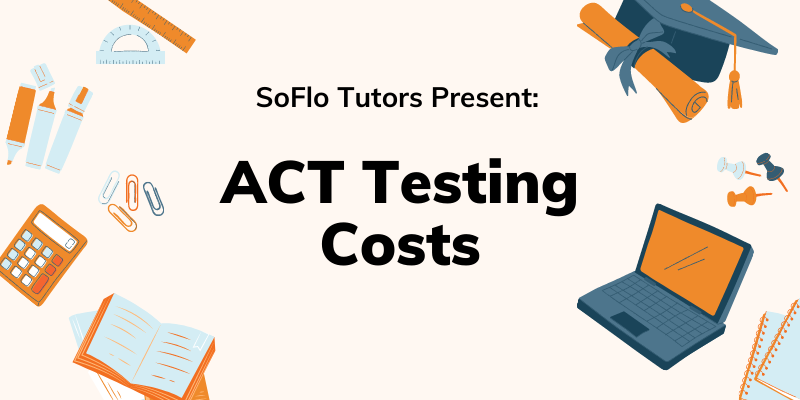 During high school, many students will take the ACT as an exam to help colleges see how prepared students are for college-level courses. It is often an essential part of the college admission process, but many students are unsure about the cost that comes with this exam. So, how much does it cost to take the ACT?
When Does the ACT Take Place
Many high schools will offer a free ACT day where students must take the ACT for free during a school day as a requirement to graduate. The date of this exam varies by school. However, during the 2023-2024 exam cycle, there are national dates set by the ACT where students across the country will take the exam. This year's National ACT Testing Dates are:
September 9, 2023
October 28, 2023
December 9, 2023
February 10, 2024
April 13, 2024
June 8, 2024
July 13, 2024
These dates are confirmed and students may sign up for these exams throughout the year.
How Much is the ACT?
After students have decided when they want to take the ACT, they must register. ACT Registration comes with a fee.
ACT Without Writing Cost
To register for the ACT without the writing portion of the exam, the cost is $55. This test has the English, Math, Reading, and Science sections only with no essay writing portion at the end of the test. Many colleges accept this exam.
ACT With Writing Cost
To register for the ACT with writing costs $70. This test also includes the English, Math, Reading, and Science sections of the exam, but has an additional writing portion at the end where students are asked to write an essay within an allotted period of time.
How to Choose Writing or Without Writing
To decide whether to register for the ACT with writing or the ACT without writing, students should research to see which test the colleges they are applying to prefer. Preference varies throughout the country, so students need to make sure they check before signing up for the exam.
Student Report Cost
Both the ACT with writing and the ACT without writing include a student report that allows students to access their scores, a high school report that sends these scores to students' high schools and college reports for up to four schools where ACT Inc will send your test scores to the colleges of your choice.
Test Option Change
Students also have the option to pay a $15 fee for the ability to decide to change their minds the day of the exam and receive a refund on the writing section if they had previously signed up to take it and changed their minds, or if students had not already signed up they can choose to take it the day of. This helps students have a backup plan so they can see how they feel the day of the exam.
Additional ACT Testing Costs
Along with the fee to register for the exam, students can run into additional ACT costs.
Late Registration
Students are charged an extra $36 fee if they register for an exam past the regular registration deadline. For example, the regular deadline for registering for the September 9, 2023 ACT was August 4, and the late registration deadline was August 18. Students who registered for the September ACT after August 4th but before August 18th would have been charged an additional $36, on top of the $60 to register for the exam (if no writing) and taxes.
Standby Testing
If students miss the registration deadline and the late registration deadline, there is the option to register for standby testing. Standby testing is available for students who would like to test on a specific exam date, but testing is not guaranteed. Students may register during a limited period after the late deadline and must meet all other registration requirements, including uploading a photo, to be considered. Students are admitted on a first-come basis and only if all necessary materials are available, including testing booklets, testing seats, and staff registered to proctor the exam after all regularly registered students have been admitted. If students are unable to test their fee will be refunded.
Testing Changes
The fee to change something for an exam, such as changing testing centers or changing test dates, costs $40. Students can sign into their MyACT account to request changes before the exam date.
International Students
International students also have additional fees. The price for them to take the ACT without writing is $168.50, and with writing is $188.50. Their tests include the same reports as US students.

How Much is it to Send ACT Scores?
To view their scores online, students must create a MyACT account so that they can log on after their exam and view their scores. This is done by going to act.org and choosing to log in or sign up with MyACT, and from there, students can view their scores in each subject, their composite scores, their superscore, and their college readiness indicator. Students must also have this account to register for the exam.
Included in the cost of the ACT exam is the ability to send scores to up to 4 schools. These schools can be chosen online before students take their exams. If students want to send their scores to a 5th or 6th school, they must make this request before the exam and pay a fee of $16.
If students would like to receive more than one score report in the mail, for themselves or their high school, students can request an additional report for $16. Students can also request what is known as a Test Information Release for $30 which provides students with a copy of their exam and which questions they missed after they take the exam. This can be very helpful for students who are interested in retesting and seeing where exactly they can improve.
What is an ACT Fee Waiver
Some students are eligible for an ACT fee waiver that will assist students in bypassing the cost of taking the exam. To qualify, students must meet the following, as outlined by act.org:
Be currently enrolled as a junior or senior in high school
Be testing at a test center in the US, US territories, or Puerto Rico
Meet one or more of the indicators for economic need:

Enrolled in a federal free or reduced-price lunch program at school, based on US Department of Agriculture (USDA) income levels.
Enrolled in a program for the economically disadvantaged (for example, a federally funded program such as GEAR UP or Upward Bound). Note: If the student participates in a program, but is not economically disadvantaged, they are not eligible for a fee waiver.
Resides in a foster home, is a ward of the state, or is homeless.
Family receives low-income public assistance or lives in federally subsidized public housing.
Family's total annual income is at or below USDA levels for free or reduced-price lunches on the USDA Food and Nutrition Service website.
If a student is eligible, the fee waiver will cover the cost of taking up to four ACT exams, writing or non-writing. The ACT will also provide free testing resources to help students prepare. Students can also send their scores to up to 6 colleges for free, along with receiving free additional score reports. Qualifying will also help students apply to college for free.
Students must check with their schools to see if they are eligible and will then receive up to four free waivers to use when they register for the exam.
How Much Does it Cost to Retake the ACT?
To retake the ACT, students must go through the registration process again. This means they must pay at least an additional $60 to retest in hopes of a higher score, and potentially more should they request anything extra. Students should make sure they keep up with the registration deadlines to try to avoid extra fees.
How to Reduce Exam Spendings
Because taking the ACT can become pricey, students should register as soon as they can. Students are currently able to register for any of the scheduled ACTs listed besides September, meaning that students can already register for the July 2022 exam. The deadline to register for the October exam is October 1, 2021.
Students can also save money by studying hard for the exam. The better students do initially, the less they will have to spend on retaking the exam. If students study well enough, they can manage to only have to pay to take the exam once and will never have to retest.
Students should also apply for fee waivers when applicable. Again, ACT testing can be pricey, so if students are able to bypass that cost entirely they should take the opportunity. Standardized testing is very important when it comes to applying for college, so students should save money on an essential process when possible.
SoFlo Is Here to Help You with Your ACT Test
For students who want to take the test as little as possible, SoFlo is here to help! With SoFlo, students will be assigned a personal tutor who will work with them one on one to succeed. SoFlo tutors will help students create a unique study plan and stick to it so that when their next test date arrives, they will be prepared and they can even help guide students through the registration process. Apply for a SoFlo tutor now!