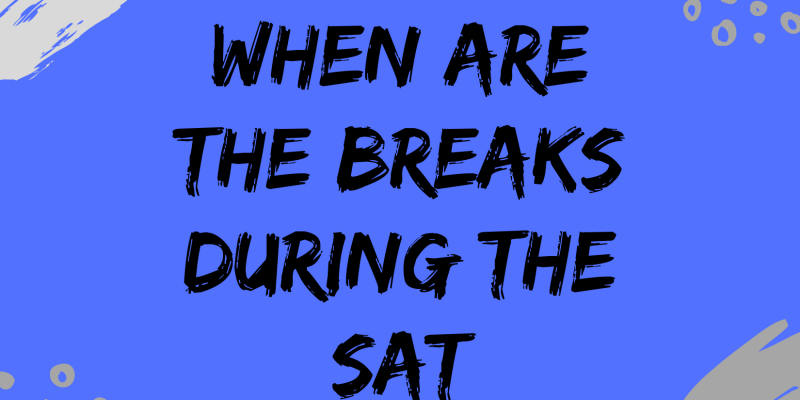 The SAT is a long, rigorous test, but the good news is that there are built-in breaks for students in order for them to refresh themselves between sections. The SAT has one 10-minute break between the Reading and Writing sections and another 5-minute break between the Math No-Calculator and Math Calculator sections. There is also an additional 2-minute break between the Math Calculator and the optional essay section if the student is taking the SAT with essay. Here are some tips that students should follow in order to use these breaks as effectively as possible.
How is the SAT Formatted?
The SAT is broken into 4 sections –- reading, writing, math no-calculator, and math calculator –- with an optional fifth section composed of an essay. This is also the order in which the sections will appear in the test booklet and be taken by students.
The reading section takes 65 minutes with 52 questions; the writing section takes 35 minutes with 44 questions; the math no-calculator takes 25 minutes with 20 questions; and math calculator which takes 55 minutes with 38 questions. The optional essay section is 50 minutes for a singular essay.
This means that in total, it will take students around 3 hours and 15 minutes plus some extra time for instructions and set up to complete the SAT if they are taking it without essay and an additional 50 minutes if they are taking it with the essay. This structure is outlined below:
| | |
| --- | --- |
| Section | Time Allotted |
| Reading | 65 minutes |
| Break #1 | 10 minutes |
| Writing | 35 minutes |
| Math no-calculator | 25 minutes |
| Break #2 | 5 minutes |
| Math calculator | 38 minutes |
| Break #3 | 2 minutes |
| Essay | 50 minutes |
The ordering of the SAT sections and breaks, along with the time allotted
What is Section 5 on the SAT?
Sometimes students will have an extra 20-minute section in their test packet, which just pre-tests experimental question types for CollegeBoard. This section can be on any of the subjects and will not be used in computing students' scores. If there is a fifth section, the proctor will announce instructions for it to students before the test begins. Many SAT Tutors will tell you that the instructions will be intentionally vague because CollegeBoard still wants students to take this 5th section seriously, even though it doesn't count towards a student's score.
When Does the SAT Start and End?
Doors to the testing center always open at 7:45 AM and close at 8 AM on test day so it is important for students to plan accordingly and make sure they arrive before the doors close. The test itself will usually start around 9 AM. Because the test takes over 3 hours and 15 minutes for students not taking the essay and 4 hours and 5 minutes for those taking the essay, plus breaks and extra time for setup, students should expect to be done by around 12:15- 12:45 if they are not taking the essay or 1:00- 1:30 if they are taking the essay.
In order to keep track of timing during the test, the proctor in the room will make announcements during each section to indicate how much time students have left to complete the section. The first announcement usually comes at the halfway point and the second comes when there are five minutes remaining. After that, students will be told to put their pencils down. The proctor will also post the exact time each test section started and when it will end, as well as when the test will resume after breaks.
What to do During Breaks:
Because breaks are not very long, it is important to use the time effectively in order to refresh before returning to the test. Effective uses of time include:
Eating a snack: students need to remain fueled and energized in order to perform well over such a long test, so eating a healthy snack can help students maintain performance over the entirety of the test. Make sure to pack a relatively low sugar snack in order to avoid a sugar crash during the test, like a cliff bar.
Drinking water: always drink water in order to stay hydrated because this will also help maintain performance and engagement throughout the test. Again, try to avoid drinking sugary drinks like juices or soda to prevent sugar crashes.
Using the restroom: it is very difficult to remain focused during the exam if a student has to use the restroom, so take advantage of using the bathroom when possible to take away any forms of distraction during the test.
Closing your eyes and taking deep breaths: students should take this time to decompress as much as possible before re-entering the testing room in order to recenter themselves and reduce their stress. This will help them refocus and refresh before they start the test again.
Talking to a friend: This is another way to try to destress before starting the test again but try to avoid talking about the test or other subjects that cause stress. The key point is to get distracted from tests and speak about different topics.
Other important tips during breaks:
Students should remember to bring their ID and admission ticket with them when they leave the room because these will be checked before they re-enter the room. Proctors will usually remind students of this before they leave.
Students should not try to look at any of their electronic devices because if they are found with them, their score will be cancelled.
Other general tips for the day of the SAT:
Always bring a jacket: the testing room is kept air conditioned and it is important for students to avoid losing focus during the exam from being cold.
Always eat a healthy breakfast before the exam: for the same reasons that a student eats a health snack during breaks, a student should eat a healthy, protein-based breakfast before the exam in order to properly fuel their body. This can include foods like eggs and, again, sugary foods should be avoided.
Get to the testing center early: in order to avoid added stress before the test, get to the center early. That way there is built in time to account for any confusion with sign-in or finding rooms. If a student comes late, they will not be admitted into the center.
About the Author: Grace Patrice
Grace comes from the University of Pennsylvania where she was on the swimming team. She scored a 760 on SAT Reading and a 720 on SAT Math. At Penn she studies Marketing and Management. Grace is a Virgo and her fun fact is that she is on the cover of a best-selling children's book. Grace remembers how hard she worked to raise her SAT score and loves helping the next generation achieve the same success.