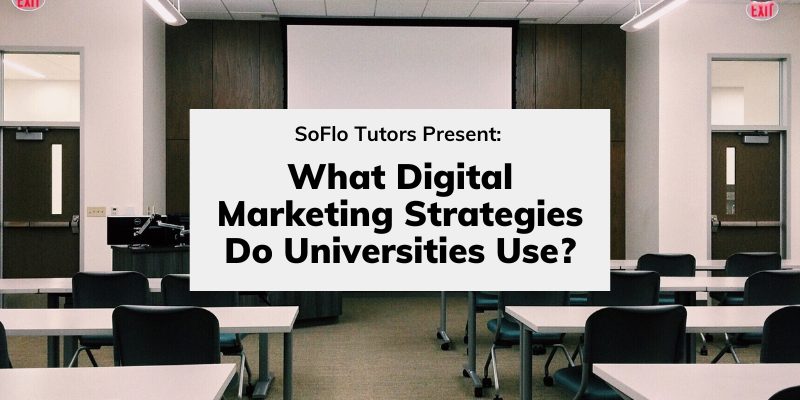 Digital Marketing Strategies Used By Colleges
Unlike the old times, when universities were present in a very scarce amount, Nowadays nearly every city has a university in it. Competition has increased tremendously and so has the standard of education that students want to obtain. Higher education institutes are a very rich source of knowledge but in these times they are not limited for only knowledge purposes. Instead they have become a very high potential source of building a career and earning. Students don't want mere degrees, instead they want to choose the institutes that offer better environments and opportunities like internships and job placements pre postgraduate.
Since students have become prudent to such an extent universities have to market themselves properly to the students. They have to properly advertise themselves in the market to get more students attracted towards their institute. Times have changed and with it the marketing ideas. So a question arises: what strategy can universities employ to increase their popularity? Well Digital marketing is the perfect solution for modern days. Universities use various digital marketing strategies to attract more students and make themselves highly popular among the students. Here we will thoroughly guide you about the digital marketing strategies that universities use and which have become successful.
Social Media Presence
It will not be wrong to say that Gen Z is present on social media in addictive amounts. If we look at the young generation everybody is on social media swiping up and down constantly. So if a university wants to show itself more to the students they have to advertise themselves on social media. Popular social media sites include Twitter, LinkedIn, Instagram and Facebook. Social media has become the greatest digital marketing space online. You can give the students a virtual opportunity to feel as if they are present in the class. Share stories and videos of events and other things happening at the university to develop an interest among the students who want to get into a university. Social media is a very important factor that universities use for digital marketing.
Hire A Professional Higher Education Digital Marketing Agency
Universities do know that they have to advertise themselves properly but sometimes lack the skilled professionals to do the deed. For a proper digital marketing of the university, universities often hire a higher educational marketing agency that properly market's the university to the students. Digital marketing agencies employ various digital marketing strategies to make themselves prominent in the eyes of the students. Every university nowadays knows that they can make a huge mark by using digital marketing. And since everyone knows this they want a slice of the pie as well. If a university lacks resources, teams and professionals for digital marketing they can easily hire very well experienced digital marketing agencies which will definitely increase the inflow of the students. Digital marketing has become a modern day need and digital marketing agencies with it as well.
Make SEO You Digital Marketing Go To
Without proficient search engine optimization (SEO), beautifully written, well thought-out content is bound to go to waste since it will not appear on the search engine. Think of SEO as your online publicist who, as soon as you upload content, works very diligently to bring you to the attention of potential students and potential funders whose interests align with yours. Nowadays when students have to apply to universities, what do they do first? They google them first. Students checkout their related programs and then go to the search engines. If your university has provided a good SEO content it will catch the eye of the student and develop an interest in students mind. SEO for educational institutions has proven to be a very healthy source of inducting new students by gaining their interest.
A Method Of Making Direct Contact With The Student
Students need to trust the institution they are going to enroll in for their higher education. One way of gaining their trust can be by getting their attention by offering them a facility of direct online contact that does need their in person presence. Sending students email related to their own programs, announcements and other events happening at the university makes a very good source of developing a direct contact with the student. Also employ a system that allows students to get replies to their essential inquiries related to the university. Chatbots that allow online chatting with the student provides every single piece of information that students require regarding the university and makes it easier for a student to reach a decision whether they are going to enroll in your university or not.
Final Words
Universities have made use of a number of digital marketing strategies and even used digital marketing agencies for an immaculate advertising of their institute. This makes a university look a very promising prospect in the eyes of the students and enhances the enrollments acquired in a calendar year. Digital marketing strategies like SEO for educational Institutes have proven very effective for the Universities and every university must make use of the digital marketing for better results.