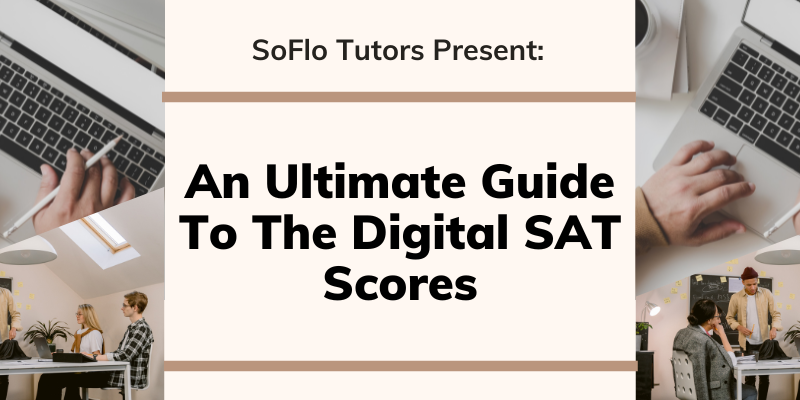 Understanding Digital SAT Scores
If you're planning on taking the SAT anytime soon, you've probably heard the news already. Starting in March 2024, students in the US can expect to take the test digitally, while international testing centers have already transitioned. Today, we'll be going over what you care about the most: your digital SAT score, how to read them, access them, and more.
How The Digital SAT Is Scored
Like the paper SAT, your digital test is first scored on the number of correct questions. As a helpful tip, this means you should never leave a question blank on the SAT, even if you have to guess – you will not get additional points subtracted for wrong questions!
This "raw" score of correct answers is then converted into the number you'll receive on your score report. (Psst, for more SAT tips and hacks, click here for reading and here for math).
Math Score
The digital SAT math section has a total of 54 questions. Again, how many of the 54 you get right is converted into your final number. Based on the conversion chart above, you might be wondering what "lower" and "upper" is – and what that means for your score.
Among other changes, the digital SAT uses multistage adaptive testing (MST). Let's break this mouthful down: the MST basically just tailors test difficulty to a student's strength.
Based on a student's performance on the first part, the second stage will be more or less difficult. Why does this matter? Students taking the easier section will generally earn less 20 – 30 points per number of correct answers.
Reading And Writing
Reading and writing is scored just like the math section, only this time, you'll be graded on a total of 66 questions. And yes, MST also structures this portion of the SAT.
As an important note, students taking the easier reading section cannot earn the full 800 points – even if they get all 66 questions correct! If you're hoping to earn a perfect 1600 on the SAT, you'll have to perform well on both stages of the reading and writing section.
Where To Get Digital SAT Scores
Your digital SAT score will be provided to you as a downloadable PDF. You can access this score report one of two ways:
Through your school. Schools have access to all students' PDFs through an online reporting portal.
Online, by creating a College Board account.
Using a College Board account to access scores provides you with additional information called "SAT Insights". This includes:
Score comparisons, or how well you did compared to average.
Percentile ranks, which tell you how many students scored above or below you.
Section benchmarks. These indicate competency and readiness per section.
The Skills Insights tool, which analyzes your performance in each subject the SAT tests for.
The College Board typically releases digital SAT scores 2-3 weeks after test day. If you're an extra-anxious test taker (like I am), you can check the exact dates scores become available online. You'll also get an email when your report is released.
The Structure Of Digital SAT Scoring
Finally, you've received your long-awaited digital SAT score report! Now what? In this section, we'll tell you what you need to know to understand your score. If you've previously taken a PSAT, referencing the SAT suite's vertical score scale will let you know if you've improved. We'll also cover what gets sent to colleges: your total and section scores.
Vertical Score Scale
The entire SAT suite of assessments (PSATs, SAT) is vertically scaled. What does this mean? Vertical scaling is just a way for students to better understand their progress from test to test, grade to grade.
For example, if a student took the PSAT 10 and the SAT on the same day, they'd be expected to get the same score.As students move between middle and highschool, they can use past and future PSAT/SAT scores to see how they're doing in terms of student readiness.
Total And Section Scores
For all assessments in the SAT Suite, your total score is the sum of two sections – Reading and Writing, and Math. You can check the table below for ranges.
| | | |
| --- | --- | --- |
| | Section Scores | Total Scores |
| SAT | 200–800 | 400–1600 |
| PSAT/NMSQT and PSAT 10 | 160–760 | 320–1520 |
| PSAT 8/9 | 120–720 | 240–1440 |
Comparison Of Paper, Pencil And Digital SAT Scores
Digital SAT and paper SAT scores are exactly the same. You won't need to use a conversion table to compare the two. Both use the same section and total score ranges, and fall on the same vertical SAT score range.
However, both tests' content are slightly different from one another. You can read more about how these changes here. This means that a paper SAT score won't perfectly predict your digital SAT score (and vice versa).
With additional changes like calculator use on both parts of the math section, a built-in reference sheet, and more, be sure to update your study habits for the digital version of the SAT test.
How To Use Digital SAT Score Reports
Your digital score report is more than just a number: it tells you how prepared you are for college, where you stand in each area of the SAT measures, and more (look back at "Where To Get Digital SAT Scores"). Your report is a helpful tool, both in high school, and beyond.
How Schools May Use It
Highschools might use students' score reports to assess strengths and weaknesses. This means teachers can use the PDF to recommend more advanced coursework, or offer extra help in certain areas.
Of course, for colleges, your SAT score is an important factor in admission. Even for schools that have gone test-optional, submitting a strong SAT score shows your strengths and college-readiness. Most universities also publish SAT averages as well; by comparing your score to these averages, you'll be able to figure out your likelihood of getting in.
Your performance on SAT assessments can also earn you (a lot) of scholarship money! If college poses a huge financial obstacle for you and your family, PSAT and SAT scores can be an easier way to earn scholarships, cutting out the work of lengthy written applications. My PSAT score automatically granted me partial and full-ride scholarships to schools across the US – I strongly suggest all students research SAT and PSAT scholarship options.
Prepare For The SAT Test With A Professional Tutor
Need a hand figuring out how to tackle the new digital SAT? Try SoFlo Tutors, where students receive individualized attention from ivy-league tutors. From core concepts to time-saving tips, SoFlo equips students with the skills and knowledge they need to navigate the SAT – and boost their scores. SoFlo students improve by an average of 110 points in just 10 sessions.
Frequently Asked Questions
How The Digital SAT Is Scored?
The digital SAT is scored just like the paper version you're used to, converting the "raw score" of the number of correct answers into a final score. The converted score of each section is added together for the final score.
Where To Check Your Digital SAT Scores?
Digital SAT scores can be accessed through the College Board K-12 portal anytime after the release date. If students don't have access to an account, their school can also provide them with the score report.
How To Use Digital SAT Score Reports?
The Digital SAT score report provides students with a variety of insights on college readiness, including benchmark metrics and inter-student comparisons. Students can use these statistics to guide and improve their SAT study habits.
About The Author
Lauren Richards is a sophomore studying narrative at the University of Southern California. She scored a 1510 on the SAT, and in her free time, she enjoys snorkeling, hiking, and all things outdoors.