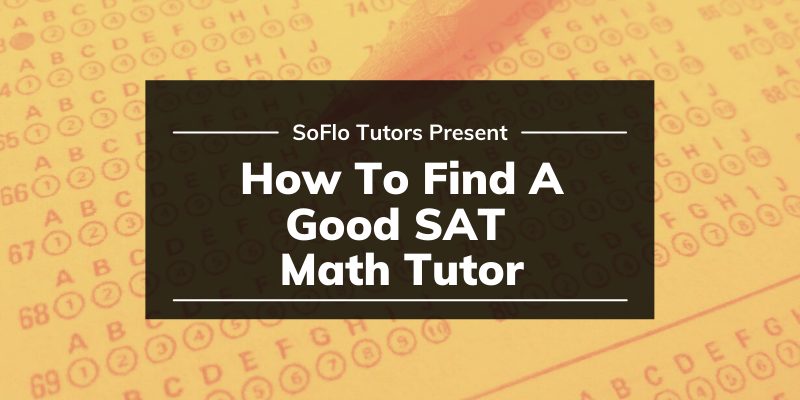 Math comprises half of a student's SAT score, so it's critical that a student masters all the types of math problems covered on the test. In order to improve their scores, most students benefit from seeking out a math tutor. Keep reading for more information on how to find a good SAT math tutor who will meet your specific needs. 
How Can I Find the Best SAT Math Tutor?
Given the high costs of tutoring, students will want to make sure they are working with someone who is qualified, experienced, and can actually help them improve on the exam. Besides considering the qualifications of their tutor, students should also consider whether their tutor is a good "personality" fit for them, can meet regularly, and how much their services will cost. 
Tutoring Experience
The best math tutors will, of course, have experience teaching math. Ideally, your tutor should have at least one year of tutoring or teaching experience before working with you. Beyond just experience, they should also be able to employ different teaching methods to best fit the needs of their students. These tutors will be able to work with all different types of learners, convey difficult math concepts in easy-to-understand lessons, and should easily be able to articulate their teaching style. 
Parents often want math tutors to have a bachelor's degree or to be working towards one. This type of accreditation can best be found among the teachers at a student's high school as many teachers will often work outside of school as private math tutors. If you are currently taking a class with a math teacher you really like, or know of a math teacher that works well with you, consider asking them if they do tutoring outside of school.  
Personality of Your Tutor
While most people assume that a tutor's own test scores and experience are the most important factors, many fail to realize that a tutor's personality is critical as well. Someone may have scored a perfect score on the SAT, but if they're unable to explain strategies to someone who's not an expert in math like them, that person is not a good tutor.
Additionally, you should never feel judged by your tutor. Tutoring sessions are the times to make mistakes. It's better to answer a question incorrectly during a session than on the real exam! You shouldn't be afraid to ask your tutor any questions, or feel that your tutor will criticize you for misunderstanding a topic. A good math tutor is there to help you and you deserve to learn without being judged. While constructive criticism is essential to improving your score, a great math tutor should also be encouraging you as they help you. 
The best student-tutor pairs result from the tutor and student sharing interests and experiences. Often students will want to talk to their tutors about academic topics beyond the SAT. Students may want to know what the college admissions process was like for their tutor, or what advice their tutor can give them about school. If you are seeking to develop such a bond with their tutor, try to find a tutor relatively close in age to you. Essentially, look for a tutor who can be a mentor but is not so old that they can't relate to you. However, make sure that your tutor is old enough that they are actually qualified to give advice and so that you respect them! A high school student giving another high school student advice is unlikely to be very helpful. 
What Will My Math Tutor Cost?
Depending on their level of experience, the average tutor can cost anywhere between $50-$100. Tutors charging the highest rates tend to have years of experience and can prove multiple instances of students who have increased their scores significantly with their help. Tutors charging the highest rates also typically have some type of certification in their abilities, such as a teaching degree.
Because college students don't have a degree yet, they are often much more affordable to hire as tutors than tutors who have an undergraduate or graduate degree. Students concerned about the costs of tutoring should consider hiring a tutor who is still in college.
There's no denying that tutoring is expensive. When searching for a tutor, consider what you can afford to spend and how long you plan to work with your tutor. A student seeking a tutor to help them refine their abilities one month out from the test can likely afford to spend more on their tutor per hour than a student looking to work with a tutor for months, where they start from the very beginning and teach the fundamentals of the exam. Similarly, a student seeking to meet with a tutor for two hours a week may want to consider a tutor with a lower hourly rate than a student hoping to meet only one hour a week. 
Availability
Consider whether you are someone with a constantly changing schedule and looking for someone who can be flexible, or someone who can commit to regular weekly sessions. Students further along into the school year likely have more commitments than students beginning prep over the summer or at the start of the school year. Questions about availability are best asked before tutoring begins. 
While you may find the best SAT math tutor in the world, if your schedules don't align, their help won't be worth much to you. The key to success on the SAT is consistent and frequent practice. You're likely to get much benefit from your tutor if you and the tutor only meet in one hour sessions every couple of weeks, particularly if you're seeking a large score increase. Ideally, you and your tutor should both be able to commit to regular 1-2 hour sessions at the same time each week, barring scheduling emergencies. 
Finding a Tutor Near You vs. Online Tutoring
Are you looking for online tutoring or a tutor who can meet with you in person? While many people instinctively think in-person tutoring is superior, they are underestimating the strengths of online tutoring. Online tutoring services have made learning from the comfort of your home easier than ever. Online tutoring allows tutors to share materials with you instantly. Most online tutors utilize some type of tablet as a whiteboard during sessions, allowing you to clearly see what the tutor is explaining. Online tutoring can also make scheduling easier, as it's easier to schedule last minute sessions and more convenient for students seeking to meet outside of "normal" hours.
In-person tutoring will be more effective for students who get easily distracted and need a person to watch them work. During in-person tutoring a student may feel less likely that they can get away with checking their phone or going on their computer when they should be focusing on the lesson. Learners who prefer to have someone watch as they work out math problems will also prefer in-person to online tutoring. 
How Can I Judge If My Tutor Is Good?
In order to improve your math skills, it's essential your tutor is actually good! After your first few sessions working with your tutor, you should be able to recognize whether their personality is the right fit for you and whether your abilities have improved since you started working with them.
Measurable Improvements in Your Score
Above all else, the main purpose in having an SAT math tutor is improving your math section score. You should feel as if you are learning from your tutor, and they are teaching you information that is relevant to the exam. After a few sessions with your tutor, you should feel more confident in handling the math concepts covered on the SAT.
The SAT takes a lot of hard work and consistent effort. Don't get mad at your tutor if your score doesn't jump right after your first session. Students still have a responsibility to complete math homework outside of sessions and continue preparing for the test on their own. However, if you are not seeing any improvements in your score after a few sessions with your tutor, or if you don't feel as if they've taught you anything you can apply to the SAT math section, consider finding a different tutor.  
Brings a Positive Attitude and Energy
As mentioned earlier, not everyone who scores highly on the math section of the SAT is automatically qualified to be a math tutor. The right tutor should make math fun (well, as fun as it can be). Your tutor should arrive to tutoring sessions prepared and with energy. They should not be distracted with their phone or anything else during sessions. You are paying your tutor to focus on you for the hour! If you find that your tutor isn't focusing on you during the sessions, or is boring you so much you find it hard to focus on the work, consider finding someone else. 
Consider Your Needs
Each student begins at a different level when it comes to the SAT, and what each student needs from their tutor will depend on this starting level. Are you looking for someone who will teach you all the math concepts you need for the SAT, or are you already a high scorer who needs just a little bit of extra help? Before beginning to work with a tutor, spend some time thinking about what your math skills and specific needs are, as well as what you hope to get out of your tutoring sessions.
What Do You Need Help With?
Before working with a math tutor, students should begin with an assessment of their own math skills and what math subjects they need help in. Students should attempt some SAT math problems on their own, or, ideally, take a full length SAT exam to get an idea of their beginning skill level. Getting an idea of a student's base level allows them and their family to get an estimate of how long they will need their tutor for. This in turn will allow the student and their family to decide how much they can afford to spend on their tutor. Having completed some work will also help the math tutor decide where they should begin assisting the student.  
While it is the job of the tutor to help the student learn their weaknesses and how they can improve upon those weaknesses, tutoring is typically most effective when the student is engaged and comes prepared with questions and topics they want to cover. Taking a practice test on your own can help you realize what topics you want to review with guided help versus the topics you may be able to master on your own with just a bit more studying. The best scorers are usually involved in their learning and tell their tutors the specific areas they want to work on.
Should You Get a SAT Math Tutor?
Consider if you actually need a tutor at all. Just about all students will benefit to a certain extent by having a tutor. Working with an experienced test-taker can help a student realize mistakes and flaws in their test-taking strategies, something that is hard for a student to do by themself. However, students who are beginning at a high level and are highly motivated may not necessarily need a tutor to get the score gains they hope to achieve.
Students seeking to prepare on their own will need to be highly disciplined and should consider using the free sources discussed at the end of this post. Because most students find it hard to be so disciplined when they have other academic responsibilities to worry about, working with a tutor usually is a student's best bet at a high score. 
Private vs. Public Tutors
Students who want a tutor but cannot afford one should consider public tutoring options, which tend to be much cheaper. High schools often offer some type of free SAT prep, whether it's a class or an after school program. Prep centers may also have partnerships with local schools and provide students at the school a discount. Additionally, universities often hold SAT classes and tutoring sessions for high school students and are run by the students at the school. 
Additionally, students still seeking private tutoring should look into scholarships. Many test prep companies offer tutoring scholarships to students who demonstrate need. If you think you may be eligible, consider applying for SoFlo's scholarship. 
Alternatives to Math Tutors
Private tutoring is not the only way to prepare for the SAT. Consider taking an SAT class and look into what other options may exist in your community.
SAT Classes
For lower-scoring students who need to start with the basics, SAT classes are a great option. SAT classes typically provide a more social, fun approach to the SAT as students can learn with their peers.
Depending on a student's needs, SAT classes can be a great alternative to private tutoring. Classes are better suited for students who need a lot of practice. Most students who meet with a private tutor are unlikely to meet with their tutor for more than two hours per week. However, SAT classes tend to meet for around 4-5 hours per week—and sometimes longer if they're held in the summer when students are on break from school. Additionally, because SAT classes tend to cost less per hour than private tutoring, they are a much more affordable option to students with budget concerns. Finally, classes are better for students who are less disciplined. Meeting with a tutor for 1-2 hours a week is not enough time for significant score increases. Students with tutors will need to complete a lot of practice and homework outside of their sessions to ensure they spend enough time practicing. Because classes meet more frequently and for longer sessions, they can be useful to students who don't have the discipline to study on their own. 
SAT classes typically are not best for very high scorers, as classes tend to target their content to the median test taker. These classes will not focus on the hardest topics of the test (such as circle geometry, trigonometry, or complex numbers), as the typical test taker will be more concerned with mastering the basics of the test (think factoring and linear equations). High-scoring students who are looking for help mastering the hardest topics of the test are best suited to meeting with a tutor. 
Consider Free Options
If tutoring is too costly, consider the many free options that exist for SAT prep. Many local libraries hold free SAT classes. Even if your library or city doesn't hold SAT classes, libraries typically have SAT books you can borrow to use for practice.
Besides resources at the library, consider the free options that exist online. There's an endless supply of YouTube videos about the SAT, including on how individual students have improved their score hundreds of points as well as test walk-throughs from experienced teachers and tutors. Students should also download SoFlo's free online course. This course contains video explanations of all the topics covered on the SAT in the reading, writing, and math sections.  
Conclusion
Working with the best math tutor you can find is a great way to ensure your math score will increase on the SAT. When looking for a tutor, try to find someone who has experience, and can work with your schedule and budget. You should also make sure your tutor is a good personality fit with you, and will make you excited to study for the SAT. However, if you can't find the right tutor, don't despair. Students should consider SAT classes as an alternative as well as free resources that are available to them.
Find a Math Tutor with SoFlo SAT Tutoring
If you are seeking a math tutor for the SAT, look no further than SoFlo's online tutoring services. The tutors at SoFlo are experienced top-scorers who work with students to address their particular needs. By working in one-on-one sessions, your tutor will be able to address your particular weaknesses and recommend the best strategies so you can reach your score goals. 
About the Author
Ava Levine is a junior from New York majoring in International Studies at Johns Hopkins University. When she's not in class studying various international issues, she enjoys learning about government policy and working with local nonprofits. She scored a 1570 on her SATs, is an avid Crocs-wearer, and loves to craft in her free time!