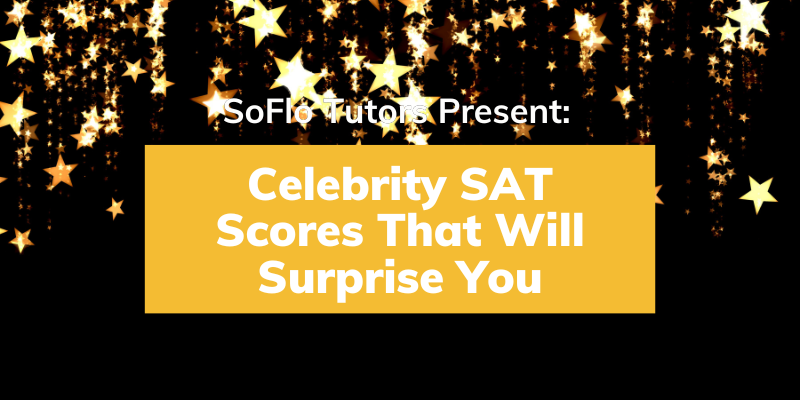 Sometimes We Forget That Celebrities Have Started On A Track Similar To Ours
When we think about celebrities, or those who have some amount of fame or popularity, we tend to think of these individuals as those who have been born into their ranks. That their lives were always isolated from the struggles of the common person. But for many, this is not the case. There are instances of celebrities who have gone through similar motions as you and I, prior to rising to their fame. One of these motions being that they have taken the SAT, some scoring very high and some very low.
I will be calling attention to several celebrities who have worked hard to achieve perfect (or high) SAT scores and those celebrities who have received low SAT scores.

12 Celebrities With Perfect SAT Scores (Or High Scores)
Ben Affleck
SAT Score: Rumored to be 1600
Profession: Writer, Director, Actor
University: Occidental College and University of Vermont
Ben Affleck, a famous actor, is rumored to have a perfect score on his SAT as per the New York Times. He attended both Occidental College and the University of Vermont. His most popular movies are: Argo (2012), Gone Girl (2014), and The Town (2010).
Will Smith
SAT Score: Rumored to be 1600
Profession: Producer, Actor
University: Did not attend
Most recognized for his appearance in The Fresh Prince of Bel-Air, Will Smith is also among those celebrities rumored to have a perfect score on the SAT. After highschool, Will Smith chose to pursue a career in music and the arts rather than furthering his education through college. Three of his movies with the most popularity are: I, Robot (2004), I Am Legend (2007), and Men In Black (1997).
Paul Allen
SAT Score: 1600
Profession: MicroSoft co-founder, Owner of the Seattle Seahawks football team
University: Washington State University
As the co-founder of Microsoft (who he founded alongside Bill Gates), Paul Allen is quite a man of prestige. Though Paul Allen had a perfect score on the SAT, he dropped out of Washington State University. Sadly, he passed away in 2018, but leaves behind the legacy of Microsoft.
Waka Flocka Flame
SAT Score: Rumored to be 1550
Profession: Musician and artist
University: Bible Institute of American Theological Seminary
Waka Flocka is a musician and artist with his primary focus on rap music. He is rumored to have scored a 1550 on the SAT. In 2020, he was awarded a PhD from the Bible Institute of American Theological Seminary.
James Franco
SAT Score: Rumored to be 1600
University: University of California, Los Angeles and Colombia
Profession: Writer, Director, Actor
James Franco is also rumored to have scored a 1600 on his SAT. He completed his undergraduate studies at UCLA and, afterward, went on to Colombia to receive his Masters of Fine Arts. Three of James Franco's most popular movies are: Eat Pray Love (2010), City by the Sea (2002), and 127 Hours (2010).
Bill Gates
SAT Score: 1590
University: Harvard
Profession: Microsoft Founder, Head of the Gates Foundation
Alongside Paul Allen, Bill Gates founded Microsoft. Interestingly, though he scored a 1590 on the SAT and was admitted into one of America's most prestigious schools, Bill Gates eventually dropped out of Harvard to focus on his up-and-coming company.
Ryan Fitzpatrick
SAT Score: 1580
University: Harvard
Profession: NFL Quarterback
Ryan Fitzpatrick's SAT score of 1580 is presumably what got him admitted into Harvard University, along with his great skill in football as he played for the Harvard team as their quarterback.
James Woods
SAT Score: 1579
University: Massachusetts Institute of Technology
Profession: Actor
James Woods is an American actor who scored a 1579 on his SAT, earning him a spot at MIT. His score also assisted him in getting a scholarship for college. Three movies James Woods was in are: The Virgin Suicides (1999), True Crime (1999), and Videodrome (1983).
Ben Stein
SAT Score: 1573
University: Colombia
Profession: Political Commentator, Author, Actor
Most famous for his appearance in Ferris Bueller's Day Off, Ben Stein is another actor who scored very highly on the SAT, coming in at a score of 1573. With his score, he was granted admittance into Columbia University.
KE$HA
SAT Score: 1500
University: Did not attend
Profession: Singer and artist
Ke$ha certainly could have had the opportunity to attend university with her SAT score of 1500, however, the artist and singer decided that academia was not the path for her. She instead dropped out of high school and pursued music.
Bill O'Reilley
SAT Score: 1585
University: Harvard
Profession: Writer, Political Commentator, Journalist
Bill O'Reilly scored a rather impressive 1585 on his SAT, getting him a seat at Harvard University, earning a masters degree in public administration. Bill O'Reilly is the published author of the "Killing" series, which also deals a great bit in the analysis of historical events.
Ben Bernanke
SAT Score: 1590
University: Harvard and Massachusetts Institute of Technology
Profession: Professor of Economics and Former Chair of the United States Federal Reserve
Ben Bernanke certainly did not shy away from academia after scoring a 1590 on his SAT. He went on to study Economics at Harvard and MIT, which proved to be quite the area of interest for him. He was a professor of Economics at Princeton and Stanford and eventually became a chairman of the Federal Reserve.
5 Of The Lowest Celebrity SAT Scores
I will now go on to introduce some celebrities who have scored quite low on the SAT. Indeed, if these celebrities had access to the amazing tutors here at SoFlo, then they would have scored significantly higher. But without further ado, I present to you the following:
Bill Cosby
SAT Score: 500
University: Temple University
Profession: Writer, Actor, Comic
Though Bill Cosby has accumulated some amount of fame in his lifetime, it is important to note that he was formerly incarcerated for heinous crimes.
Drea De Matteo
SAT Score: 800
University: Loyola
Profession: Actress
Drea De Matteo scored an 800 on her SAT; this was the highest of all her attempts. Though she had a rocky score, she was accepted into the Loyola University where she pursued her dreams of being an actress.
Howard Stern
SAT Score: 870
University: Boston College
Profession: Radio and television personality, author, and comedian
Howard Stern scored a very low 870 on his SAT, however, he still managed to get into the Boston College where he found his love for all things radio and television.
Alex Rodriguez
SAT Score: 910
University: Did not attend
Profession: Baseball player for the Yankees and Broadcaster
Better known by A-Rod, Alex Rodriguez scored a 910 on his SAT in high school. He decided, however, that he did not want to pursue academics. There is no reported university which A-Rod may have attended. Instead he went on to fulfill a career in baseball and became a broadcaster after making his fame with the Yankees.
Janeane Garofalo
SAT Score: 950
University: Providence College
Profession: Comic and actress
Janeane Garofalo scored a 950 on her SAT, but this did not stop her from going to Providence College in Rhode Island. She is now an actress and comic who had her big break in Reality Bites (1994).
Tips To Improve Your SAT Score
Practice, Practice, Practice! One of the best ways to help you improve your score is through taking practice tests. Specifically focusing on areas of weakness on the test or particular sections you are not entirely confident with.
Time Management: One of the most difficult parts of the SAT is completing each section in a timely manner, otherwise one runs the risk of failing to complete a particular section on the test and leaving answers blank. Practicing the tests while using a timer will help to ensure you're on track.
Build Your Vocabulary: The SAT reading section can use a lot of higher-level vocabulary words. Taking the time to improve your vocabulary will help greatly in your understanding of questions asked and the content of the test.
Skip and Come Back: If you find that you are having difficulty on a particular question do not pause until you figure it out–this wastes valuable time. The best advice is to skip the problem while taking note of it and returning to it at a later time if the time permits.
Get A Perfect Score On The SAT With SoFlo Tutors!
Are you ready to begin your preparations for the SAT and get the score you want? Check out our team of talented tutors here at SoFlo for expert help in getting the practice, and preparations, you need. All of our tutors attend high-ranking universities within the United States, and have familiarized themselves with the content of the SAT.
Our tutors will work with you to identify and improve your weaknesses on particular sections of the SAT to help improve your score and comfort with the material. We know your time is valuable, that's why our tutors work around your schedule whether it be after school, or before, we will find an availability that works for you! Check out our tutoring services here to book a session.
About The Author
Dahlia is a senior at Florida State University majoring in both philosophy and psychology. In her free time she enjoys filmmaking and photography, backpacking, and cycling.