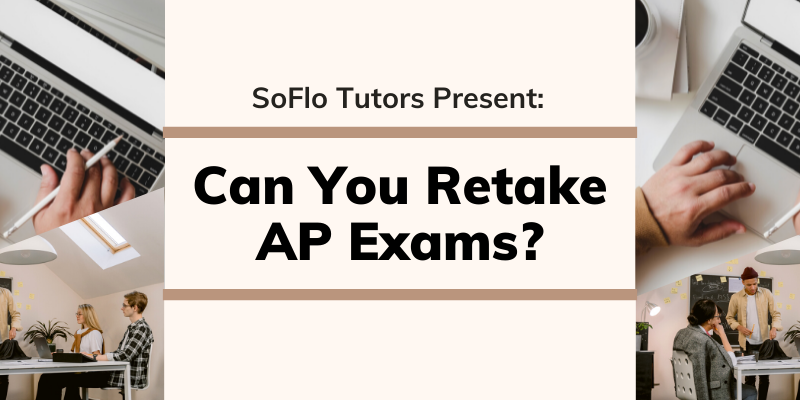 Can You Retake AP Tests – Expert's Opinion and Advice
What Are AP Tests?
AP tests are college-level exams, scored on a scale from 1 to 5, that test specific subject areas after the completion of an AP level course taken at a student's high school. Most selective colleges look at AP scores in order to judge student's applications as well as give students college credit depending on how they score on the exam. Below is a table that shows how each score is interpreted:
| | |
| --- | --- |
| AP Exam Score | Recommendation |
| 5 | Extremely well qualified |
| 4 | Very well qualified |
| 3 | Qualified |
| 2 | Possibly qualified |
| 1 | No recommendation |
Each exam is split into two sections—multiple-choice and essay questions—but the number of questions varies depending on the subject area. Some tests, like history, have short essay questions and most language exams contain speaking and listening components.
Can You Retake AP Test?
AP exams can be retaken but because they are only given once a year, the repeat exam is taken the subsequent May. Both scores from the tests taken will be reported unless the student requests that one be withheld.
If something happens during the AP exam, the student might be able to take a makeup exam during the current administration and will need their AP coordinator to submit an order request or submit the request through the AP website.
When Is Retaking AP Exams A Good Idea?
It is definitely not recommended to retake an AP exam but there are a few occasions when it is a good idea to retake an AP exam. It is important to understand that AP scores have minimal impact on potential admission to college unless the student is applying to the most selective colleges. A student who scores a 3 or above on the exam should consider a retake carefully because of this small impact. However, there are other times when it is a good idea to retake the test:
Due to circumstances out of your control: this would encompass being sick on the day of the exam, not receiving appropriate accommodations or any other situations that impede a student's ability to take the test well on the day of the exam
Failure of a study strategy: this would include studying incorrect material or material that is no longer included in the exam
Because of a mechanical error during the exam: this would include if a test book is missing upon submission or if the student did not have the tool necessary to appropriately complete the exam (like missing a calculator on one of the math tests)
Does It Cause Any Problems During the Admissions Process?
The most important thing to understand is that college admissions officers are looking for the overall rigor of a student's profile which means they care less about if exams are retaken and more about the student's overall achievements. However, they will notice these small inconsistencies. If there is an interesting and important reason why a student had to retake an exam, this could be included in their application in order to provide this information to the officers.
If a student wants one of the scores to be removed from their record, they could consider withholding or cancelling the score. Cancelling score completely removes it from the student's record. This is a free process but a cancellation form must be mailed or faxed to AP services. Withholding a score keeps the score from being seen by colleges but the score is not erased from your record. A signed withholding form needs to be mailed to AP services by a mid-June deadline and the processes costs $10 per school report initially as well as $15 per school report if a student wants to reverse the decision. Here is a table that summarizes the difference between cancelling and withdrawing a score:
| | |
| --- | --- |
| To withhold an AP Exam Score | Write and submit a request to AP servicesPay $10 per school from which you want to withhold scoreMust meet withholding deadline which is typically mid-June |
| To cancel an AP Exam score | Mail or fax a signed cancellation form to AP Services by deadline in mid-JuneThere is no fee for this service |
How to retake an AP Exam?
The first step would be to talk to the student's school's AP coordinator about registering. The student can sign up through the school but all of the arrangements to take the test will be burdened by the student, not the teachers. Registration for AP exams has to be done through the school, not online and arrangements about where to take the test need to figure out with the AP coordinator. It also costs around $94 per exam just to retake the test, the current fee for each AP exam in 2021 which typically rises every year, not including the opportunity cost of additional time spent studying for the exam.
Useful Tips for Getting a Better Exam Grade Next Time
Once registered for the exam, it is important to begin studying right away. The first part of this studying process should be figuring out what went wrong initially. This could be revisiting how practice tests were taken, unrealistic expectations about the difficulty of the test, or reliance on class topics instead of looking at other materials. Whatever the issues were, it is important to diagnose it before beginning to re-study. Once the mistakes are realized, students should get review books, like Barron's books, or other resources in order to supplement student's studying and make sure that they are reviewing the correct areas for the exam. Reviewing the student's AP textbook is helpful and review books can be used to identify more niche topics that need more attention.
It also cannot be emphasized enough that it is vital to begin studying as early as possible for this exam because there is a lot of importance covered and reviewing the content as much as possible so that it stays fresh is very important for success. It may be of interest to the student to get the help of a tutor in order to streamline the process and work through the material they were struggling with the first time around in a different way instead of potentially reviewing it in the same unsuccessful way.
Ensure Stress-free Retakes with SoFlo
Online AP Exam Tutors at SoFlo have recent experience taking AP tests and understand what is required to get 5s on the tests. Tutors can use this expertise to help high school students focus their time on what is necessary in order to receive what they are looking for in their retake. SoFlo's biggest value-add is that most of the tutors are college students who understand the stressful process of studying for AP's and can use those experiences to relate well to high school students. Start tutoring with SoFlo now in order to learn strategies that lead to success on AP exams.