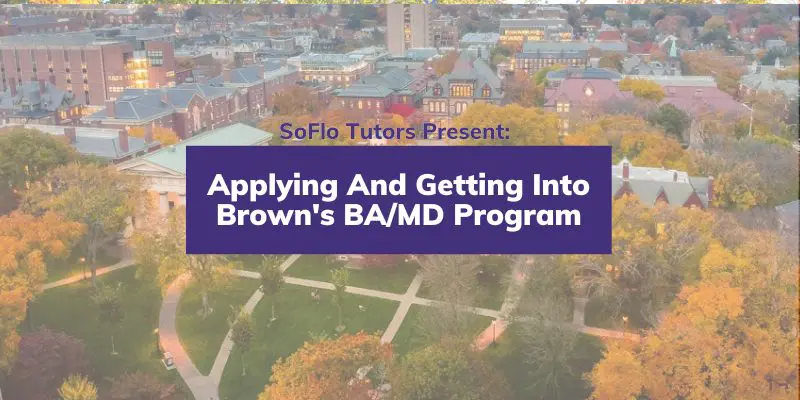 SoFlo Tutor Revyn Kim currently attends Brown's Program in Liberal Medical Education (PLME), which allows students to complete both a BA and MD in eight years. Acceptance into this program is highly competitive – the admissions rate stands at 1.8%. In the following interview, Revyn describes her strategy in applying to different colleges and how she approached her college essays that got her into the Ivy League.
How did you approach your college applications?
By the time college applications came around for me, I was pretty certain that I wanted to major in linguistics (with the ultimate goal of going to medical school), and so this was the main factor that dictated what schools I applied to. Another factor was location — I'm from the San Diego suburbs, and I wanted to go somewhere entirely different. I essentially only applied to colleges in big cities on the East Coast.
If I remember correctly, I applied early to Georgetown, then regular decision to Brown, UChicago, Harvard, Columbia, and a couple safety schools. I came from a high school where most students applied to 15-20+ schools, but I wanted only to apply to schools I really liked and would be happy attending (plus I was lazy). I think if you apply to that many schools, the quality of your application ends up going down. And I specifically chose not to apply anywhere early decision because I am very indecisive — I wanted the ability to renege on my decision and choose another school (which I did ultimately end up doing). I applied early action to Georgetown because it fit all of my requirements — it was in an urban environment, with a top linguistics program, and I liked the school when I visited. Plus, it was a mid-level target school for me and I thought that if I got into this initial school which I would be happy attending, it would make the rest of the application process much less stressful since there would be no more pressure to get into a different school.
Why did you choose Brown? What factors did you consider?
Brown was actually not my first choice when applying to colleges — I wanted a school with a better linguistics program and which was situated in a bigger city than Providence, like Georgetown or UChicago. Even by the time my decision was due, I was still waffling over whether I really wanted to accept Brown's offer or whether I wanted to go to Georgetown. Ultimately, the fact that I was accepted into the PLME program (Brown's 8 year BA/MD program) meant that Brown was my best option — I wouldn't need to take the MCATs, and I could major in any subject I wanted for undergrad.
Now, looking back, Brown ended up being a really good fit for me. I was always quite a free learner (I liked lots of different, niche subjects), and Brown's culture and its Open Curriculum really fosters this learning style.
What was your testing journey like?
I may be in the minority here, but I was really lazy about preparing for the SAT/ACT. I think I took one practice test because my mom insisted, then took the SAT and ACT cold, just to see what score I got. I ended up getting a good score for both, and so I didn't take it again.
What did you write about in your college application essays?
This was different for every school, but my personal essay was about my sewing hobby — I wrote about how I started and developed this hobby, and then how that reflected my personality and learning style. My essays for Brown (the PLME program required additional essays) were quite unique, so I don't know how useful they will be for others: I was homeschooled from 2nd grade until the first year of high school. I wrote about how my learning style, which I acquired through the freedom of homeschooling, connected to Brown's philosophy of free learning. Overall, I think my essays just portrayed the me that wouldn't come across if you were only to look at my test scores and grades — my eclectic personality and style; my love of learning new things through books, movies, people; and my creative side which existed alongside the math/science-y student that existed on paper.
Do you have any advice for students applying to colleges right now? Any advice for students taking the SAT/ACT?
I don't have much advice for students taking the SAT/ACT (sorry), but for college applications, I'd say not to stress about what colleges want. Instead, just be yourself in your essays — colleges know what kind of students will thrive in their school's culture and environment, and they are very good at picking these students out. Rather than trying to change or portray yourself to be an image of a particular university's student, try to portray yourself faithfully in your essays. I saw this happen with several of my friends and classmates — they didn't get into their top choice school, but the school that they end up attending is the perfect fit for them. And a couple weren't truthful in their essays, got into their top choice school, and ended up being miserable because it wasn't the right fit for them. Above all, remember that college isn't the end all, be all, and the college that you get into now won't determine the rest of your life. Enjoy your senior year — it's the only one you will have.
Create Your Strongest Application With SoFlo Tutors
Your SAT or ACT score can make or break your application. SoFlo Tutors will help you reach your target score so that you can attend your dream school. All of our tutors attend top universities around the nation and scored in the 99th percentile on their SAT. They will work one-on-one on you to identify and improve your weak areas and increase your chances of getting your target score. Our tutors schedule to sessions to your availability and our costs start at $60/hour. Check out our tutoring services to book a session!