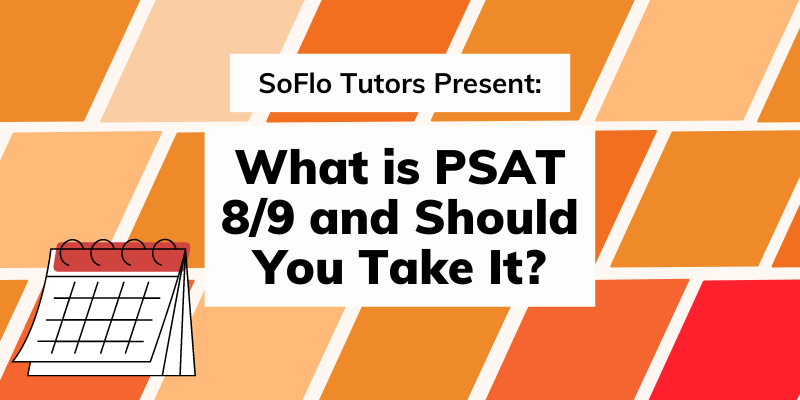 Most students are familiar with the PSAT/NMSQT, which is a standardized test taken by the majority of high school juniors nationwide to prepare for the SAT and qualify for merit scholarships. The PSAT 10, the test taken by high school sophomores, is widely known and taken by more than 2 million students in the US. Many students, however, don't realize that there is another version of the test called the PSAT 8/9 that is taken by eighth graders and high school freshman.
The PSAT 8/9, similar to the PSAT/NMSQT and PSAT 10, is the earliest preparation tool offered for the SAT. This test is geared towards students who want to start their standardized testing preparation early, identify potential AP classes to take in high school, or hope to be named one of the few National Merit Scholars during their junior year. Those who take this test are driven and forward-thinking students who are already thinking about the college process. If you are one of these students, or are just curious about taking the PSAT in eighth or ninth grade, read on to learn more about the PSAT 8/9, how to register for it, and if you should even take it in the first place.
What Is PSAT 8/9
The PSAT 8/9 is the first in a series of tests that aim to prepare students for the SAT. It measures students' knowledge and skills in Reading, Writing, and Math against the benchmarks expected for eighth and ninth graders. These benchmarks indicate if a student is on the right trajectory to succeed in subsequent high school classes and eventually in college. Because the test is catered towards eighth and ninth graders, the question difficulty is also adjusted accordingly.
The types of question and format of the PSAT 8/9, however, is almost identical to the PSAT 10 and PSAT/NMSQT. It consists of four sections: Reading, Writing and Language, Math with a calculator, and Math without a calculator. Students answer questions in a multiple-choice format where there are four possible answer choices, though some questions in the Math section have space to grid-in responses. The types of skills tested across all types of the PSAT, such as grammar and algebra, are also the same, though eighth and ninth graders are not expected to have an advanced, complex understanding of them yet.
The PSAT 8/9 score range and length is the main differentiator between it and the PSAT 10 and PSAT/NMSQT. The PSAT 8/9 lasts 2 hours and 25 minutes, which is 20 minutes shorter than the PSAT 10 and PSAT/NMSQT. The score range of the PSAT 8/9 is also shorter as students receive scores between 240 and 1440, unlike the PSAT 10 and PSAT/NMSQT's score range of 320 to 1520.
How Is The PSAT 8/9 Structured
The PSAT tests students in three core subject areas and measures competence in several skill areas.
| | | |
| --- | --- | --- |
| Section | Length (minutes) | Number of Questions |
| Reading | 55 | 42 |
| Writing and Language | 30 | 40 |
| Math | 60 | 38 |
| Total | 145 | 120 |
Reading
The Reading section provides five passages for students to read, analyze, and answer questions about. The passages stand alone, and one of them is a pair of shorter passages that they ask students to compare and contrast. Each passage (and the pair of shorter passages together) are about 500 to 750 words long and are different types of documents. This includes a literary passage from works of fiction, an article from social science subjects like economics or psychology, a historical primary source document like an excerpt from the US Constitution or a speech by Nelson Mandela, and two scientific passages on concepts like Earth science, biology, chemistry, or physics.
Students are expected to read the passages and answer 42 multiple choice questions within the time limit of 55 minutes.
Questions test three main skill areas:
How to use evidence: These questions will ask students to refer to the passage and draw the connection between how an author uses evidence to support a claim.
Understanding Words in Context: These questions will ask students to use context clues to determine the meaning of a word or phrase.
Analyze History/Social Studies and Science main ideas and concepts: These questions will ask students to convey that they have grasped the main idea of the passage. For example, they ask students to examine the author's hypothesis, interpret data, and consider implications of results beyond the article's scope.
Writing And Language
The Writing and Language section provides four passages for students to read and answer questions about how to improve the passage's organization and correct grammar errors. The passages, like in the Reading section, stand alone, and each are around 350-400 words in length. Their complexity varies and their topics range widely—from careers, science, and the humanities, to history and social studies. At least one of the passages will be a narrative, where events are described in a story like way. This doesn't mean that the passage will necessary be fiction—a nonfiction event, like a historical moment or a scientific experiment, can be described in such a manner. The other passages will wither be argumentative or informative and explanatory. Students can also expect to interpret charts, graphs, or infographics that accompany the content of a passage.
Students are expected to read the passages and answer 40 multiple choice questions within the time limit of 30 minutes.
There are two main types of questions:
Expression of Ideas: These questions ask students to improve the expression of ideas, meaning the substance and quality of the writer's message. There are three types of improvements a student can make:

Development: Students clarify and strengthen the way the main ideas of the passage is conveyed. These questions usually focus on topic sentences and thesis statements, supporting details, focus, and quantitative information in tables, graphs, and charts.
Organization: Students improve the way that information and ideas are organized, such as if they follow a logical progression or are placed in the most effective manner. These questions usually focus on introductions, conclusions, and transitions.
Effective Language Use: Students edit the passage to ensure that word choice is precise and wordiness is eliminated. Students are also asked to consider style and tone and how to combine certain sentences for a rhetorical effect.

Standard English Conventions: These questions ask students to recognize and correct grammar, usage, and mechanics errors in the passages. They specifically focus on errors in sentence structure (ie. run-on or incomplete sentences), usage (ie. lack of subject-verb agreement), and punctuation (ie. missing or unnecessary commas).
Math
The Math section is split into two portions: the No-Calculator Portion, and the Calculator Portion. As their titles describe, students can only use a calculator in the latter portion. In the No-Calculator portion, students are given 20 minutes to answer 13 questions in total—10 of which are multiple choice, and 3 of which are grid-in (which means that the answer is written-in). In the Calculator Portion, students are given 40 minutes to answer 25 questions in total—21 of which are multiple choice, and 4 of which are grid-in.
The two portions together test two main areas of math that are foundational for many college degrees and careers:
Heart of Algebra: These questions focus on linear equations, systems of linear equations, and functions.
Problem Solving and Data Analysis: These questions focus on using ratios, percentages, and proportional reasoning to solve different types of word problems set in different contexts (ie. scientific). The questions also ask students to describe relationships in graphs and analyze statistical data.
Six questions will also fall into the category of Passport to Advance Math, which include complex equations and functions that show up later on in calculus and advanced statistics courses.
Test Dates
When do students usually take the PSAT 8/9? It depends on the school. Schools will choose a test date between three time frames to offer the PSAT 8/9. For the 2022-2023 school year, these time frames are:
September 26, 2022 – January 27, 2023
February 21 – March 24, 2023
April 12 – 28, 2023
Note that these time frames are updated every year and can be found on the College Board website.
Students should contact their school guidance counselor or administration to figure out when their school is administering the PSAT 8/9, if at all. If their school doesn't offer it, or if they are homeschooled, they can take the test at another school by using the College Board's School Search tool to find a nearby testing site. Students should contact the school well ahead of the testing date to ensure that they can snag a spot.
About PSAT 8/9 Scores
After taking the PSAT 8/9, students receive a score report when checking their scores through their College Board account. The test is scored unlike any school exam, though, so it's important to know how to interpret the numbers and understand if it is a good or bad score.
How is the PSAT 8/9 Scored?
Students will receive a total overall score, which ranges between 240 to 1440. This is the sum of two section scores (Evidence-Based Reading and Writing and Math), which range between 120 to 720. These scores are calculated by how many questions the student answers correctly—there are no points deducted for an incorrect answer (which is why a question should never be left blank!).
The score report will also provide percentile rankings for each of the student's scores. Percentiles are one of the most important indicators of whether or not a score is "good," as it allows students to compare how well they did to their peers. Percentile rankings range from 1 to 99%. For example, if a student scores in the 75th percentile, they did equal or better than 75% of overall test takers. A score in the 50th percentile is the median score of all the PSAT 8/9's test takers at that date. Note that percentile doesn't indicate directly how many questions a student got right or wrong, it is a measure that places a score in context of all the other scores achieved on the test. A "good" score is usually considered one in the 75th percentile.
There are also additional scores that give further detailed information on the student's performance: individual test scores, subscores, and cross-test scores.
| | | |
| --- | --- | --- |
| Score Type | Description | Score Range |
| Test Scores | Individual scores for the math, reading, and writing tests | 6 to 26 for each |
| Subscores | Scores for six key skills: command of evidence, words in context, expression of ideas, standard English conventions, heart of algebra, and problem solving/data analysis | 1 to 15 for each |
| Cross-test scores | Two scores reflecting analysis of science and analysis history/social studies within the three tests | 6 to 36 for each |
Source: Study.com
Average Scores For 8th and 9th Graders
The average score on the PSAT 8/9 will be a score in the 50th percentile. This means that a student received the median score out of all test takers—better than 50% of all scores, and worse than 50% of all scores.
The 50th percentile total score for eighth graders, based on data from test takers during the 2020-2021 school year, is 820-830. The average section score was 410-420 in Evidence-Based Reading and Writing, and 410 in Math.
The 50th percentile total score for ninth graders, based on data from test takers during the 2020-2021 school year, is 470-490. The average section score was 430-430 in Evidence-Based Reading and Writing, and 440-450 in Math.
College and Career Readiness Benchmarks
The score report will also provide grade level score benchmarks for each section that are a measure of college readiness. If the student's scores meet the benchmark, it means that they are on track to succeed in college. Specifically, they predict a 75% likelihood of receiving a C or higher in the related first-semester, credit-bearing college courses.
For 8th graders taking the PSAT 8/9, the College and Career Readiness Benchmarks are 390 for Evidence-Based Reading and Writing and 430 for Math.
For 9th graders taking the PSAT 8/9, the College and Career Readiness Benchmarks are 410 for Evidence-Based Reading and Writing and 450 for Math.
Should You Take The PSAT 8/9?
The PSAT 8/9 is the earliest possible version of the PSAT that students can take in their high school career. This has several benefits and drawbacks to consider.
Benefits:
Taking the PSAT 8/9 allows you to maximize the number of times you can take the test in an official practice environment. It is impossible to replicate this environment at home, so this experience is the best possible tool to prepare for the SAT as it is the exact replica of the testing format and environment.
Students can familiarize themselves with the testing format early on and know exactly what to expect. While the PSAT tests skills and knowledge taught in high school, the question format and style can be extremely different to an ordinary high school exam. Furthermore, the test is most likely much longer than any other normal exam so students need to get used to being in test-taking mode for up to three hours.
Students can begin their preparation strategy early. Preparing or the PSAT is a long-term process. Students need weeks, often months, to identify their strengths and weaknesses, complete drills, and master test-taking strategies. Taking the PSAT 8/9 kickstarts this process as early as possible.
Students can also use their performance on the PSAT to inform which AP classes to take. For example, if they scored well on the Math section, it is probably an indicator that they would do well in AP Math class as well. If they were weak in Reading and Writing, it signals that they will have to prepare and study more extensively to do well in an English AP class.
Drawbacks:
Taking the PSAT 8/9 this early in their college career may lead to additional stress and possible burnout. Most experts actually recommend that eighth and ninth graders skip the PSAT 8/9 because it is too early in their college careers to be thinking about standardized testing. Students should instead focus on transitioning to high school and maintaining a solid GPA, and the PSAT 8/9 may add unnecessary stress and lead to burnout later on.
There is no ACT equivalent to the PSAT 8/9, so students might ignore the opportunity to take the ACT later on. Students who take the PSAT 8/9 can end up only focusing on preparing and taking the SAT, without considering or trying out the ACT. The ACT is better suited for some student's skills and testing styles, and a student may find that they naturally perform better on the ACT over the SAT. Devoting time, energy, and resources to the SAT early on can also be a waste if students decide to just take the ACT instead later on.
In all, students should think about their high school and college goals and weigh the pros and cons when deciding to take the PSAT 8/9. While taking the test can provide valuable information for students starting out college and start their standardized testing preparation process early on, eighth and ninth grade students are still beginning their high school careers, figuring out their goals, and juggling a host of other activities. Taking the PSAT 8/9 is not the norm among most students, but it can be the right decision for some.
Start Your Preparation In Advance With SoFlo Tutors
Are you planning to take the PSAT 8/9? SoFlo Tutors can help you prepare and perform your best on the test. We also offer tutoring for all other versions of the PSAT and for the SAT and ACT. All of our tutors attend top universities around the nation and scores in the 99th percentile on their SAT. They will work one-on-one on you to identify and improve your weak areas and increase your chances of getting your target score. Our tutors schedule to sessions to your availability and our costs start at $60/hour. Check out our tutoring services to book a session!
About The Author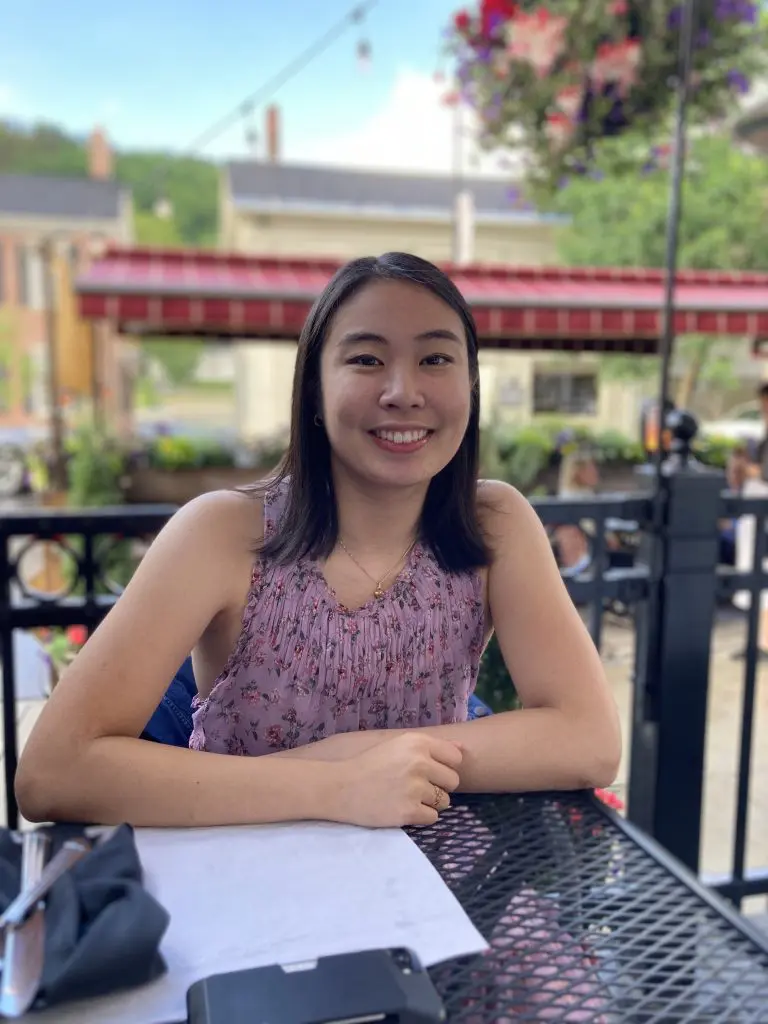 Andie Pinga is an expert SoFlo tutor and a recent graduate at the University of Pennsylvania double-majoring in Economics and Anthropology. She scored a 35 on her ACT, and when she's not studying on campus or hanging out with friends, Andie enjoys rock climbing and playing the guitar.