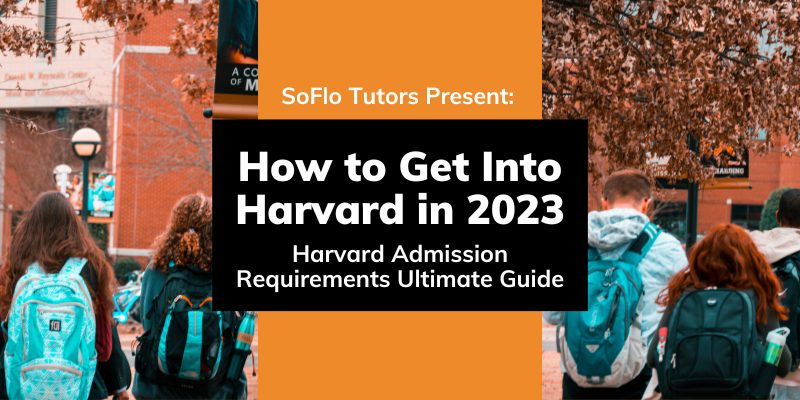 Everything You Need To Know About How To Get Into Harvard
Let's talk about Harvard. It's one of the most elite universities, not just in the US, but in the world. Consistently ranked as the #1 Best Global University, it's no wonder that every high-achieving student wants in.
From requirements to tips, we're going to tell you everything you need to know about getting into Harvard University.
How Hard Is It To Get Into Harvard
Elite universities across the US have only gotten more competitive in recent years – and Harvard is no different. With the number of applicants continuing to soar, and only so many admission slots, Harvard's declining acceptance rate shows no sign of slowing.
Acceptance Rate
Let's break it down: exactly how hard is it to get into Harvard? In 2022 the overall admission rate was 3.19%, with early decision applicants faring slightly better at 7.78%. Not sure what early decision is? Read more here.
Harvard Admission Statistics 2022
| | | | | | |
| --- | --- | --- | --- | --- | --- |
| Total Applications  | Overall Acceptance Rate  | Regular Decision Applications | Regular Decision Acceptance Rate | Early Decision Applications | Early Decision Acceptance Rate |
| 61,220 | 3.19% | 51,814 | 2.34% | 9,553 | 7.87% |
This makes Harvard the third most selective college in the US. These statistics may seem intimidating – but don't sweat it yet. SoFlo has your back: keep reading for all the tips and information to up your chances.
How To Get Into Harvard – Application Requirements Explained
While getting into Harvard might seem daunting, the application process is simple. If you're using the Common Application or Coalition Application, you'll have most of your work done for you already!
Application
Harvard accepts either of the following application platforms:
The Common Application (opens August 1st)
The Coalition Application (opens September 1st)
Harvard's admissions committee gives equal consideration to both; however, the two platforms aren't exactly the same. Which should you use? Here's a quick comparison to help you decide :
| | |
| --- | --- |
| The Common App | The Coalition App |
| Accepted by more schools (800+) | Accepted by fewer schools (150+) |
| Limit of 20 applications | No limit on number of applications |
| More essay prompts | Fewer essay prompts |
| Can list up to 10 extracurriculars | Can list up to 8 extracurriculars |
The Coalition Application also offers a few useful extra features, such as:
Locker: storage for personal and creative material (essays, art, video, etc.). At application time, you get to choose what material gets shared with your colleges.
Collaboration Space: You can invite collaborators to give you feedback.
Overall, the decision is up to personal preference. If your schools collectively accept only the Common Application, it might be more time-savvy to use the Common App. Weigh your options and make sure to consider which platforms your colleges take.
Both platforms have an application fee of $85 – you can request a fee waiver here.
The last required portion of your application is the Harvard essays:
Your application platform's primary writing sample.
A secondary essay (50-150 words): "Please briefly elaborate on one of your extracurricular activities or work experiences."
These essays are your opportunity to show your personality outside of school!
School Reports And Teacher Recommendations
To get into Harvard, you'll also need to send a current copy of your official transcript. This provides the admissions committee with information life:
which classes you took in high school
the grades you got in each class
your GPA (weighted and unweighted)
sometimes academic awards/accolades
If your highschool transcript does not include awards, don't worry. You'll have a chance to boast while filling out your Common Application/Coalition Application.
Harvard also requires a midyear school report. This is an update on the grades you've earned after submitting your application. This means that if you want to get into Harvard, you can't fall victim to senioritis (slacking off senior year) – at least, until after you submit your midyear school report.
You'll also need to get two teacher recommendations.
The teachers must be from two different subjects
Ideally, your teachers should know you well
After submitting your Common Application or Coalition Application, Harvard will send you a personalized link for your teachers to submit their recommendations.
Standardized Test Scores
For college classes of 2027-2030, Harvard no longer requires standardized testing. You can choose to opt out of standardized testing in your Common or Coalition App.
However, Harvard will still consider the standardized score you send in – in fact, they are still a crucial component of the application process. According to Harvard's own application requirement page, SAT or ACT scores are a typically better predictor of admitted students' performance than high school grades. Especially if your GPA is below Harvard's average (check the next section!), your standardized testing scores could make up the difference between you and another applicant.
Harvard accepts several forms of standardized testing.
You can choose to send your SAT score. Harvard will look at your SAT superscore (a mix and match of your highest section scores from different test days).
You can choose to send your ACT score. Unfortunately, Harvard only considers composite ACT scores (your highest score from a single test day).
If you're unable to get a high composite ACT score, the SAT may be a better option for your Harvard application.
While the College Board no longer offers Subject Tests, Harvard will still consider them if taken within the past 5 years. Sending your Subject Test scores could help round out subjects you didn't perform as well in during high school.
Supplemental Materials
In addition to Harvard's required essays, you can also submit two optional writing samples. Take the phrase "optional" lightly: your supplemental materials allow you to show more of your personality and passions beyond what transcripts, awards, and SATs do.
Prompt 1 (150 words) asks you to expand on your intellectual life beyond what's already in your application.
Prompt 2 (no limit) allows you to submit an additional essay on a topic of your choice, including (but not limited to):

Unusual circumstances in your life
What you would want your future college roommate to know about you
A list of books you have read during the past twelve months
While prompt 2 doesn't have an official word limit, don't go overboard. ~500 words is a good enough length to fully flesh out your ideas, while not overwhelming your admissions officers.
To better represent yourself and your achievements, Harvard also allows you to submit any additional material of your choosing. Some examples include:
Music
Artwork
Academic work
Research
Creative Writing
Assessments (such as SAT Subject tests)
Have an interesting hobby? Art or visual media you think helps round your application out? Even if it's not as academically rigorous as research, if your interests help fill a niche in admissions composition, sending supplementary material could help you get into Harvard.
Average Harvard Admission Requirements
Now you know Harvard's application requirements – it's time to discuss admission requirements. Harvard has no set thresholds for GPA, SAT, or class rank. In fact, someone with a 2.8 GPA got into Harvard from my high school.
However, that statistic is a huge exception in the relative few who get into Harvard. In most regards, the average accepted student is at or near the top of their class. To be considered for admission, you should at least meet Harvard's average admission statistics.
GPA
At no shock at all, the average Harvard admit has a high GPA. For the class of 2024 (most recent available statistics), Harvard's average freshman earned a weighted GPA of 4.18. 75% of the admitted class had an unweighted GPA of 4.0.
What does this mean for your (unweighted) GPA?
4.0: you're in the best position you can be!
3.75 – 3.99: you have a lower chance of getting in
3.5 – 3.74: Harvard will be a very hard reach.
<3.5: you're in a poor position to get in
<2.50: you will probably not be accepted
Class rigor is also crucial. Having an unweighted GPA of 3.75 while taking AP or IB courses shows that you are academically stronger than a straight-A student with no rigorous classes. Take high-level classes to demonstrate you can perform well in an Ivy League environment. 
Harvard Admissions Scattergram
​​
Having as close to a perfect As as possible is crucial for a strong Harvard application. If your GPA is not at least as high as Harvard's average, you can compensate with stronger standardized tests or extracurriculars.
SAT/ACT
The average admitted Harvard student typically scores within the top 2% for standardized tests. To stand out, you should strive for an SAT or ACT score that's above Harvard's averages.
Average SAT and ACT Score Ranged for Harvard's Admitted Students
| | |
| --- | --- |
| Test | Score Range (25th & 75th Percentile) |
| SAT ERW | [720, 780] |
| SAT Math | [740, 800] |
| SAT Composite | [1460, 1580] |
| ACT English | [31, 35] |
| ACT Math | [34, 36] |
| ACT Composite | [33, 35] |
Here's some help reading the table: 
The 25th percentile means that score is below average, performing worse than 75% of admitted Harvard students
The 75th percentile means that score is above average, performing better than 75% of admitted Harvard students
SATs are scored out of a total of 1600, representing the sum of your Evidence-Based Reading and Writing (ERW) and Math section scores. There are 800 possible points for each section.
ACTs are scored out of a total of 36, representing the average of your English and Math section scores. There are 36 points possible for each section.
Having a standardized test score that's close to the 75th percentile is one crucial statistic in your Harvard application. This means that, for the SAT, you should strive for a composite score as close to 1580 as possible. For the ACT, you should strive for a composite score as close to 35 as possible.
Class Rank
Again, most students who get into Harvard perform very well in class rankings. The vast majority are within the top 10% of their graduating class. Achieving valedictorian, salutatorian, or other similar accomplishments will boost your chances.
Admitted Harvard Student's Class Ranks
| | |
| --- | --- |
| High School Class Rank | Percent Within Range |
| Top 10% | 94% |
| Top 25% | 98% |
| Top 50% | 100% |
If you are not within the top 25% of your class, your chances of getting in are slim.
How The School Evaluates Applications
On top of stellar grades, to get into Harvard, your application and essays should reflect the following four key qualities. You are not just a statistic to Harvard – the university examines you as a full person in your application. Make sure your essays and supplements reflect the right elements of your personhood.
Growth And Potential
Harvard wants a student who is consistently stretching themselves to pursue more, both academically and personally. A Harvard student is always growing. They are self-directed and motivated, working to capacity in all that they do – both in and out of school.
Harvard doesn't necessarily expect you to have chosen your direction or career yet – however, if you haven't decided on a path, have you shown initiative? Have you or are you exploring your options?
Who are you now, and who will you be in the future? Harvard wants to see that you have a bright future, as a result of your current efforts to achieve.
Interests And Activities
Harvard wants a passionate student who makes the most of their activities and the time they have available. The admissions office wants to see your interest in at least one area, whether that be intellectual, extracurricular, or personal.
Importantly, admissions cares about the quality of your interests and activities. This means you should have committed leadership in at least two to three clubs. If you've failed in an activity, Harvard (again) wants to see you grow from the experience.
If extenuating circumstances means you have not had time for extracurricular pursuits, you still have a chance of admission. Tell Harvard what you want to gain or explore in your free time post-admission.
Personal Character
Harvard deeply cares about your personal character; as a highly prestigious university, the quality of their alumni matters. You should be open-minded, mature, compassionate, and good under pressure. Overall – especially in your application, you should be someone that you would admire.
Contribution To The Harvard Community
Harvard wants someone who will contribute positively to their graduating class. This means you should demonstrate that you can work collaboratively, not just in class, but in your friendships and extracurriculars as well.
Crucially, you must be able to thrive in the pressure of Harvard life. You can demonstrate this through the intensity of classes you take, and the depth of your involvement in jobs and extracurriculars.
Harvard Application Deadlines
So: now you know everything you need to know about getting in. You've crafted three beautiful, moving essays that demonstrate the values Harvard looks for, earned an SAT or ACT score you're proud of, and ranked high in your class. Congrats on your hard work! What now? Make sure to submit your applications in time!
Harvard offers Restrictive Early Action (REA) and Regular Decision (RD) programs.
REA closes November 1st. You can expect an update mid-December.
RD closes January 1st. You can expect an update by late March.
While both REA and RD allow you to wait until May 1 to make your choice, it's important to consider each program's admission rates. REA applicants have a 4% higher chance of making it – if Harvard is one of your top choices, REA is the best choice for you.
A More Detailed Timeline
| | |
| --- | --- |
| October 31 | REA test scores due |
| November 1 | REA application deadline*be sure to submit your financial materials so Harvard can offer financial aid when decisions come out |
| Early November | RD recommended time to submit test scores |
| Mid-December | REA decisions released! |
| January 1 | RD application deadline |
| February 1 | RD recommended time to submit financial information |
| Mid-February | Submit Mid-Year School Reports |
| End of March | RD decisions released! |
| Early May | College decisions due |
As application yields vary from year to year, specific deadlines often fluctuate – you can still expect the Harvard admission process to run this general timeline.
How Do You Get Into Harvard – Tips On Improving Your Chances
Get started early. When applying to an extremely selective school like Harvard, leave as little as you can up to error or chance. Start your application before your application platform opens, making sure you have the time to craft an application that represents you best. 
While you should write with clarity, make sure your admissions essays are unique. Admissions officers read a huge volume of essays in a day – your writing needs to be memorable. Avoid convention and write about something personal and meaningful to you. 
Cultivate a spike: one or two extracurriculars in which you've earned high honors (national, state, or school). Demonstrate passion by achieving in a select few areas of interest. 
For teachers you want to write your recommendations, make sure to notify them in advance. Give them time to craft a meaningful recommendation. Positive teacher recommendations not only distinguish you from other applicants, but also help you get scholarships. 
Prepare for the possibility of an alumni interview. Not every applicant gets the opportunity to get an interview, but doing your research and practicing is important – a strong word from a Harvard graduate can do a lot for you. 
Up all of your academic stats as much as possible. Remember: there are tens of thousands of other applicants trying for admission. Small details could be the difference between you and a similar applicant. 
Other Schools To Consider
Is Harvard your dream school? To help you round out your application process, we've compiled a list of similar schools for you. Even if you don't end up at your top choice, these colleges could provide an equally fulfilling and rewarding college experience.
Reach Schools
These schools have higher average SAT scores than Harvard. If you're competitive for Harvard, these schools are harder, but not impossible, for you to get into – especially if you improve your standardized scores.
| | | | |
| --- | --- | --- | --- |
| School | Location | SAT Avg | ACT avg |
| University of Chicago | Chicago, IL | 1520 | 34 |
| Yale University | New Haven, CT | 1515 | 34 |
| Carnegie Mellon University | Pittsburgh, PA | 1510 | 34 |
Target Schools
If you're competitive for Harvard, these schools offer similar admission chances.
| | | | |
| --- | --- | --- | --- |
| School | Location | SAT Avg | ACT avg |
| Princeton University | Princeton, NJ | 1505 | 34 |
| Columbia University | New York, NY | 1505 | 34 |
| University of Pennsylvania | Philadelphia, PA | 1500 | 34 |
| Cornell University | Ithaca, NY | 1480 | 34 |
| Tufts University | Medford, MA | 1465 | 33 |
| Northeastern University | Boston, MA | 1465 | 34 |
| New York University | New York, NY | 1440 | 32 |
Safety Schools
If you're competitive for Harvard, you won't have any difficulty getting into these schools. If you're not at Harvard's expectations, these schools may be more in your reach.
| | | | |
| --- | --- | --- | --- |
| School | Location | SAT Avg | ACT avg |
| University of Michigan | Ann Arbor, MI | 1435 | 33 |
| Boston University | Boston, MA | 1420 | 32 |
| Rensselaer Polytechnic Institute | Troy, NY | 1409 | 31 |
Increase Your Chances Of Getting Into Harvard With SoFlo Tutors
With a university as selective as Harvard, applying might feel a little bit like throwing a dart from across a football field. Doing anything that gives you an edge up over 60,000+ other applicants helps – including improving your standardized testing scores with SoFlo Tutors.
SoFlo gives students the individualized attention they need, from young tutors who got the scores you need to get into Harvard. SoFlo helps you reach your test goals – and schools – with a 110 point average increase after just 10 sessions. Plus, we offer flexible scheduling – so you can focus on the extracurriculars you've cultivated to earn a Harvard acceptance letter.
Final Thoughts
With a school as selective as Harvard, you need to do everything you can to stand out – not just as a student, but as a person. Achieve in as many areas as you can – and make sure your application distinguishes you from the thousands of other students applying with similar statistics.
Ultimately, you got this! You now know everything you need to best your chances for Harvard. Of course, remember that no decision process is completely perfect. Many deserving and high-achieving students don't end up making the cut. Putting your best effort forward is your best bet in an extremely competitive application process.
About The Author
Lauren Richards is a sophomore studying narrative at the University of Southern California. She scored a 1510 on the SAT, and in her free time, she enjoys snorkeling, hiking, and all things outdoors.